Last summer when we moved in, we had a bird (of some kind) nested up under our awning, and it lived there straight through the winter. By early-spring a similar but more showy looking bird showed up and started helping bird#1 build a cozier nest. Not too long after, we started hearing baby chicks a'chirping from the nice new nest.
And if I'm not mistaken, those chicks are now flying about our yard, eating up the seeds from the dandelion heads.
Did anyone else have dandelions that seemed like they were on steroids this season? That's another story, right?
Anyway, all the warm weather and our resident family of birds (I think they're sparrows, but I'm not sure), had me in the spirit to make a bird feeder.
And if I could make it from items I already had, all the better.
Enter the good old shelf wreath, which has seen a few seasons already. So, why not modify it once again as a bird feeder wreath this time 'round?
See directions for making the shelf wreath, here.

Patriotic bird feeder wreath
Supplies:
Grapevine wreath made into a shelf wreath
Twigs
Small pail
E6000 glue
Several color of paint
Wood letters
Moss pieces
I tape off part of the wreath and used spray paint to paint it white, then craft paint in blue and red for some detail.
I glued a few extra longer twigs to the front.
I drilled tiny holes into the bottom of a tin bowl.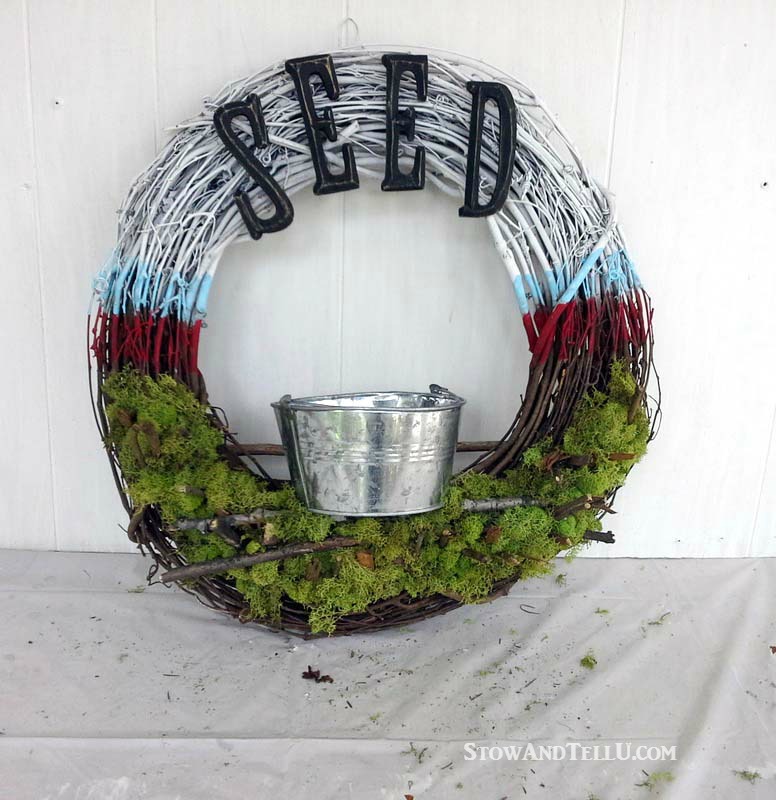 I glued patches of moss into the crevices.
The wood letters were painted black, then glued on to the top of the wreath.
I taped off the bottom portion and sprayed the painted portion with a clear coat to seal.
It seems like the nicer the weather gets, the longer my list of outdoor projects becomes. But none of that changes the few big items we have on the list, like getting the electric ran to the hobby shed and figuring out where the leak is coming from in the basement.
Life is too short not to have a long to-do list, even if you never finish it!
You might also like:
Patriotic Tie-dyed Table cloth
Fourth of July Outdoor Decorating Ideas