Once considered junk, rusty old items have become trendy furniture, garden art and home decor. I myself haven't mastered this look, but I have needed to make newer nails and hardware look rusty from time to time, and along the way, I discovered a non-toxic, no-nonsense method to make rust, using potatoes! There are plenty of ways to make nails and metal rusty, so I have included a list of several other methods, too, but if you want to know how to make rust with potatoes, here is how: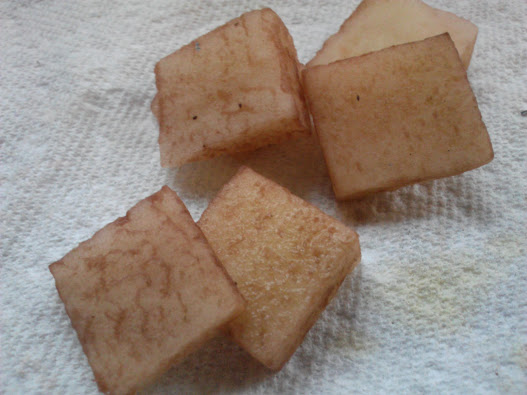 Soaking Method for Vinegar, Salt, and Oxidized Potatoes
Pour some vinegar into a glass or plastic container then add some salt
Use this ratio: ½ cup vinegar to 1 tablespoon salt
Slice a few pieces of potato. Allow slices to sit out uncovered to oxidize (turn reddish, brown)
Once potato slices have oxidized, drop them in the vinegar/salt mixture.
Next, drop in your nails or other metal objects.
This method works quite fast. You will see the metal darken right away.
Let soak for about an hour or so.
Remove and dry on paper towel or cloth, and rust will begin to appear.
This method will work on standard metal items with iron properties such as steel or cast iron nails, screws, hardware, chains, and other unpainted decorative items. If item is metal, but has paint on it, you may want to sand down some of the paint and then try to use a rusting method.
Avoid trying to rust metals such as stainless steel, heat-galvanized, zinc and aluminum, as these metals are designed to be rust-proof.
Is there a spray method for Vinegar, Salt, and Oxidized Potatoes?
I haven't tried making a spray solution with the potato method, so I cannot tell you that it would work, but I will be giving it a try once the weather warms up and provide an update. In the meantime, if you happen to try it yourself, let me know how it goes!!
Alternative Rusting Methods:
If you don't have a potato handy or just want to try another method, here are several ways for how to rust metal that I have used in the past and several others, as well.
Salt and vinegar
Ratio 1:1
This method is slow, but it has worked for me in the past
Try any of the following in combination with salt & vinegar:
Add a dash of baking soda
Place jar in warm place to speed up the process.
Use a tin can instead of a jar
Use less liquid and partially expose the nails to air at the same time, the exposure should also speed up the process.
This post contains affiliate links. See full disclosure, here.
Iron Oxide Paint Method
Works great for larger pieces and galvanized metal
A Combination of Household Products:
Six step process from Laral @ Instructables.com
Works great for larger items.
Using a paint and chalkboard paint combination:
How to age or create a rusty look on chicken wire with chalkboard paint
Other products I would recommend for making faux rust:

I hope these are helpful on how to rust metal, or at least how to make metal look rusty. Some of it is trial and error, because you don't always know what type of metal you have, just make sure to research and read all directions for any method you may try.
Happy Rusting and let me know how it turns out!!
Follow my blog with Bloglovin