Every porch or patio needs at least one punched tin lantern!!
I read that blurb in one of the design magazines while at the dentist office a few months ago. I have been a little obsessed about it ever since. The real-deal punch tin lamps are a little pricey and harder to come by. Here is a collection of ways to faux a punch tin lantern.
Some are a bit challenging to make, but I've included a few alternatives, as well.
7 Faux punched tin lantern ideas
So, let's get our faux punched tin lanterns on!
How to make one of your own.
Faux Tin Can Lanterns from Little House in Colorado
This step-by-step tutorial shows you how to make a lantern using soup cans, but the same steps could be applied to a variety of other "cans". She also shares some other unique punch tin lamp ideas that are seasonal and super cute!
Hanging faux punched tin coffee cans from Design Sponge
How cool and rustic are these? There's a trick to getting all of those authentic looking tin piercings. It all comes down to the tools you use to punch the holes. Trust me, you probably have all of these tools in your garage right now.
Faux punched tin house lantern
This was a plain metal tealight house. Kind of looks like a bird house, right? Anyway, since you can't punch through metal by hand, I had to use a drill to make the holes. This same technique could be used on old metal teapots, mail boxes, and other items like that.
This would only work with certain metals. You would probably have to test the piece to be sure it's suitable for drilling.
Faux tin can Chinese lantern from DecoArt
Don't you just love this variation of a tin lamp?
The project requires a Dremel tool. With that and a few soup cans, almost anyone could make these.
I'll take 100 of them, please and thank you!
Too lazy to make a fake? Try one of these ideas.
Vintage cheese grater faux pieced tin lamps
It doesn't get much easier than this.
Keep your eyes open for those old cheese graters on your next trip to the thrift store. Don't forget flea markets and yard sales.
Keep your eyes peeled for manufactured replicas.
I found this lantern while thrifting. It's done up in mock Americana style, but the label on the bottom says otherwise. I wasn't even looking for one, but for $1.99…
If your outdoor season is nearing an end, now might be a good time to peruse for next season.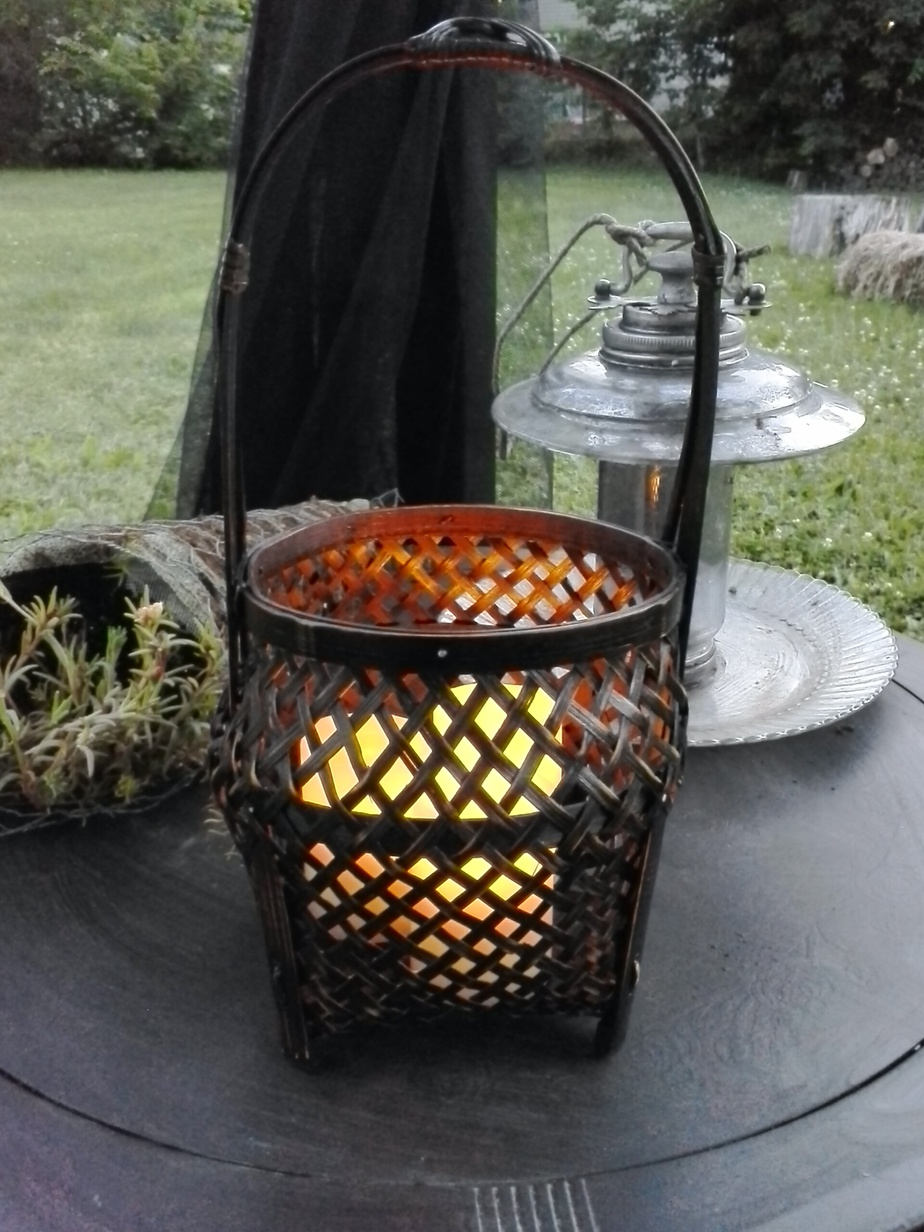 Get the punched tin lantern look with a basket.
Say what?
When all else fails, the right kind of basket will work in a pinch.
Taller baskets are ideal.
Look for ones with handles. Or add your own handle.
If the basket is lighter in color, paint it a darker shade.
This one is filled with several flameless candles.
A punched tin lantern is all about showing off pattern with light. Many of them remind me of the constellation of stars. Perhaps that is what they were trying to mimic as far back as the 14th century.
These ideas are just a few ways to keep the tradition going. I hope you like;)
Thanks for stopping by ~ Amy