This stuff could fool you… although, maybe not on plastic planters. But it sure fooled me. It fooled my husband, too. And he's no fool! Or so he would tell you.
But I digress.
Trying to mimic real copper with paint, and have it look like real metal… not so easy. In my opinion anyway, so when I saw these copper mason jars from How Sweet It Is, I wanted to try the same spray paint on one of my own projects.
The label suggests that it resembles actual metal plating. But does it? The label also says it works on plastic, hmm…?
Well, I purchased a few Irishy plants, to get into the St Patrick's Day spirit. The planters happened to be plastic, so I thought I'd try out the copper spray paint using the paint dipped technique and see how much it looked like real copper.
Here are the planters before I painted them. Also shown is a white and faux copper planter, found while thrifting.
This post contains affiliate links. Read full disclosure, here.
Make copper paint dipped planters:
Supplies I used:
Krylon Foil Metallic Copper Spray Paint (like this one that is labeled with the wording "resembles actual plating").
Painters tape
Plastic planters, or any planter of your choice
To get the job done, I washed the containers with soapy water, dried them, then taped off the bottom portion with blue painters tape. I took them outside and applied several light layers of the spray paint until it was fully covered.
Tip: When applying tape to a cone shaped planter, make sure to keep the tape line straight along the top. The tape along the bottom will crinkle down. Smooth all the tape down well, so paint doesn't spray through.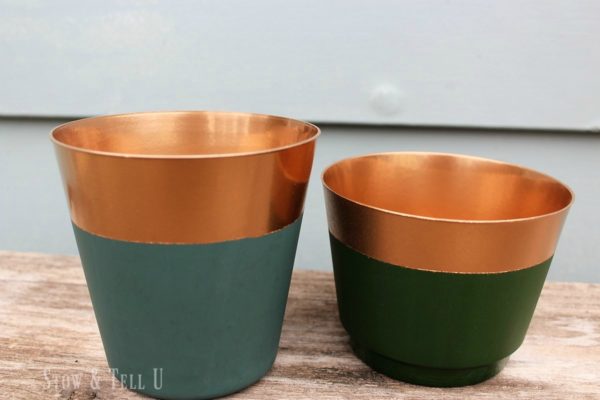 Does it really look like metal?
Well, what do you think?
I think it does, but I wasn't sure it that was wishful thinking on my part or what. The biggest critic to fool in my household is my husband and he said, "that actually looks like real gold, honey!"
So, while he's no fool for copper, he is apparently a fool for gold. What can I say?!
They sure are making a lot of these "all-around" spray paints these days. The spray paint label says the paint works on wood, metal, glass, ceramic, wicker, plastic and more. I was impressed with how it looked on plastic, but I'm excited to try it on some other surfaces, too.
ps: I was a little disappointed with the paint lines that show after I removed the painters tape, but I'm honestly not sure if it's the inexpensive painters tape or the fact that the surface is plastic, or damper weather conditions when I applied the paint. But that would be the only issue I had with this trying out this paint.
Have some shamrock love on me.
When I took this plant outside to take photos, all of the shamrocks closed up, except this one.
Happy St Patrick's Day.
Here's hoping you find a pot o' copper at the end of the rainbow. XOX