Soda can metal stamping is what I like to call the "dime store" method for creating metal stamping for crafts and jewelry. I just adored the 4 Stamped Silver Projects from Karianne at Thistlewood Farms. She captures a vintage look and elegance in her silver spoon stamping projects that you just have to see for yourself. They are gorgeous!!! I had no idea that I liked metal stamping. Now I know I'm hooked!
Elegant is not a word I would use to describe this DIY project, but vintage looking, perhaps. If you are trying to add a bit of rustic charm to a project, then this might be just the one for you.
If you have a soda can or two and a few other household items, then you can make some of these pretty quickly. It took me about 1 hour.
Get creative and improvise if you need to…the following supplies are pretty basic.
Here are the supplies I used:
Aluminum soda can
Scissors
Ball point pen or an awl if you have one (Make sure the pen is the non-click kind)
Black ink pad
Black marker
Pieces of wood (I used a cedar cooking plank)
Hand saw
Glue gun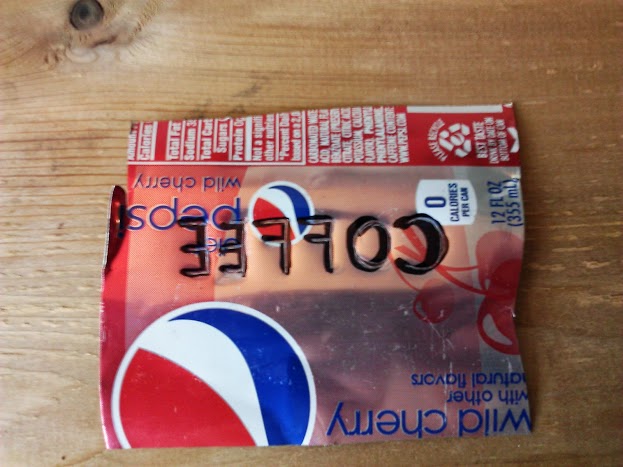 Soda Can Metal Stamping
Cut the top and bottom off the aluminum can. Be careful, wear gloves if you need to, but a standard pair of scissors should do the job. It helps if you poke a hole in the can with the sharp point of your scissors to get the cutting started.
Flatten the aluminum strip out a bit and determine how many pieces you want, and then cut them out.
Lay the aluminum strip down printed side up and write your word back words with a black marker, or draw your design. It helps to write your word on paper first for practice, it is not as hard as it looks. Try to write in block letter style, kind of like kindergarten!
Once you are happy with your letters or image, trace over the letters or design with either an awl or a the tip of a ball point pen. You will have better results with a ball point pen that does not click open and closed. Make sure to press fairly hard to make your stamp impression. The idea is to have a face stamp that will be prominent enough to be darkened with ink.
Turn the aluminum strip around and darken the face with an ink pad, trying to catch the ink on the embossed letters or design. You may have to rub some off and apply more until you get the look you like.
Round off the sharp edges.
Mount Metal Labels on Wood
If you would like to mount the metal labels on wood, start by lying your metal labels down on a piece of thin wood and draw lines with a pencil around the labels.
Cut the wood pieces out with a hand saw.
Sand the wood pieces down, drill a small hole, and apply a bit of stain or paint, if you wish.
Apply the metal labels to the wood pieces with hot glue.
Run string through the holes and tie off.
I used soda can metal stamped labels on wood for this Ombre Dot Canister Set, but you could use soda can metal stamping for any project. It is a quick, easy way to get that rustic embossed look for labels and designs on metal, when in a pinch!
Meanwhile, I've got my sights on a the real deal: a metal stamping set… thanks, Karianne!!
Sharing at:
Inspiration Cafe "It's a Steal -Knock Off Link Party
Subscribe by EMail