Two years in the making, this vintage 1940's Sears and Roebuck Buffet is finally completed, and has been delivered to its rightful owners, my sister-in-law and brother!!! In addition, I did some research and found the original Sears and Roebuck catalog page listing of catalog #2349-Buffet. Did you know that Ancestry.com has partnered together with Sears and Roebuck to make archives of the catalog available? Virtually every page from 1896 – 1993 is for viewing, access, and research. How cool is that? Please note that you do have to join Ancestry.com; however they do offer a free trial period of 14 days, that you can easily cancel if you are not interested.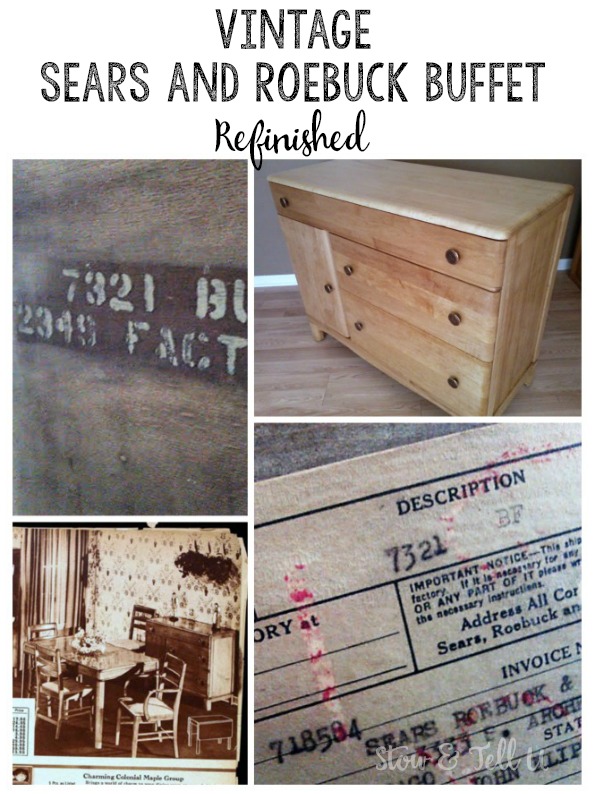 Refinished Sears and Roebuck Vintage Buffet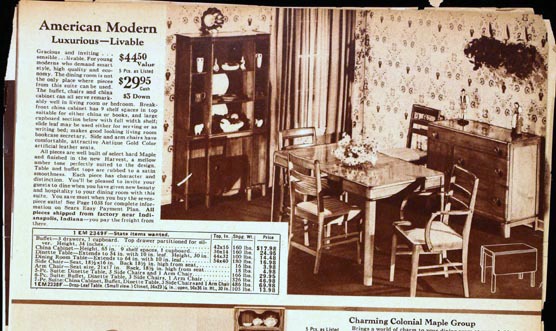 Researching old furniture ads
So, let me tell you about this particular buffet. Once on Ancestry.com, I began looking thru the archives starting in 1931. Due to its style, I suspected that this piece was much more likely from the 1940's due to its straighter lines and size.
Looking for tell tale markings on the back of the furniture
One of the clues I used to zero in on an era, was this invoice still adhered to the back and other markings on the back of the furniture.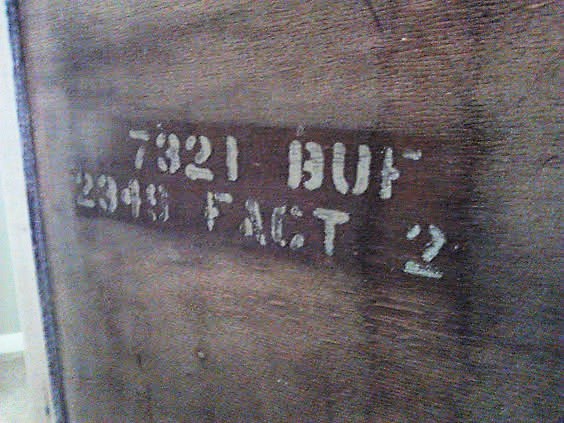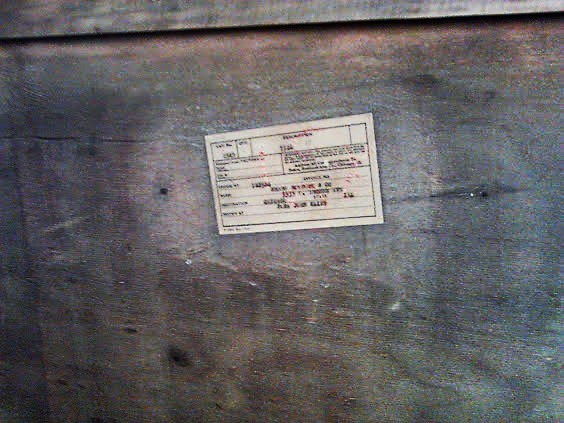 Although there wasn't any sale's date, there was very small type at the bottom that listed the print date of the blank invoice label as 1931. Conclusion: if the blank label wasn't printed until 1931, then the buffet could not have been sold, prior to at least 1931. From there, I started at the year 1931, I found the furniture section, and then I jotted down the page number, and as I forged through each year, it made it easier to locate the furniture section of the catalog.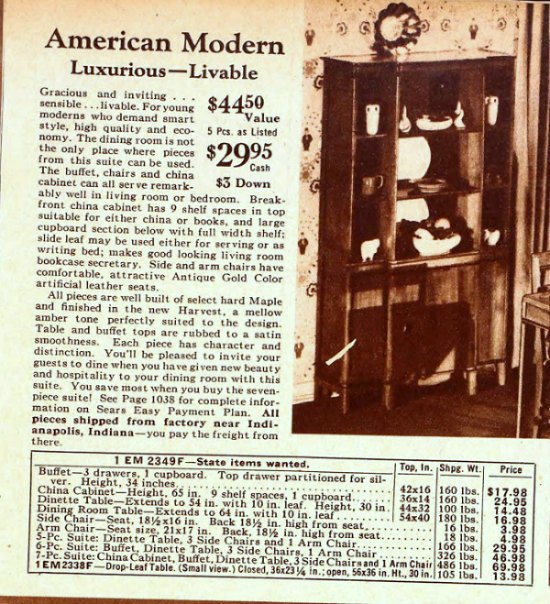 I finally hit pay dirt in the 1941 catalog. The listing proves that the piece was made of maple, as I suspected. It also lists the finish as "Harvest, a mellow amber tone." In 1941, a seven piece suite, was selling for $69.98, can you say inflation??
Stripping several layers of old paint
Here is how the piece looked when my brother commissioned me to strip and re-stain it. There were at least three layers of paint, and as it turned out, it became a "commissioned-us" job. My husband had to step in and do the stripping and sanding. I'm just not any good with that kind of DIY!!
(Sorry I don't have a before of the whole piece, I wasn't blogging back then.)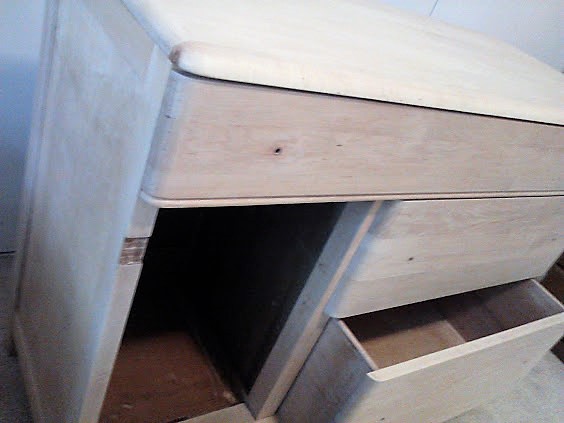 Bringing it back to bare wood
Here is how it looked once it had been stripped and sanded. To say my husband is a perfectionist is an understatement.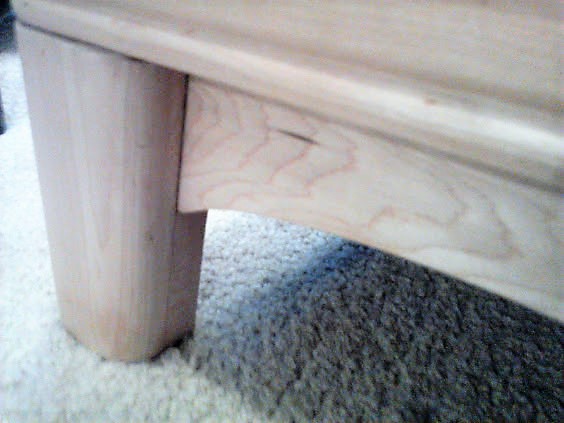 What I love about pre-mid-century furniture made just before the mid century is that it still has a little bit of curve, detail and clunkiness to it. Although, I'm no expert, so this is just my opinion on the matter.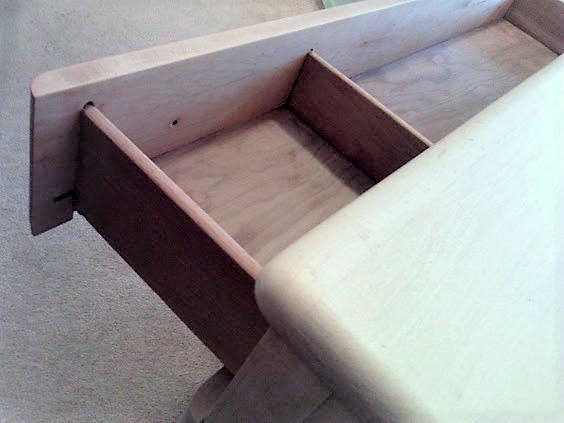 This piece was all solid wood, my friends. They just don't make 'em like they used to, do they?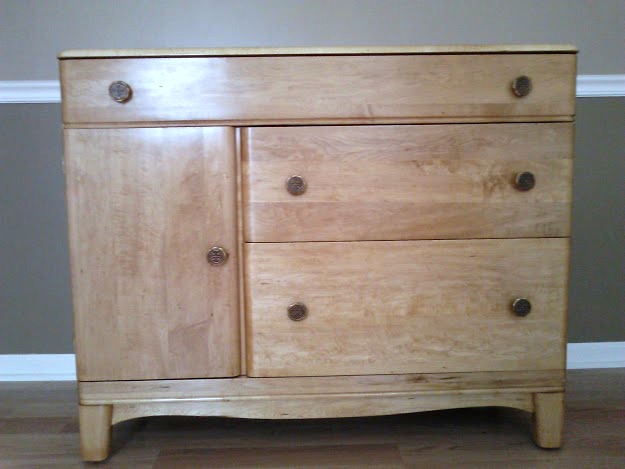 Refinished with stain and tung oil
And…ta-da!!! Here is how it turned out once I gave it several coats of MinWax natural stain and MinWax Tung Oil Finish.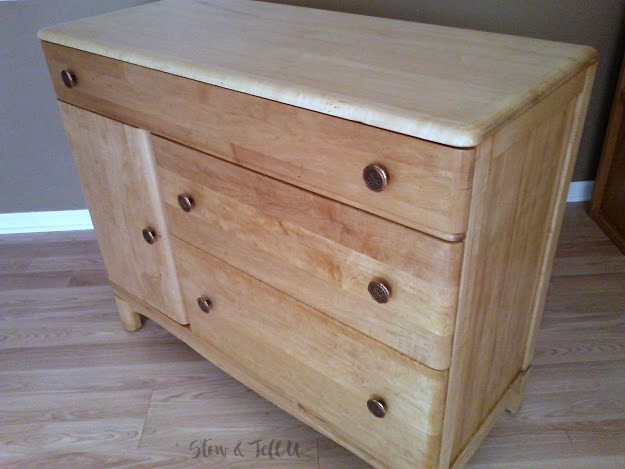 I delivered it a few weeks ago and I'm pleased to say that sis-in-law and brother were extremely pleased.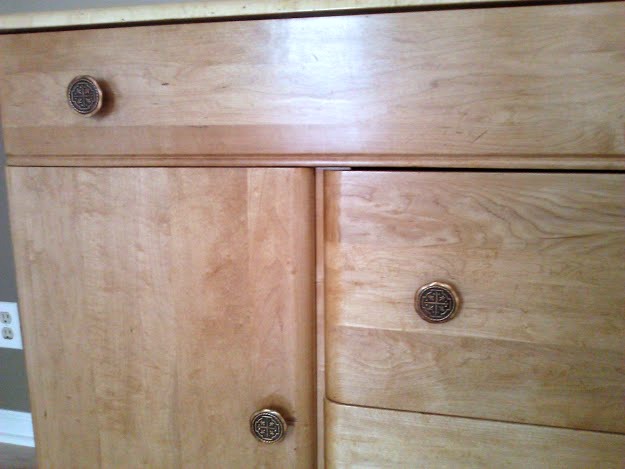 Due to my husband's heavy work schedule and several life events, the buffet was tucked in the corner several times before completion, but I can take very little credit. It couldn't have been accomplished if it weren't for the tenacity and skill of my husband!!! Thanks, Ken… you're awesome!!