If you like duct tape crafts, then you might like this idea for making a duct tape belt from a cardboard box. Certainly not fancy, but this basic belt design is versatile enough to wear with a variety of fashion attire. Chances are that unless your friends are trendy, no one will even notice that you're wearing a belt make from cardboard and duct tape.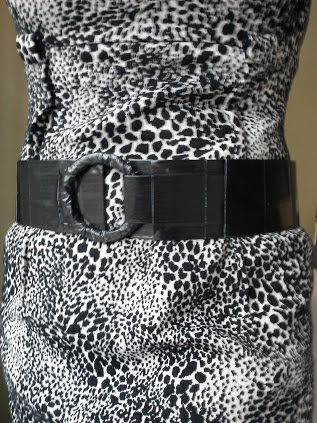 Duct tape belt from cardboard
Supplies
Cardboard box from either a case of soda or beer
Ruler or straight edge
Plastic or metal ring (I used one that came with scarf from the store)
Duct tape in color/design of your choice
Box cutter or rotary cutter
Scissors
5 or 10 small round Velcro fasteners
Wax paper
There are really only 3 pieces to the belt:
1 – 3" cardboard strip (belt)
1 – 2" cardboard strip (strap)
1 – Plastic ring (buckle)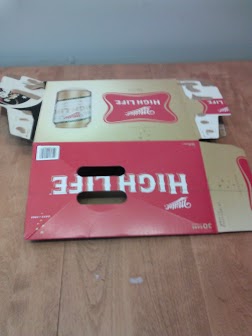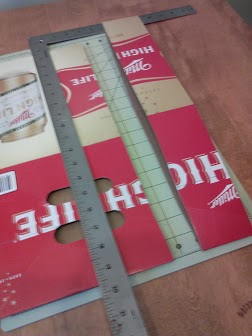 Cut cardboard pieces to size
Fold cardboard box onto itself, lay horizontally, but keep all seams intact. Going vertically along the box, measure and cut a 3" strip.
Hold 3" cardboard piece around waist, to check size. If you need more length, cut a 2nd piece of cardboard into a 3" strip and tape both 3" strips together. Determine the measurement you will need, and cut to size. Ideally you want about 3 inches of space between ends of cardboard, when you hold it around your waist. This piece will be the main part of the belt.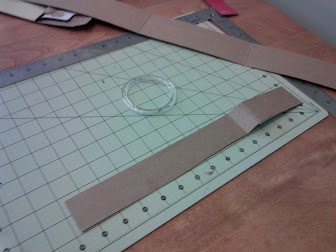 In the same fashion as previous step, measure and cut approx 2" strip. Cut the length of this strip to be about 12-16 inches. This piece will be the strap.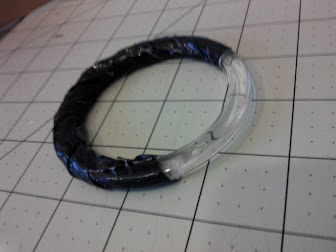 Cover ring and 2" cardboard strip with duct tape:
To wrap ring with duct tape, cut 3 to 5 inch strips of tape, lay one piece of tape at a time to the ring. Starting from an end, apply tape, pull tight and wind around ring until it is fully covered.
To cover 2" cardboard strip, cut 3 inch strips of duct tape, lay cardboard strip down on a piece of wax paper, and begin laying the duct tape pieces side by side over the cardboard strip.
Lay down about 5 pieces of tape, then flip and wrap duct tape ends over back side of cardboard strip. Cover the entire cardboard strip (strap).
Attaching ring and 2" strip to the 3" cardboard strip:
To attach the ring to one end of the 3" strip, lay half the ring over one end of the 3" strip. Lay a 6" piece of duct tape onto the 3" strip, go over one side of the ring, and then back onto the cardboard end, finally wrapping the excess to the back side of the 3' strip.
Lay several 4" pieces of duct tape vertically over the cardboard end. Alternatively, you can wrap the 3" cardboard end before you attach the ring.
To cover cardboard ends with duct tape, you can cut out the corners of the tape, so you won't have excess to fold over.
To attach the 2" strip (strap) to the 3" strip, center and lay about 5 inches of the strap down over the 3" strip end that is opposite the ring end.
Cut several 4" strips of duct tape, and lay vertically covering the strap piece. Flip over and wrap duct tape ends to back side.
Continue to lay 4" strips side by side along the 3" strip until full covered. Flip over and wrap duct tape ends to back side. To finish off, you can lay strips of duct tape horizontally along the back side.
Applying Velcro dots to strap:
Apply 5 or 10 Velcro dots along the inside of the belt where the strap wraps onto the belt, making sure to lay the soft side of the Velcro dots to the belt and the rough side of the Velcro dots to the strap.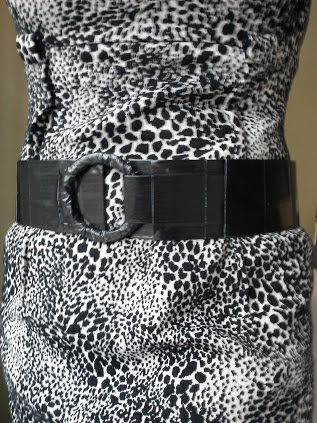 Thank you for checking this out.