I have been stock piling used bottles because I have been wanting to try making fishing buoys with them for quite some time now. We have our annual trip to the Warren Dunes and the shores of Lake Michigan this weekend. The thought of sinking my toes in the sand always puts me in the mood for a coastal inspired craft. So a coastal project it is, using multi surface paint, E6000 glue and painters tape.
How to make fishing buoys from bottles.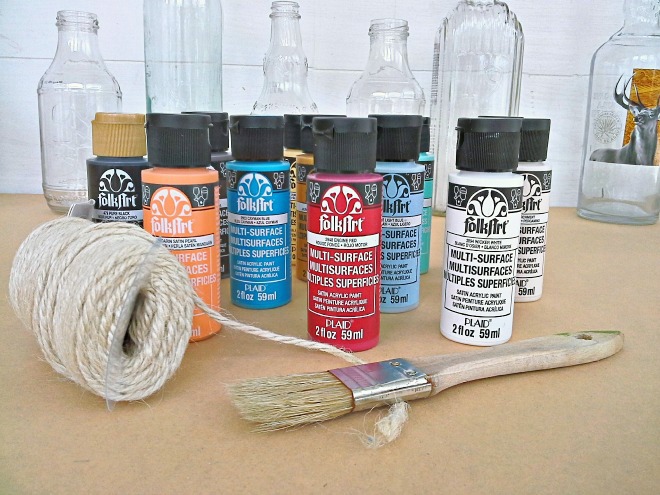 Supplies:
Empty bottles
Multi Surface craft paint (I used FolkArt)
E6000 glue (the tube with the narrower tip)
Painters tape
Sandpaper
Several paint brushes and trays.
Prep bottles.
Step 1. Soak and remove labels from bottles. I did not do this perfectly. Some of the labels were plastic and would not come off, at all. I painted right over those. The "multi surface" paint I used covers a multitude of sins, so I was not finatical about removing every spot of glue residue.
Step 2. Write nautical type numbers, letters or a combination there of onto the bottles with E6000 glue. Make sure to get the tube with the narrow tip. Let glue dry for 24 hours.
I tested out the hot glue writing on bottles earlier this year. This time I decided to try writing with E6000 glue. It works. The glue isn't quite as thick, but it's actually a lot less messy.
Design.
Step 3. Find inspiration. See this Pinterest board, or search Google images for lobster or fishing buoys.
Step 4. Plan out on paper (optional). Because I used a variety of colors and they had to be layered. I drew a plan out on paper so that I wasn't confusing myself.
Lined up the bottles in a row and kept them in that sequence through out the project.
Decided what colors I wanted each one.
Made a quick sketch of how I wanted each one to look. I just copied the designs from the ones online as best I could.
Put an asterisk/star under the paint color that should go on first. As the first layer. Notice, I tried to make white my first color on most of them. Less paint brushes and paint trays, right?
This was the step that took the longest, but it made the whole rest of the project super easy to do. And much faster.

Paint bottles.
Step 5. Paint the first layer. Let paint dry.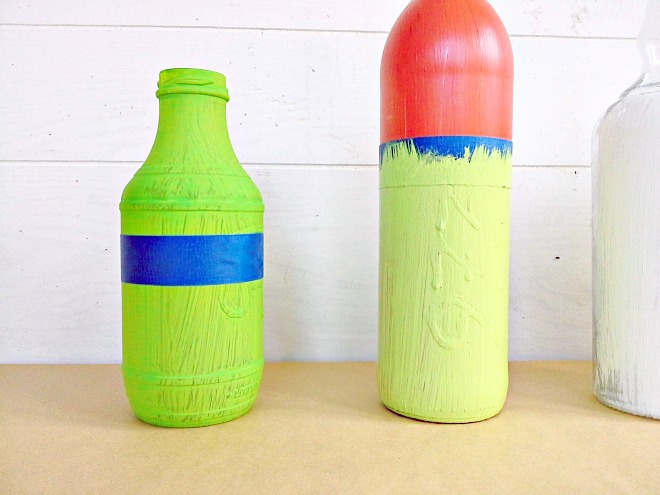 Step 6. Use painters tape to mark off sections to create that vintage buoy style.
Step 7. Apply paint for the second color. Remove tape. Repeat the same if using a third color. Let all paint dry.
Step 8. Sand down bottles with medium grit sandpaper to give the buoy bottles a weathered, aged look.
As I mentioned, the design part took the longest. I decided to go with about 8 colors total. I added a bit of white paint to some of the colors to get a slightly different shade so they each had their own unique character.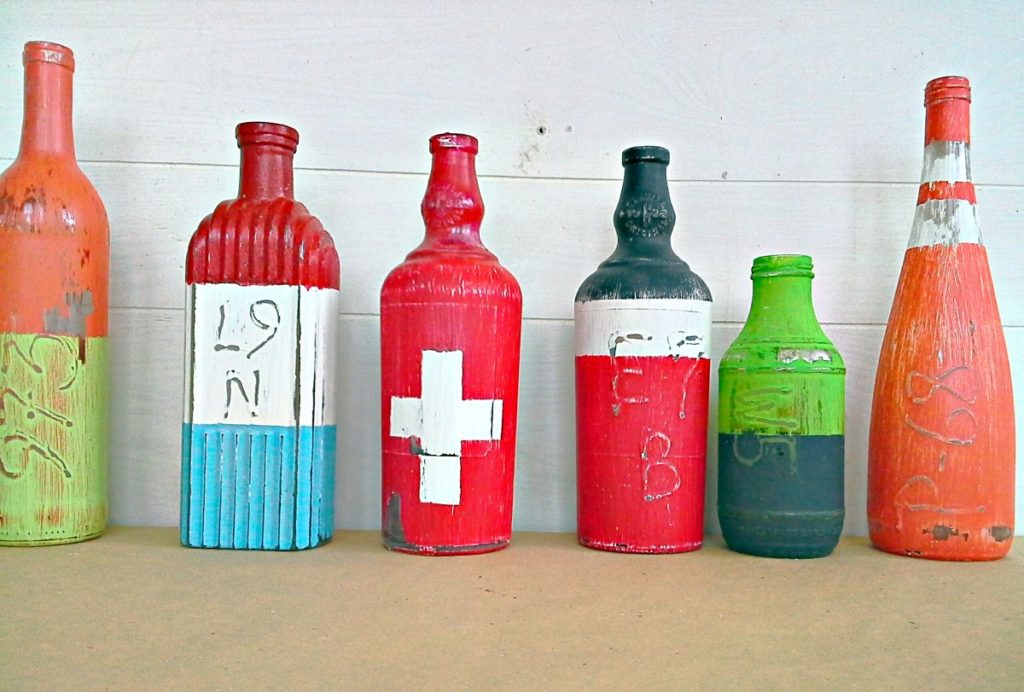 It's more fun when we're all different anyway, isn't it?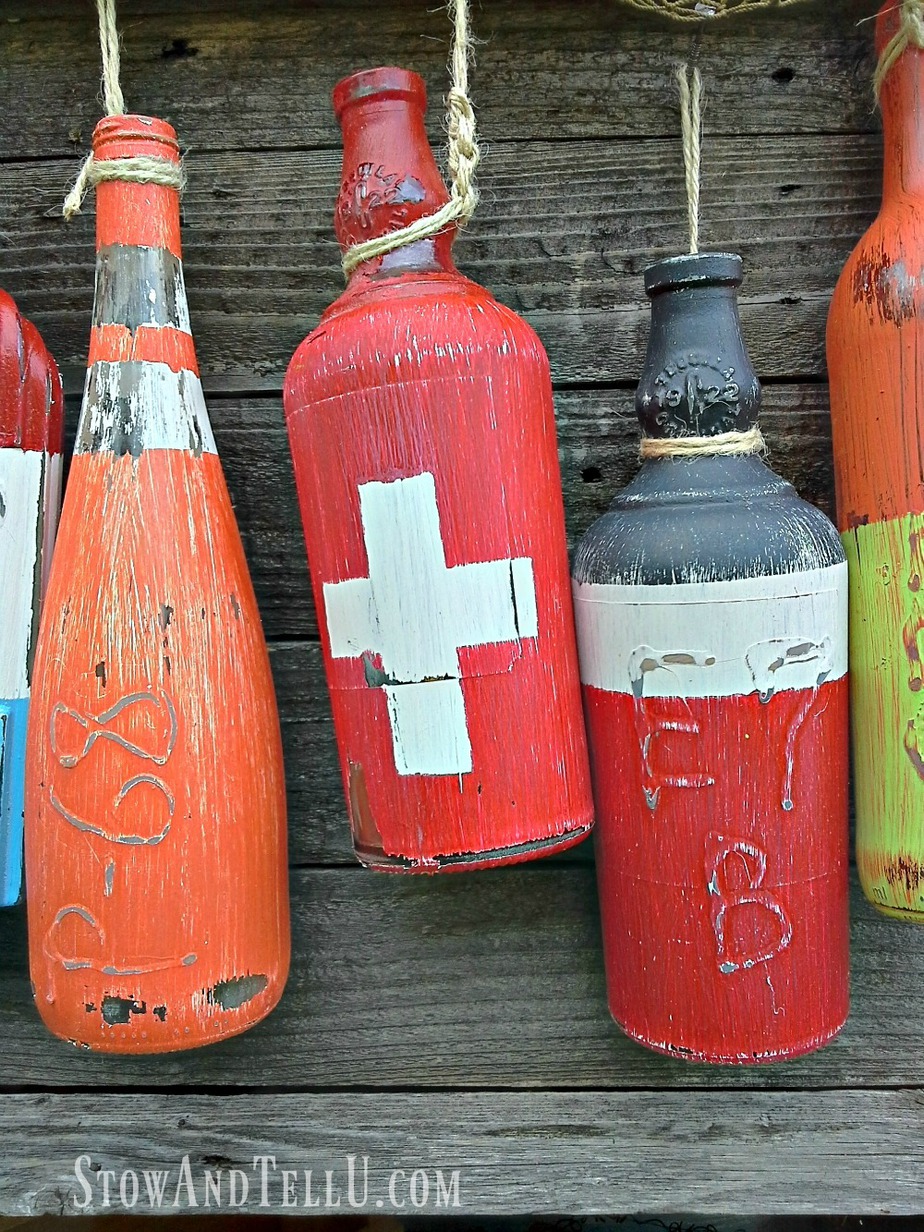 Besides hanging from a wall, lol…
These would be cute for coastal or nautical home, party and wedding decor.
The bouy bottles would make for a adorable beach themed centerpiece.
Instead of bottles, consider jars and other used glass containers.
Plastic containers might work, too!
Have a great weekend ~ Amy