I have been saving up wine bottles because I have been wanting to try writing on them with hot glue, and then painting over it to see how it would look. It seemed like such an easy way to say something short and sweet, send a message, or label something. I have been feeling "market" inspired lately, so I went with a flower shop motif, and even crated a little vignette, just for fun.
I've seen this craft done on Pinterest, and for all my searching I can't seem to find any original source for the idea so that I could give credit, but I welcome the input if anyone knows.
Hot glue writing on chippy painted bottles
I ran into a few challenges when making these but all in all, I would call this an afternoon project.
Here are the steps I followed and some tips I found handy:
Soak wine bottles in hot water with a bit of dish soap.
Scrape off labels a plastic dish scraper or plastic spatula.
If there is still glue on the bottle, or the label is hard to remove, dry the outside of the bottle, add some cooking oil to a paper towel and rub the paper towel onto the glue in circular motions to remove.

Clean bottle with soap and water. Repeat if needed.

Wipe down all bottles with very thoroughly with rubbing alcohol.
Heat up hot glue gun and practice wording on a piece of card board or paper.
Lay wine bottle down on the table and begin the hot glue writing onto the bottle. Try to keep your writing elbow on the table for a more steady guide.
Try to make thicker letters if possible.
If you don't like the look of the writing, repeat the cleaning process mentioned above. The hot glue will come off in much the same way the paper labels came off provided you use the plastic scraper, oil, then finish with alcohol rub.
Once you like the look of the writing, remove the hot glue webs with a dampened paper towel, the go over it with a dry paper towel. You can also use a tweezers to remove any stubborn glue gun webs.
apply one coat of chalk paint, let dry, then apply a second coat, if desired.
Sand the paint down with a very slightly damped sanding sponge (#220).
Buff the paint off the hot glue letters with a slightly dampened Mr Clean Magic Eraser.
Whatever you do, don't do this project right after having your morning cup of coffee;)
As far as problems went, I didn't wipe down my bottles with alcohol, so some of the letters were coming loose when I was trying to apply a second coat of paint, but I found that letting the first coat of paint dry completely helped.
Other than that, I found that I had to practice writing on the bottle a few times before I got the hang of it, so I would recommend having a sacrificial glass bottle or glass jar to practice the glue gun writing on if you want to save time.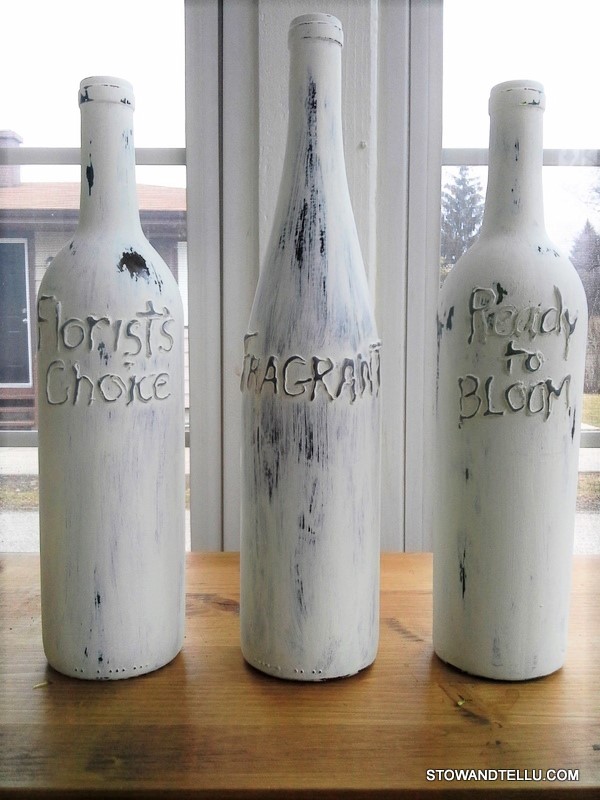 The snow has just literally melted a day or two before, so it was fun to get into a Springy mode for an afternoon. I had to practice the lettering a few times, and even then, it wasn't completely straight as one can see, but I'm glad I gave this project a try, challenges aside, I think they turned out pretty cute.
Have you ever though of using hot glue to create wording on something?
I've since made these Buoy Bottles using E6000 glue and had great results.
Sharing at:
Love My Simple Home / Talk of the Town
Funky Junk Interiors/ The Best DIY Salavaged Junk
One More Time Events/ Share it One More Time
Thrifty Rebel Vintage / Vintage Charm