On a recent road trip, I had the chance to stop off and see a real slice of Americana, at Circus Skate Roller Rink in the town of Murray, Kentucky. We had just returned from our stop off at the antique shops in Hazel, Kentucky, when I saw the sign out in front of the rink, boasting "the largest in the USA!" That claim wasn't so much the draw for me, as was the smiling clown mascot, donning several pairs of skates!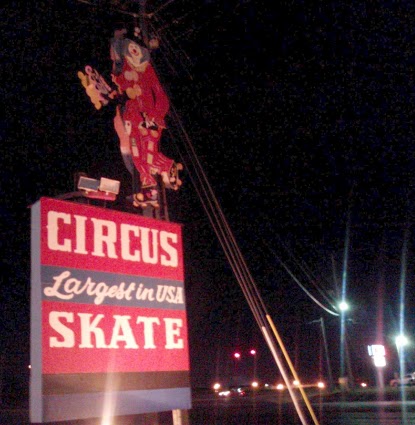 I was intrigued, indeed, and determined to go inside, even if we didn't have time to skate. What we would find?
Songs piping out of an organ from somewhere up in the rafters,
A gleaming wooden rink floor,
A skate shop, a snack counter, strobe lights
The "largest in the USA" only created more intrigue, and from looking at the building, I had to agree, it was quite large!
So, in to Circus Skate, we went.
I was pleasantly surprised!!
The floors a vibrant, light blue, added a certain energy to the ambiance.
Rumor has it that originally, Circus Skate was just one large rink, but has since been partitioned off into three sections:
A main roller rink, a mini skate park, and a play ground of sorts for the little ones.
There were skates on racks
Skates along the rink
Skates in bins 
Pairs and pairs everywhere, of good old-fashioned, well-worn leather skates.
There were display cases full of everything skate-able
High polished floors of brightly colored tile
Skaters in motion
And determined faces abound, even off the rink floor!
Circus Skate Roller Rink is not just for skating, either. There are cycles and bicycles of every kind allowed on the main rink during designated sessions.
Here is a short You Tube video, as morganman1975 shows just how fun that can be!
I tried to research data on record size roller rinks, but I only found varying arguments on the subject. All I know is that Circus Skate is the largest rink I've ever seen, and If I stop by again, I'll be sure to ask the owner for the details.
If you'd like to see for yourself, here is a short You Tube video, while Justin A Grieves skates the entire rink floor, all three sections!
A true slice of Americana captured right here in Murray, Kentucky. However this rink measures up as the largest in the USA, it most certainly is the coolest rink for miles, so, if you're ever in the area, you really must stop by!!
I'll be heading down to Kentucky again this weekend, and bring along Instagram, as I watch my son walk across the stage to receive his Graduate's Degree. I'm so proud of him, I can hardly wait!!
Graduation aside, we're going to try to fit in some southern food, a visit to the bison range of Land Between the Lakes, a hike in the Tennessee foothills and maybe even a stop back at Circus Skate!