Songs have a way of making us remember a time, a place, a moment, a person… It gets etched on our brain and every time we hear that song… we remember.
Sometimes it's good, sometimes it bad. Mostly it's good. I like to think so anyway.
Last year I painted a favorite passage from an Eagles song onto a plate. And while I wouldn't do that same project again in the color pink, I would like to do several more song lyric projects.
Here are a bunch of diy ideas for adding song lyric wording to your decor.
Please note that they are not all song lyrics projects in and of themselves. But they are project ideas for putting song lyric wording onto furniture and other home decor.
NOTE: If you don't know how to make your own printable text art, try this tutorial from Centsational Girl.
10 Song lyric wording decor ideas
Welcome to the Woods – On glass windows or floating frames. Decals would also work.

Shabby Creek Cotttage – Wording on curtains (for $5.00. How can you beat that?)
Vintage metal chair with signage– Print up your own song lyric design. Then follow the steps to add the wording.
Scavenger Chic – An old letter letter is transferred onto a stool. Hand-write the words to your own favorite song and then follow her steps to put it on a chair, stool or something similar.
Artful Home – Hand-written wording onto a lamp shade.
Shabby Creek Cottage – Wording transferred onto a candle. Same idea, hand-write your favorite tune and follow her directions to make the transfer.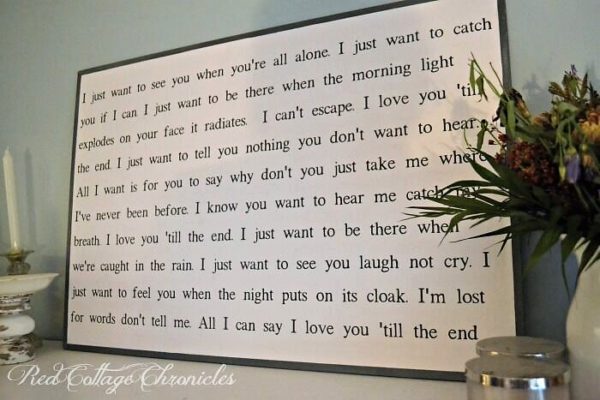 Red Cottage Chronicles – Preserve that moment with a handmade sign out of song like this one.
Kelly Ecko – Classy and elegant on a plate. See what she suggests for writing on a porcelain.
Nest of Posies – Try this inexpensively clever idea using flower pots.
Lyrics on painted plates – Mix matched plates were painted to match. Then wording was added.
Many of these ideas are not exclusive and the techniques can be transferred from a painted chair to a painted planter and so on. And wouldn't some of these would make sweet Valentine's Day gifts, too?
Happy day ~ Amy