What do you call it when you get invited to several summer holiday parties in one weekend, but you say no to all of them because you'd rather stay home and do yard work? I like to call that "yardworkation." And I have a feeling we're going to be taking a lot of these "ations" this summer because our new house is lacking curb and backyard appeal to the umpteenth degree.
Here is what our home looked like when we purchased it. It hasn't changed much…yet.
I'm going to do a yardworkation series this season as we work on our exterior to spruce things up while trying to use what we have and save money wherever we can.
Borderlining on junk yard, lol, this is what the backyard looked like last fall when we were running electric to the garage.
#Yardworkation Entry #1 comes in the form of Adirondack plastic lawn chairs. Green was a popular color back in 2006 when we bought these, but now against the blue tones the colors clash.
I decided to spray paint ours because when I did the math, one new plastic chair at $20 vs. 3 cans of plastic spray paint at a total of about $12. Although it's not much, it is dollars that can be spent elsewhere (as in a gazebo tent, hopefully…)
I'm also trying to find colors that compliment our blue/gray siding. Black would work an obvious color against the blue, but I want to try and vary some blacks, grays and dark browns for starters, so I chose the color Dark Walnut for these chairs.
This post may contain affiliate links, read full disclosure here.
Easy directions for diy spray painted plastic lawn chairs
Spray paint supplies
Spray paint type and color used:
Dark Walnut Rustoleum Painter's Touch Multi-Purpose (Make sure the labels says "also bonds to plastic", like this.)
Suggested topcoat for longer lasting durability:
Rustoleum Painters Touch 2X Ultra Cover Clear Coat – This should also say "bonds to plastic" on the label somewhere. I like this one in the matte finish.
Step-by-Step Directions I followed to spray paint these chairs
1) I scrubbed the chairs down with hot water, a few drops of Dawn dish soap and a scouring sponge, then I rinsed with the hose and let dry completely.
2) I used cardboard moving boxes to make a spray paint booth of sorts.
I propped the card board up against the porch railing. I also put down a drop cloth and then another card board box over that.
The paint booth worked really well. I was able to rotate the piece so that I could get at the nooks and crannies from all angles. Each chair used about 3/4 of a can.
Done!
The paint seemed to adhere really well to the plastic, so I think we'll get a few more years out of these chairs, and I think the new color goes much better with the blue.
Does this plastic spray paint really work?
Read this update on how the plastic spray paint is holding up.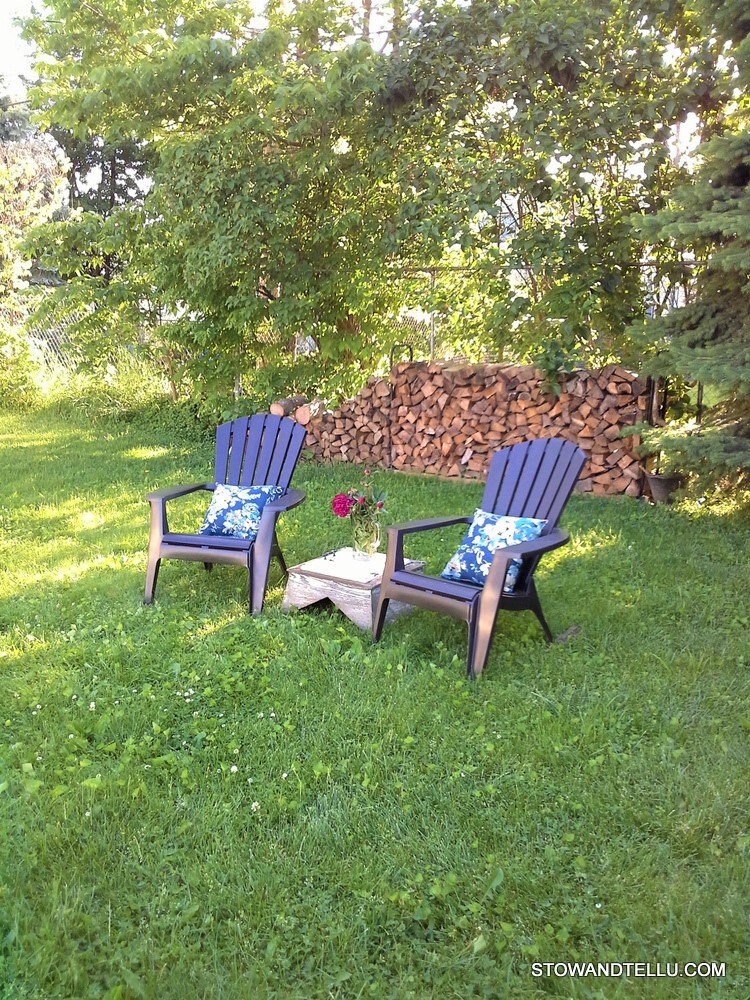 I bought two new pillows with the money I saved.
The side table is from an upcycled weather vane cupola.
The peonies were a blooming surprise from the previous home owners.
The fresh stack of bonfire wood makes for a nice privacy buffer, too!
I also gave the orange vintage metal chair (shown in the back yard photo above) a refresh with a coat of off-white paint.
Is it looking any better, yet? What do you think?
Check out our next step in the process: #YardWorkation #2 – Accent Colors for a Blue House
Have a great weekend ~ Amy
More project ideas using spray paint