White pumpkins are steeling the show these days. But how about white carved pumpkins or jack o lanterns? While I actually only have one white pumpkin this season (a gift from my sister from the bonfire night) I didn't want to carve it.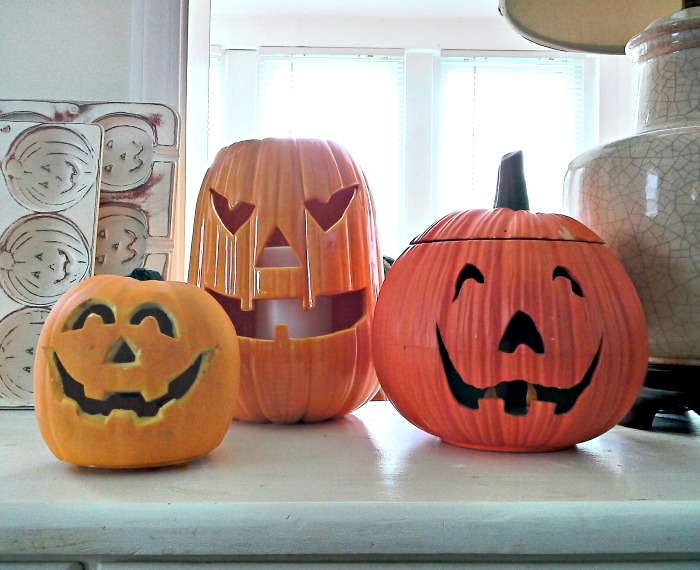 I did however have three thrifted faux jack o lanterns in my collection of Halloween goodies. So I thought I'd try to paint the mid-sized one the color white. After all, the color on this one was just a little too orangy for my taste.
This little jack-o-lantern makeover couldn't have been easier.
I used white and tan chalk paint with a craft paint brush.
I applied mostly white with tan accents, applying white and tan paint layers until I liked the look.
The stem was painted tan, with a few touches of dark brown paint for contrast.
I could (and should have) given it a coat of clear wax.
But I didn't…
Because while the paint was drying on the ceramic pumpkin, I was getting busy painting our cement porch stoop.
Before
Can you say grungy?
After
Much better now.
To paint the stoop, I used Dutch Boy Porch and Floor paint in color: Oak Hollow.
I also painted the unique pipe railing in the color Iron Gate by Sherwin Williams.
I applied a first coat to both the porch and railing and did a re-coat 4 hours later.
Ken had been busy making an Adirondak set with the left over wood from the picnic table project, so we also finished staining those two pieces in the color Driftwood by Pittsburgh Paints and Stains.
Bringing all of these together we've given the house an inexpensive back porch update with a touch of Fall inspiration. It's a long way from our ideal, but it's certainly better than before. I only used about 1/5 of the porch paint, so the next phase will be painting the stairway down to our basement.
Both of these were easy projects you could do in one day.
Estimated back porch update: $40.00
Ceramic white painted jack-o-lantern: $5.00
If you like white pumpkins, wouldn't a whole slew of white or even blue carved jack-o-lanterns make for an interesting Halloween porch display?