Caramel. Chopped nuts. Toppings you might put over ice cream, right? That's what we were thinking when I put together a homemade party apple bar this past weekend for a Saturday night bonfire. Fall is apple picking season. And while there's many incredibly delicious ways to bake all these apples into a recipe, eating them raw shouldn't be overlooked. Should it?
Homemade party apple bar with apple slicing station
The kids at our bonfire party LOVED this apple bar. The apple bin with the persuasive message and the slicers hanging ready to use made it even more convincing.
Gourmet taffy apples have really pushed the envelope on what can be combined with an apple for indulgent delight. Have you ever had a Rocky Mountain Chocolate taffy apple? Oh my. They're good!
Anyways, I kept things simple for this apple bar set-up. However, I could have also included chopped nuts, toasted coconut, chocolate syrup, white chocolate chips, and more.
This post contains affiliate links. Click here to read my full disclosure policy.
For the apple bar fixings, I included cheddar cheese, peanut butter, caramel and cinnamon.
An old elongated wooden storage bin was labeled and held the ingredients. Vintage jars and a crystal salt shaker I already had made the apple bar look more unified.
I could have just put the ingredients into the bin sections "as is" from the store. Just the same.
By the way, I especially liked the Bosco Sea Salt Caramel
because it's sweet and salty and easy to pour.
If you've never tried apples and cheddar. I dare you. White cheddar is especially savory when mixed with a tart, sweet apple.
Ready to Slice apple slicing station
Here is how we made the apple bin with signage and a hanger for the slicers-corers.
Supplies
For starters, I shopped around for a wire basket I found one that 1/2 price.
Several apple slicers
An old piece of plywood was cut into two sections. Screwed together with a 1″ x 2″ to form an L-Stand.
Craft paint, blue painters tape and the #2 pencil transfer method were used to make the "Ready to Slice" sign. Get the Ready to Slice printable below.
An old wall hook was cleaned and sprayed with a clear coat, then screwed into place.
Click here for download: Ready to Slice Printable
Old hook is added.
Now slicers can hang from the hook, handy for slicing;)
Between the bin of apples, the apple slicing station and the "Ready to Slice" sign, who wouldn't be tempted?
Place the bin next to a table full of apple friendly flavorings. Add plates or bowls and a few cutting boards.
Everybody at the party will be saying, "how 'bout them apples!"
But seriously, making or having one of these "apple wedger bins" is certainly not a requirement for a party apple station. It just happened to fulfill the diyer in me (and Ken, of course, cause he helped.)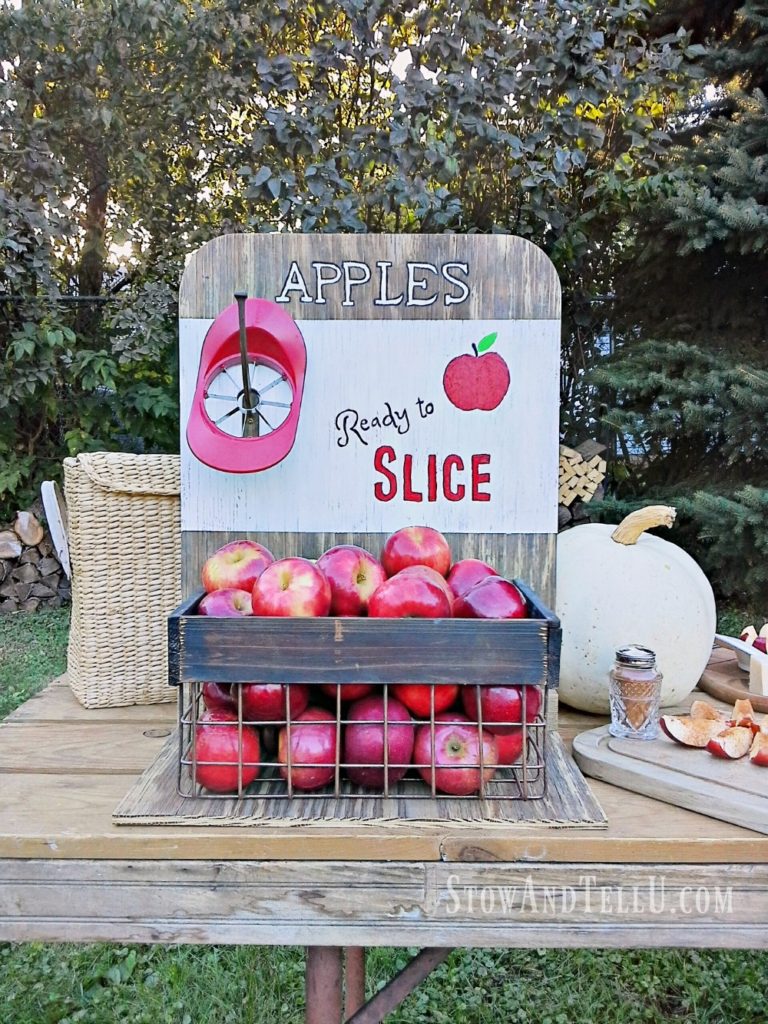 Everybody at our party really enjoyed digging into the party apple bar.
Getting everyone to eat healthier is certainly a motivation.
These same ingredients over ice cream would be higher in calories, no doubt.
Although for me putting this apple slicing station together was really more about celebrating the fall harvest.
If you were going to have a party apple bar for your next get together ,what do you already have on hand to pull it together?
Alternative apple slicing station
Make an apple slicing station in just minutes! Set up a rustic wood crate and hang one or several of these over-the-door type hooks over the edge of the crate to hang the apple slicers from. Everyone will get the idea and you'll be good to go.
More fun fall and party ideas with apples
Linking up with: