Adding a stone path to your yard or garden can add charm, instantly. There's a lot of tutorials for making your own stepping stones with concrete molds, and of course there are always the store-bought kinds, as well. All great options, but what's different about these four diy stone path ideas is that they're made free pour style and either shaped by hand or with hand tools.
The main ingredient is concrete and your hands; along with a few garden tools, a trowel, and perhaps a decent pair of protective gloves…because you will be getting your hands dirty.
And as with laying stepping stones of any kind, there will be a certain amount of digging or trenching, but the end result is a unique and primitive style garden path that won't look like anyone else's.
Making faux stepping stones: 4 hand shaped stone path ideas
This faux garden path is from Tadege. As you can see these hand formed cement steps are still wet in this photo, but once they're dry they brighten up to make a mystical looking walkway through the yard.
This garden path from Bliss Ranch was poured right into place, and then hand troweled into form. Don't you want to make one, just so you can walk back and forth on it?
Related: 5 Artificial Outdoor Landscaping Ideas to Rock Your Front Yard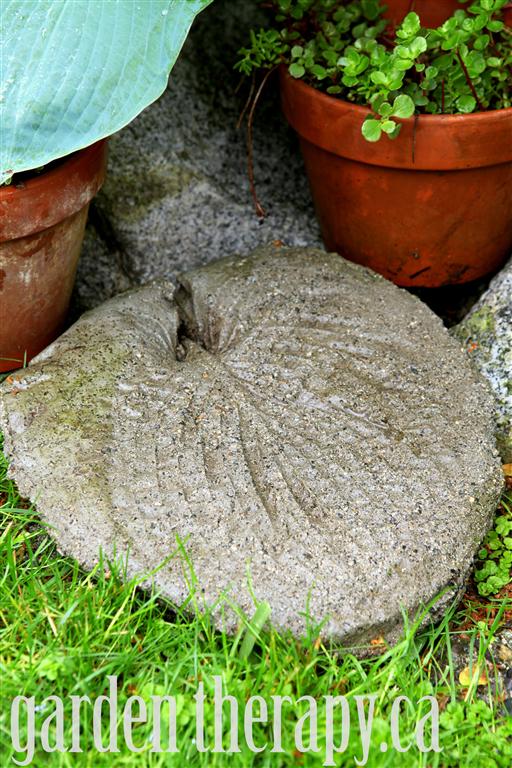 Have you ever discovered a fossilized leaf form in a rock
and felt a little like an archaeologist at that moment, lol?
Concrete garden stone from Garden Therapy Ca. Hand formed right onto a leaf mold from the garden.
For that worn and weathered look, the Decorating Chica has an easy trick for making these faux stone steps look like they've been in the ground for years, and years.
Whether it's the idea of following a path to a secret garden, or the touch of old world it suggests, as in, before they made concrete sidewalks and paved roads. Either way, the more unique and handmade they look, the more realistic, even if they're faux.
Enjoy!
You might also like: