Who doesn't love a garden full of flowers, but hey, not all of us have a green thumb, right? So here is a DIY collection of faux ways to add garden flowers to your yard, porch, or patio without having to plant a single seed, flora, shrub, or bush!
12 ways to add faux garden flowers to your backyard, porch, or patio.
From: The Hanky Dress Lady
These salvage bicycle wheel faux flowers could not be more unique and no doubt the conversation piece of any yard party.
Probably even prettier as the weather ages the painted flowers, hmm?
Fake flowers: baskets, hoses, plates, and more
Fake and faux flower projects galore are featured at The Whoot.com. Bright and colorful and crafted out of garden hoses, baskets, glass plates, and more, but definitely no digging in the dirt with these!
Related: 5 Cleverly Curb Appealing Artificial Outdoor Garden Hacks
From: Color Me Thrifty
This tutorial has all it covered on how to make plate flowers to fake out your garden.
Flower painted sign
From Design Dreams by Anne
Make a welcoming sign for your yard, add a flower or two, and voila!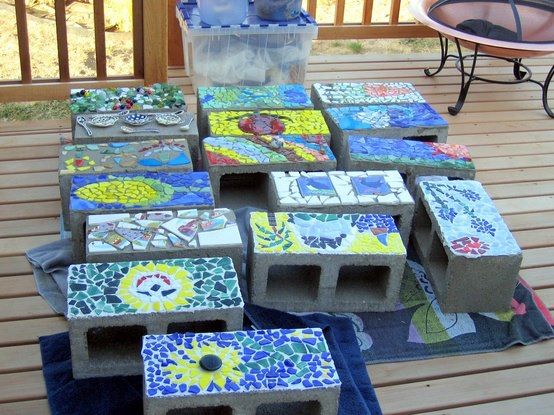 From: Grow and Resist
These faux mosaic flowers were laid onto cinder blocks and then placed as a raised flower bed (which turned out beautifully, by the way), but adding pretend flowers via mosaics can be done on flower pots, stepping stones, etc… Once grouted down these bright and colorful pieces are quite a lasting way "keep your garden blooming" yearlong.
Related: See California-Style Garden Decor While Window Shopping in Ojai
Faux Painted fowers on a shed door
Who would need to plant any flowers with a shed door, window or fence painted like this one?!
Motorcycle license plate faux garden flowers
From: The Alley to the Gallery
And for that junk lovin' faux gardener, salvaged license plates always works.
This post may contain affiliate links. If you purchase any of these products through the links, there is no extra charge to you; however, I may receive a small commission. Read full disclosure, here.
From: Miss Eileen aka Goofing Off Blogspot
Make flowers out of those leftover tin cans and then paint them bright or just let them get rusty.
Faux allium chicken wire flowers
From: The Feral Turtle
Keep the color purple showing in your yard for seasons to come with these faux allium flowers made with chicken wire.
From: Color Me Thrifty
Find a pretty thrifted flower bowl and turn it into a birdbath like this one.
Flower painted chair
From: The Red Painted Cottage
Find a miss-matched, thrifted chair and cover it with painted flowers, or paint just a few.
So if reasons beyond your control or ability are keeping you from planting real flowers in your yard, I hope these faux garden flower ideas will inspire you to fill your space with flowers anyway.
And even if you have a garden full of flowers already, any of these faux flower ideas would add some punch and work as a flower "filler" in between the bloom times of your perennials.
Happy gardening, faux sure! ~ Amy
See this floral stencil collection inspired by these projects.
Flower stems stencil – scrapbook and vintage decor (X
Standard Brilliant Blue Color Material Stencil – Our Most
Summer Flower Stencil DIY Sunflower Crafting -M (14" x
Related back yard and DIY floral ideas
How to decorate with faux plants indoors