Tin foil is not just for cooking, my friends. There are plenty of ways to put aluminum foil to work in a DIY project to get a metallic finish that can look pretty darn close a real metallic finish. Being that tin foil is technically metal already, it's effect makes it look that much more real, in my opinion. It's a pretty versatile material and here are a variety of creative ways tin foil has been used for a faux metallic finish to some surprising otherwise boring items.
Faux metallic projects using tin foil
Faux metallic bling for the bedroom – Red Hen Home
Red Hen Home turned two bedside tables glam-glamorous by covering the furniture with aluminum foil and decoupage.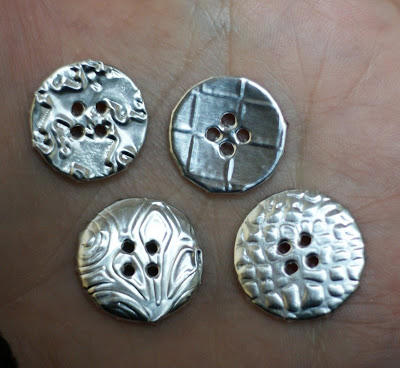 Faux metallic button – Scraptus.blogspot
Scraptus.blogspot used tin foil and a Big Shot embossing machine to create this fabulous new look for these buttons…oh the possibilities for boring buttons when covered with foil.
DIY faux metallic greeting cards – Taming the Goblin
Taming the Goblin, a kid-friendly website, made thank you cards with cardstock, hot glue and tin foil. Any project that stirs the creativity for the little ones is a cool project in my book, but what's more is the many ways this project can be used, like labels for organizing a kid's room, making inspiring signage, name plates… What kid wouldn't love to see their name in 3D?
Faux metallic Anthropologie inspired letter – The Space Between
The Space Between Blog not only used alum foil to nail this Anthro metallic letter knock-off, but offers a great tutorial on how to actually make the letter itself. Whom of us wouldn't love to see our initials in 3D?
Faux silver leaf wall texture – Positively Splendid
The Ivy Cottage Blog (sharing at Positively Splendid) glammed up an entire wall with a faux metallic wall technique using aluminum foil. This is a great tutorial for covering a full wall, partial wall, furniture piece, table top, or any type of larger item.
Faux antique silver eggs – Just Crafty Enough
Just Crafty Enough covered faux eggs with tin foil and gave them a classy, vintage look with some antique stain. Move over golden eggs because seeing a nest of these would certainly catch my eye in a table centerpiece or in a vignette on a mantel. This gets me thinking about how many other random objects could be perked up with interest by being covered with foil.
I think it's interesting how using aluminum foil can create a metallic look that ranges from a glam style to the functional/industrial look to antique and vintage inspired. I have some crafty ideas spinning around in my head for putting tin foil to the challenge around here, how about you?
You can see more Faux and TellU posts, here
Thanks for stopping by ~ Amy