Small spaces often require dual purpose furniture, so while we wanted a piece of furniture with a cozy, game room feel to place next to Ken's pinball and slot machines, we also wanted to hide the kitty litter box. You know, because kitty litter boxes and game rooms go so well together, right?? Well, for us they were going to have to; thus, we have ourselves a decoupaged coffee sack furniture cabinet which will fool the eye (and our guests) as a coffee station whenever we have company.
DIY Decoupaged Coffee Sack Furniture Cabinet
Craigslist has been good to us lately, and among other things, we were able to purchase 2 of these salvaged kitchen cabinets for $10 each. That's $20 for both ;D —> SCORE
Both cabinets did come with countertops not shown in this picture.
For this project we used one of the cabinets. Ken thought it was too big for the space, so he went about modifying it by shortening the width and then taking all the steps needed to make it into a kitty litter cabinet like this one I was inspired by from Chaotically Creative.
The cabinet was then painted white.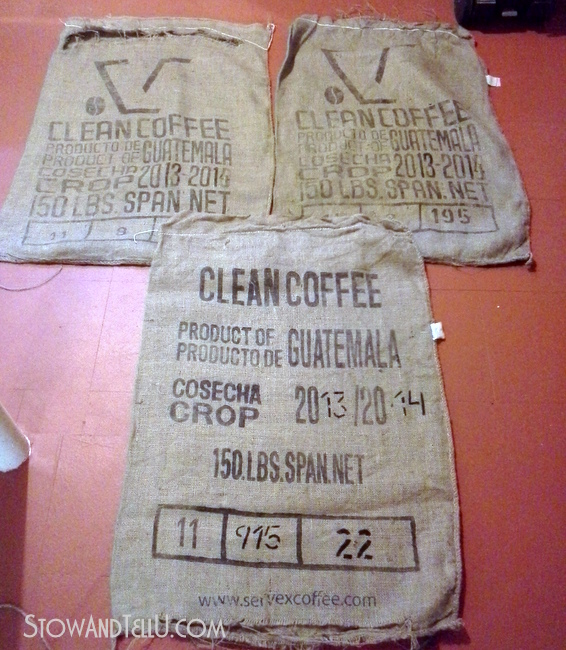 Next, I chose a few coffee sacks from another recent Craigslist purchase and washed and dried the coffee sacks following these directions.
How to decoupage burlap onto a furniture door
Supplies:
Cabinet or dresser painted
Burlap coffee bean sacks
Decoupage (I used Mod Podge Matte)
Scissors
Craft paint in color close to burlap (with any diy chalk paint recipe)
2 Small paint rollers (one for the decoupage, one for the craft paint)
I used the following steps below to attach the coffee sack onto the furniture door with decoupage.
I cut the coffee sack down to a workable size with scissors, applied decoupage to the cabinet door, and then laid the coffee sack piece over the door, smoothing it down. I applied several coats of decoupage over the top of the burlap and let it dry a bit.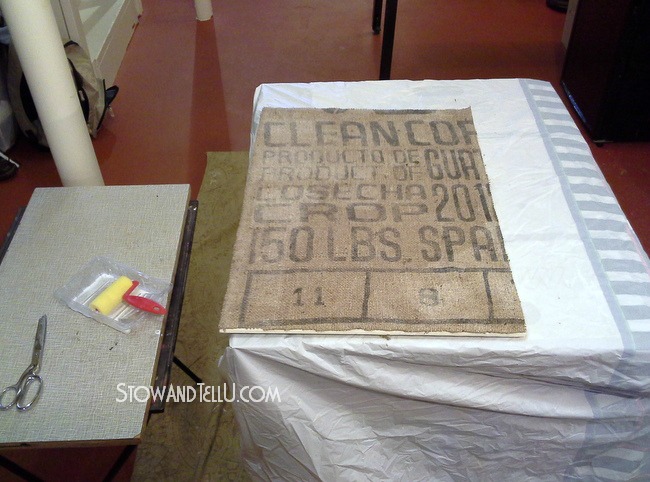 I trimmed off the excess burlap fabric. There was a little bit of fraying, but not much.
I screwed up on this piece (it was crooked), so I had to re-adjust it, and re-trim it which caused this gap. Most of the pieces just had a small bit of fraying, but it was just enough that the white paint showed through on the edges.
I mixed up a small batch of diy chalk paint using colors: linen, woodland brown and black. I do believe that they have a craft paint color called "burlap" out on the market, but I didn't have any, so I improvised.
Next, I rolled the paint along the edges with a small roller until I had good coverage everywhere and let the paint dry.
As the last step, I gave the cabinet door several more coats of decoupage, making sure to cover the edges.
I followed the same steps for the cabinet drawers, per photo above.
The old, white drawer pulls worked perfectly to accent the entire piece and give it a touch of rustic, cafe style.
Inspired by this round-up of faux, rustic countertops I posted a few weeks ago, I knew that the faux soapstone or chalkboard painted countertop idea would be a perfect compliment to the white and burlap cabinet, not to mention the black accents from Ken's gaming pieces.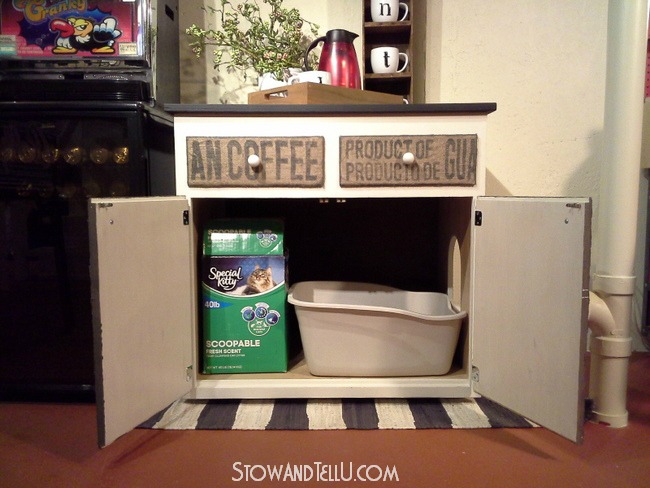 Let's not forget the incognito kitty litter cubby.
Our Kitty has taken very well to his new "digs".
It's hard to believe that after over a year, when we started the basement update, that we have come this far. Although we aren't finished, yet. I am thrilled that our hard work is paying off and the basement is starting to look like a livable, perhaps even enjoyable place to hang out!
You can see all basement update posts, here.
You can see all burlap project posts, here.
Thanks ~ Amy
Linking up at:
Thrifty Decor Chick/ Before and After