It's junk revision challenge time again, and this month our theme is organization. Let me just say that I've got so many areas that need to be more organized, I wasn't sure where to begin. But the room most in need (at least my stomach tells me so) is the kitchen!
I did a quick inventory in the kitchen. What do need? What do I want? The list could go on, but I knew one item I really wanted was a chalkboard painted "something" that would help us take quick notes thought out the work week.
Next, I went out to the hobby shed to peruse my stash of junk to see if I had anything that would do the job, and I happened to come across an old mini drawer organizer. I've had this one for quite a few years. As a matter of fact, my sister let me keep this one in her barn last winter, along with a bunch of other junk, so we could open up more space at the townhouse for the potential move.
Now back in the kitchen, mind you, we already have two junk drawers that are almost full, and we've only been here since August. If we keep going at this same pace, we'll need two more drawers by this coming July. I'm sure some of you can relate, but have you ever noticed that the more cluttered it is, the less likely you are to want to re-organize it? Yep!
So I figured, if I could paint the mini chest with chalkboard paint and de-clutter my two junk drawers at the same time, I'd be on my way to the junk revision organization challenge.
Make sure to check out all of the other junk revisions at the bottom of this post so that you can get inspired to get your own organizing on this post-holiday season.
Chalkboard painted mini drawer organizer and message center
Supplies I used:
Mini drawer organizer (knobs were missing)
White paint
Chalkboard paint
2 Small sponge brushes, 2 small sponge rollers
Blue painters tape
Sand paper sponge block – 200 grit
Clean cloth
Sisal rope – for DIY Sisal Rope knobs (find tutorial link in this post)
Larger drill bit and power drill (optional, but needed for making the diy rope knobs)
Follow the steps below:
I removed the drawers and drilled larger knob holes to a size just slightly larger than the diameter of a pencil.
I gave all pieces a good cleaning.
I painted the entire mini chest and drawer fronts with 2 coats of white paint; letting each coat dry; and then I gave the whole piece a light sanding with the sanding sponge, then wiped it all down with a clean cloth.
I taped off the top and bottom section, and painted the center area with two coats of chalkboard paint, using the sponge brush to get into the small nooks along the top an bottom and the roller for the rest of the areas, as well as the drawer fronts. I made sure to let each coat of chalkboard paint dry in between.
I gave the whole piece another gentle sanding and then added the diy rope knobs.
We've got quite a ways to go in the kitchen, and I have a designated spot for it eventually, but for the photos, I've placed it in our soon to be mudroom area along with that cute little snowman wreath, mauve ribbon and all.
I'm pretty pleased at how this organizer turned out. Not only can I now jot down a quick message or reminder, but I have also been able to filter out some of the over flow in our junk drawers and this has already made a difference in my quest to be a little more kitchen organized in 2016.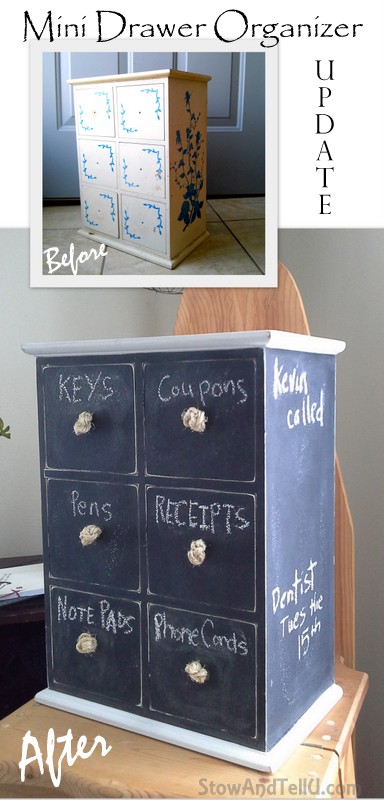 Scroll on down to see more organizing inspiration from the other Junk Visionaries using junk you might have laying around your own home!!
Also Sharing at:
Funky Junk Interiors/ Party Junk