I'm all about the this faux leather, raw hide texture made with tissue paper and decoupage. I've just finished another group of lidded storage boxes for my linen closet update and I'm thinkin' that they are lookin' pretty worn and weathered… like raw hide!
And to think anyone can get this textured look with decoupage, tissue paper and craft paint, ha! I was surprised at how well it turned out.
A few months ago, when I started on the linen closet update, I made some faux tin ceiling storage boxes. I have one more set of boxes left to decorate, (hopefully sooner than later,) but for the moment, this set of storage boxes is complete. Kaboom!
How to get a raw hide, faux leather textured look
with tissue paper and decoupage:
Supplies
Card board storage box with lid – or a piece of furniture, photo frame, etc..
Tissue paper
Decoupage (I used Mod Podge Matte)
Craft paint – I used light brown, dark brown, and darker brown
Sponge craft brush
Sponge roller
Several clean cloths and some water on the side
I used this technique on several card board lidded storage boxes that I made myself. Click here to see directions on how to make your own storage box with lid. Make sure to attach the corners using hot glue, rather than tape, like in this picture. It will make the whole process much, much easier.
Rip the tissue paper into pieces, about the size of your palm. Rip a few on the smaller side as well.
If applying to a lidded storage box, start by applying decoupage to the corners on the inside of the lid with the craft sponge brush.
Then work your way toward the center of each side of the inside of the lid, making sure to only apply the paper on the inside part. leaving part of the tissue paper piece unattached.
Next apply decoupage and then wrap the unattached piece of the tissue paper down and adhere to the outside of the lid.
Next, apply strips of the tissue paper to the rest of the outside of the lid by applying a layer of decoupage, then laying down strips of tissue paper, and then applying more decoupage, and then filling in the empty spaces with more tissue paper. Repeat this process until the whole outside of the lid is covered. Let dry.
Repeat the same steps for the box bottom as was done for the box lid. Let dry.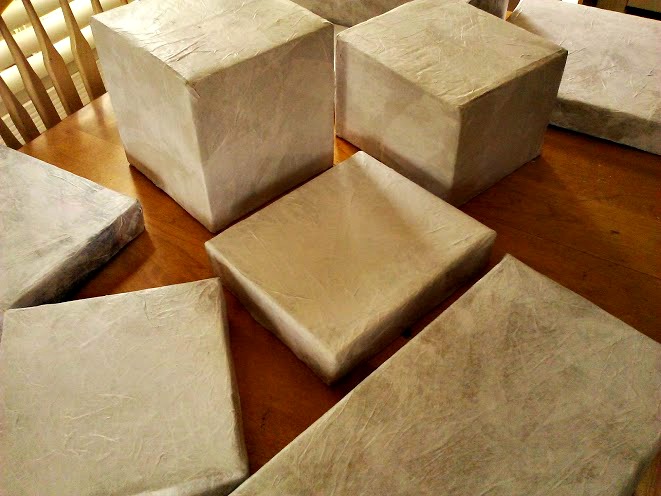 Mix a teaspoon or so of water and decoupage together, apply another coat of this mixture over the lid and box, and rub down with dampened fingers to create wrinkles and creases. The more wrinkles, the better! Let dry.
Using the sponge roller, apply a coat of your lightest color paint to the portion just inside your lid and box, then the edge of the lid and box, and then the entire outside of your lid and box. Let dry.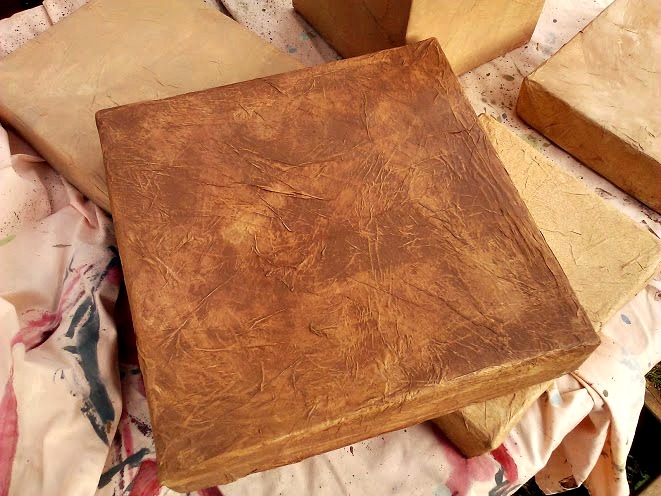 Repeat the same steps as above with your next darkest color. Let dry for a few minutes, and then rub some off with a damp, clean cloth. Let dry.
Repeat the same steps as above with your next darkest color.
In addition, I applied a fourth coat using Martha Stewart's Metallic Glaze in color: Coffee.
Final step: Apply a 2 coats of sealer. I used Mod Podge Clear Acrylic to reduce the tackiness.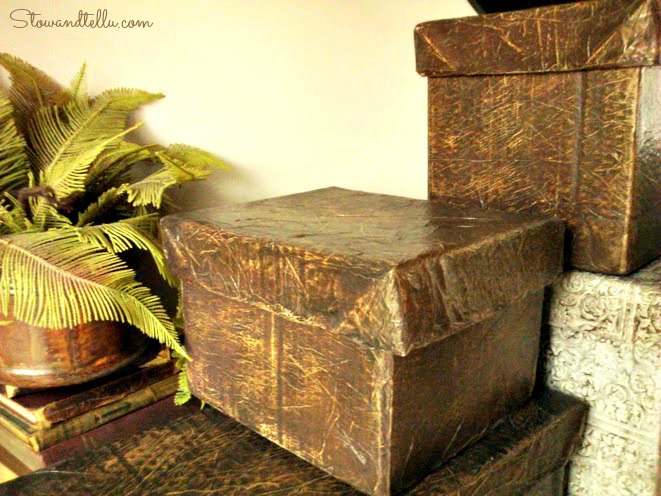 Faux leather storage box with lid
Other ideas: Use opposing paint colors; try going darker to lighter; use another color palette altogether.
Sample on a scarp piece of card board to get the colors you want.
Apply the tissue paper decoupage technique to create a faux raw hide look to furniture and other decor items.
It is no secret that the faux leather raw hide technique with tissue paper and decoupage has been around for a while, but for me it is an very inexpensive way to get a rustic, weathered leather look and I quite like it!
As I bounce between my kitchen and linen closet updates, all bets are on as to which one I'll complete first. Thanks for stopping by, have a great day!!
Linking up to:
New Things That Look Old-Funky Junk