Nestled under the skyscrapers of Chicago, Illinois, Lou Mitchell's Restaurant and Bakery is the first dining stop that is original and still remaining along the beginning point of historic Route 66.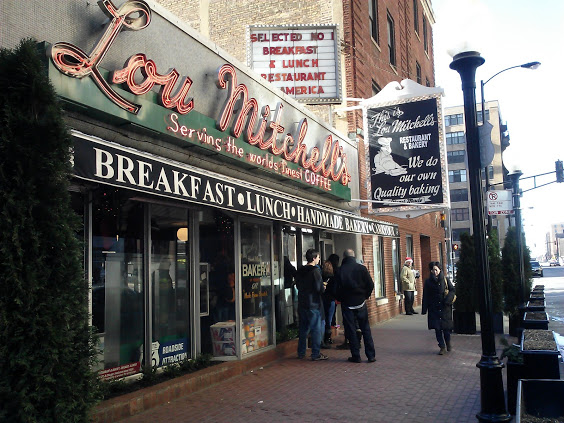 Route 66 Chicago restaurant and roadside attraction
Located at 565 W Jackson Boulevard, the diner opened its doors in 1923 and was ready for business from Route 66 traffic in 1926 when the road's first signs went up. Lou Mitchell's has managed to retain that true coffee shop diner atmosphere that plenty of other restaurants have only been able to replicate.
Diner style
Form follows function in this 90 year old establishment, with a chalk board style menu on the wall… a bona fide soda fountain counter…and neon signs.
Although they do not take reservations, you will most certainly see the wait staff bustling around non-stop to get patrons seated, fed and satisfied.
If you are hungry while waiting
If you have to wait in line to be seated, you will find that the lines move pretty fast, and while you're waiting, there is always a staff member happy to offer you homemade doughnut holes or milk duds.
Breakfast and lunch only
The restaurant is open daily for breakfast and lunch. Their menu offers comfort foods "from scratch", soda fountain creations, and homemade desserts, breads and pastries from their own family recipe. If you are looking for a lighter menu, Lou Mitchell's has made sure to include healthy choices as well, such as egg-white omelets, salads, organic yogurt and produce.
Many of their meals are served right up in a skillet.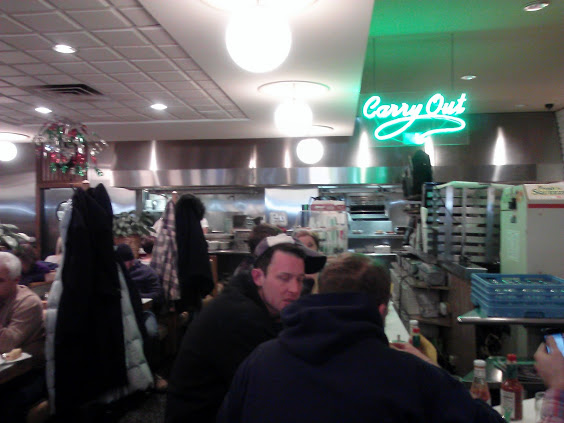 If you don't have time to sit down, you can order carry out.
Gift ideas and souvenirs
Many of their specialties make great gifts when packaged to-go, including homemade orange marmalade and signature maple syrup.
Lou Mitchell's is easily accessible by foot, bike, car, cab or train. Located in the west loop area, the one story building is just a block west of Union Station, walking distance from various Metra and CTA stops, and just east of the I94/ Kennedy expressway,
This original roadside attraction, just down the way from where historic Route 66 begins, is a must stop if you are visiting downtown Chicago, if you are interested in some route 66 nostalgia, or if you are just looking for fresh, down home food at an affordable price.
Please tell me about your experience, if you decide to visit Lou Mitchell's.