It's almost Super Bowl time again, so if you looking for some food ideas, here is an easy method for making football shaped sugar cookies, and the best part is that no cookie cutter is needed.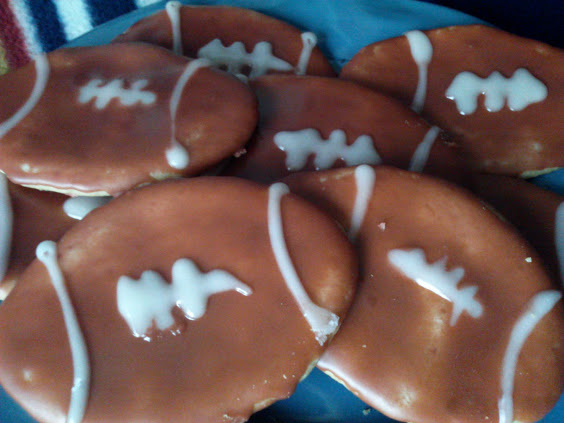 The football cookie idea is from my niece, Colleen, who read my post last fall on ghost shaped sugar cookies and improvised to make football cookies, instead, for her son's football team. Thanks, Colleen. Go Team!!!
Easy Football Shaped Sugar Cookies without using a Cookie Cutter
Ingredients
1 roll Pillsbury Sugar Cookie Dough
Pourable Icing:
The icing will be separated into 2 parts, but it will start out as one batch per the ingredients below:
2 cups powdered sugar (sift if desired)
4 tsp light corn syrup
4 tbsp milk
1 tsp vanilla extract
To make brown food coloring (you will add this to the icing):
7 drops red food coloring
4 drops yellow food coloring
2 drops green food coloring
Alternative option for homemade frosting: Pre-made chocolate frosting and white decorating gel or frosting.
NOTE: There are a few tricks to making these "no cookie cutter needed shaped cookies" that varies from the recipe on the sugar cookie dough package, so please carefully follow the directions below for best results.
Directions for making the football shaped cookies
Preheat oven to 350
Put sugar cookie dough in freezer for 15 minutes
Cut sugar cookie dough into 32 slices
Roll each slice into a ball, then shape into an oval and lay on cookie sheet
Press oval down with fingers to flatten
Bake in oven for 7- 9 minutes. Remove when edges are golden brown.
Only let cool on cookie sheet for 45 seconds, then loosen with spatula and cool on cookie rack.
Tip: If you are only baking approximately 12 cookies at a time, keep the rest of the dough slices in the freezer until you are ready to "shape" them onto the cookie tray.
Icing directions:
Place the corner of a plastic baggie into a large glass
To make pourable icing, mix all icing ingredients together in a bowl, except for vanilla and food coloring.

The icing should be a white color.
While icing is still white pour 1/5 portion into the plastic baggie

that is resting in the large glass This will be for the WHITE LACING.

Add vanilla and brown food coloring to the remaining portion of icing in the bowl.

This will be for the BROWN OF THE FOOTBALL.

If you need to thin icing, add more milk 1 tsp at a time until icing runs off spoon easily. (Don't thin icing until you have separated the 1/5 portion.)
Lay wax paper under cookie racks and apply brown icing to cookies with a basting brush, making sure to fully cover cookies and let icing drip over the sides. Let icing dry for 30 minutes.
To apply the WHITE football lacing, remove baggie from glass and snip a little piece off the corner of the baggie.
Squeeze lacing design onto each cookie. Let dry for at least 30 minutes.
Store cookies in a seal tight container.
Note: I have tried other cookie dough brands, but I have found that the Pillsbury brand works the best for this type of cookie.
These cookies will end up looking like hand rolled cut-out cookies and have that fresh baked taste, yet you can make them in a third of the time and mess.
Let me know WHO you baked your football shaped cookies for. I'd love to hear about it!!
Like this idea? Pin or share this recipe on Facebook to make for later —->