My son went to Nashville and all he got me was a coffee mug!!
Sure, I love my coffee, so the mug does come in handy, thank you. But, in all honesty, I actually got a little more attached to the fancy bags he brought the souvenirs home in.
Not the plastic kind, but the fancy paper kind, with the handle. I don't know about you, but those fancy paper boutique bags make me feel special even after the item is out of the bag. Why is that?
It doesn't quite matter which store it's from, it's simply the extra effort of a paper bag with a handle and catchy logos. Works on me every time! I've admittedly hoarded a few.
With a couple of projects in the works like my kitchen and basement, I'm much in need of de-hoarding, so these fancy boutique and souvenir bags have been re-purposed onto shoe boxes for some good, old-fashioned DIY storage.
DIY Shoe box storage in 8 easy steps:
Rip bags apart salvaging the logos, fancy backgrounds, handles, and so on. Ripping, not cutting, is key.
Gather some shoe boxes and arrange the pieces of bag onto the box in a pleasing style.
Add other media with matching colors or patterns such as newspaper, scrapbook paper, tissue paper, wrapping paper
Paint boxes with craft paint and let dry. I used Martha Stewart's Multi-Surface Craft paint
Apply ripped paper pieces to the boxes with decoupage, let dry.
Apply two more coats of decoupage over the entire box, let dry
Poke holes on the side of the box with the sharp edge of a scissors and then poke the holes larger with a screw driver or pencil.
Insert you handle and tie off on the inside. (I make a larger hole on the inside flap, if the box has two flaps, so that the handle fits better).
Trip to Starbucks and the grocery store.
I made these last year and I'm still using them in my mini-mud room.
I added faux leaves with tissue paper, just for fun!
Banana Republic and… wait for it… The Men's Warehouse.
I used newspaper and some fancy lace craft paper.
The Country Music Hall of Fame and PacSun's Sunglass Hut
Wouldn't these look cute on a shelf? No need to hide these.
While some of us are out seeing interesting sites, such as The Country Music Hall of Fame…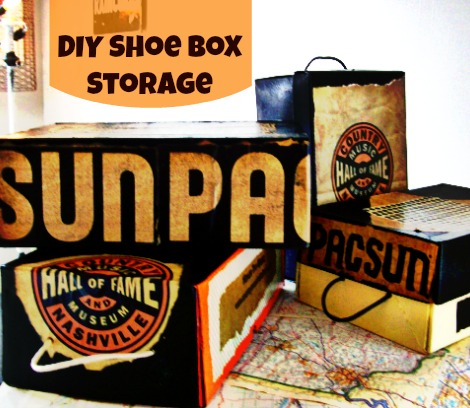 Others are nestled at home making storage boxes
about The Country Music Hall of Fame…among other things.
Which would you rather be doing?
Linking up to: