Imagine this. You're trying to whip up a quick pasta dish that requires oregano, parsley, and garlic powder. You open the spice cabinet and start searching. Ground mustard, no. Thyme, no again, Cayenne pepper, um, definitely not. Before you know it there are 12 jars of spices on your counter because the ones you need are in the way back.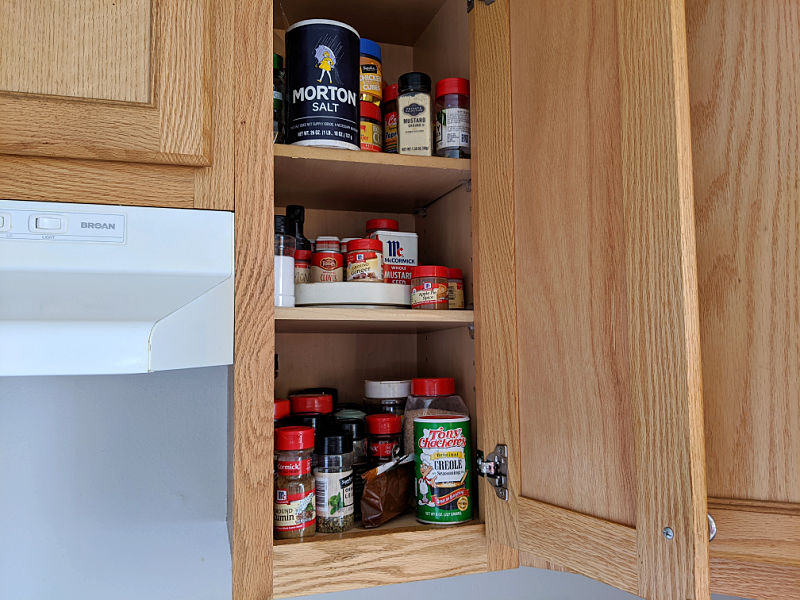 Of course, because your spice cabinet has no organization at all. The same thing will happen the very next time you cook.
This is has been our cooking saga for quite some time now, but I really couldn't take it any longer. I'm sure you can relate.
Yes, it would be trendy to have a displayable, easy-to-access spice rack with gorgeous labeling. But we're not there yet in this kitchen (if ever), so I had to find some way to better manage our in-cabinet spice storage. Because for the few times a month that I actually cook, it would be nice if it didn't mean doing the spice jar shuffle every one of those times. Even if Ken would just keep doing it the same way for like EVER.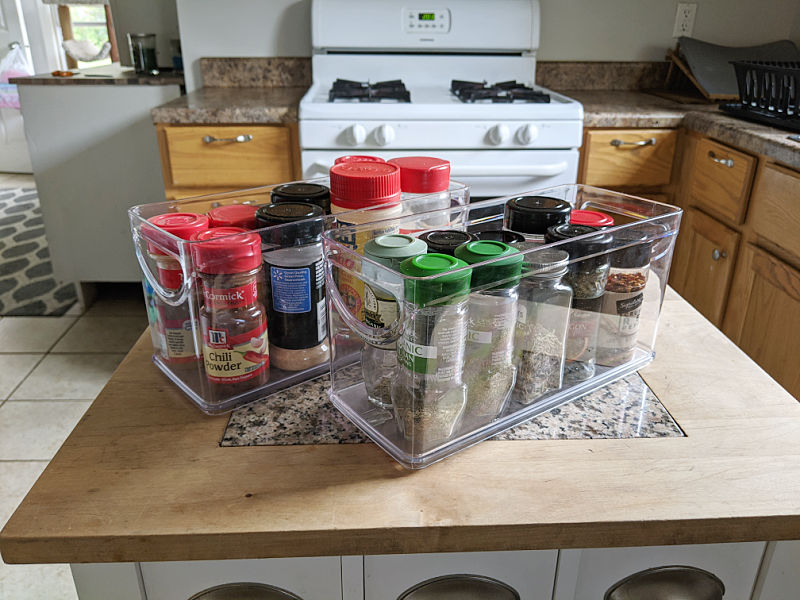 Fortunately, we've recently started using these plastic storage bins, and they seem to be doing quite the job to keep our spices in some semblance of order with easy access and all.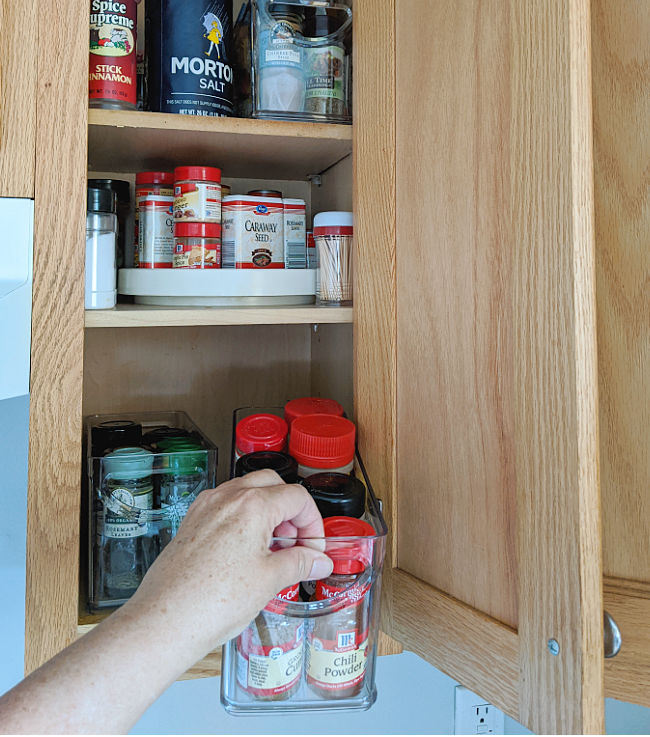 This new set-up has even passed the Chef Ken test since he does most of the cooking. And if he is willing to admit it's working, then I know it is. Because Ken does not like change. I often follow the ask forgiveness, not permission rule with him so I don't have to hear him grumble.
Anywho! Let's talk about what size bins work the best.
How to find the right size spice cabinet storage bins?
Take measurements of the inside of the cabinet
Note that a standard upper cabinet depth is 10 inches.
Measure the width across the front of the cabinet opening.
Decide how many bins you need.
Make sure to leave some wiggle room so you can easily pull out any bin when needed.
Tip: Organize the containers by dried spices, ground spices, baking spices, and finally place the rarely used ingredients in bins on the top shelf.
Storage bins that fit upper kitchen cabinet depth of 10 inches
These would work really well with open shelf kitchen storage, as well.
We plan to add more of these bins for the middle and top shelf, but I wanted to make sure they actually did the job of keeping things organized before I purchased more.
If I ever get my fancy displayable spice rack, I know these bins can be put to use elsewhere in my pantry or kitchen.
PS: Since Ken prefers spicy food and I prefer bland, I'm hiding that Cayenne Pepper in the way back on the top shelf with the hopes that he'll forget we have it…at least for a while.