We've only made a few changes to the kitchen since we moved in. And let me tell you, it needs a lot of changes as far as I'm concerned. One, we upcycled an IKEA rast into a vegetable bin. And last year, we moved the fridge to a new wall to create more counter space and in addition, we repurposed an old shelving unit into a counter-height storage shelf. We haven't painted or done much of anything else, as of yet.
Living with the kitchen "as is" has given me time to see what is working and what isn't in terms of functionality and plans for the future in this space.
For a while now, I had been imagining what an open kitchen rack right next to the pantry would do for storage. My idea was to have Ken build me one, but fortunately, I found a perfect sized one at Hobby Lobby. My son was willing to give me a late birthday, but early Mother's Day gift. Yay!
Since I brought it home, I have swapped and switched kitchen items around like musical chairs, but I think I've got a good mix of kitchen necessities in place on these shelves.
5 Tips for Open Kitchen Rack Storage Design
Here are my 5 tips for utilizing a small space kitchen rack.
1) Baskets
Use baskets to hold awkward items that don't fit well, or take up too much space in your cabinets and drawers.
My kitchen contains some items, like a cheese slicing board that due to the odd shape just didn't fit well in any of our cabinets. I filled a long rectangular basket with bread baskets, the cheese board, my mom's old trivets, and two baking funnels.
Plastic water bottles like to tumble, so I filled one basket with those.
I have the tiniest amount of cabinet drawer space, so I filled one of the baskets with dish towels and more of my mom's old hot pads.
2) Vertical space
Although there might not be a lot of vertical space between each shelf, it's still vertical space. Stack whatever you can to use up cubic space.
I stacked my canister set, mixing bowls and a few of my husbands cook books. By the way, he still has his copy of Man Without a Mate cook book from when he was single;)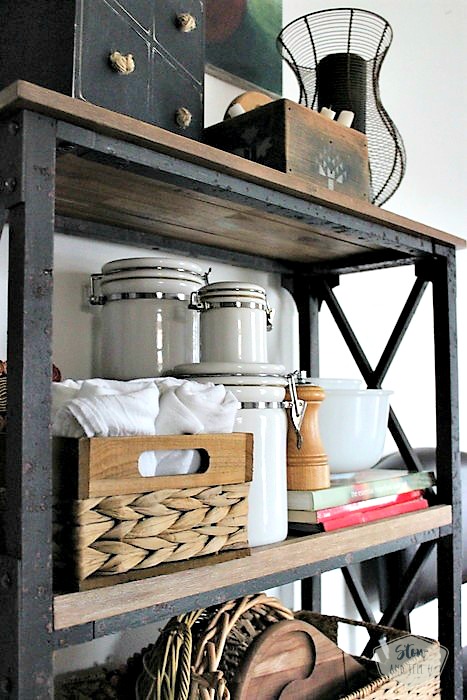 3) Easy access
The open shelf concept means there's one less step (opening a cabinet door) to grab what you are looking for. #TimeSaver
I tried to think of some of the things I most wanted handy when in a rush. Like the bottled water, which I usually grab on the way out to door to work. Or the sugar canister to fill the sugar bowl for coffee at 5am in the morning.
4) Multipurpose
In a large and well thought out kitchen, separate shelves may hold just tableware, or just cooking items, but in a small kitchen like mine, I don't have the space to be exclusive.
I had to go with the best use of space concept and fill these babies with a mix of kitchen stuff that I wanted handy, or just didn't fit well anywhere else.
5) A little bit of pretty
Just like any room, an open kitchen rack looks it's best with at least one focal point. Something pretty.
The top shelf holds my chalkboard painted six drawer cubby, which holds of bunch of junk-drawer type items. So while the top shelf is still useful, I added a few fake plants and a wire candle holder. And my black licorice pillar candle, a thrift store grab that I love.
I also found this adorable handmade wooden Amish caddy. My intention was to use it as a flatware caddy, but it turned out to be to shallow. For now I'm leaving it here, but my plan is to find a good flatware caddy and see if that works better than the current silverware drawer that is too narrow.
While hardly a finished kitchen, these shelves are holding a lot of stuff that was cluttering up other areas of the kitchen, so it feels really good to have this in place and in use.
I actually feel kinda organized these days:-D
Have a great day! ~ Amy
Linking up: