Light fixtures are like decorations on a cake. Similar to the difference between florets, drizzles, or sprinkles layered over vanilla frosting. Light fixtures make the ultimate statement in a room even if they sometimes seem like an afterthought. Because just like we'd eat that cupcake no matter the type of icing, we'd also turn on that light, no matter the style. Either way, it works, but we're all going to notice (or gobble down) the more decadent ones, right?
Of course, finding just the right light fixture can sometimes be a challenge. You search and search until you discover the exact flush-mounted ceiling light, only to find that it will cost you your firstborn child. Or you come upon a light fixture that's within the budget, but it's in the wrong color. This is where a can of spray paint can come in quite handy.
I happened to find the perfect light fixture for our laundry room update. But at almost $300, it was indubitably not in the budget.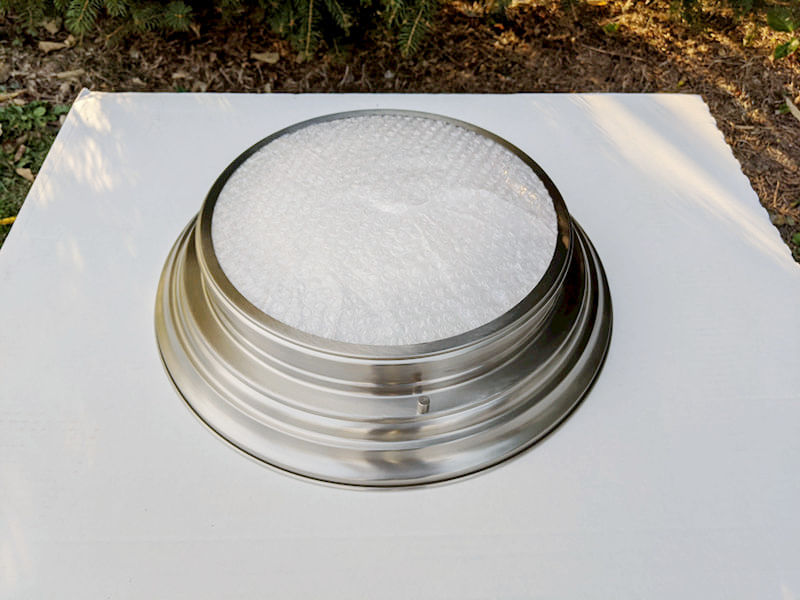 After searching further, I found one in a very similar style at Home Depot for a much lower price of $47. Although wouldn't you know, it was only available in a polished nickel finish, when I had my heart set on darkened brass.
Enter stage left, a can of antique brass spray paint.
And we now have ourselves a light fixture hack that looks trendy and cool, for a budget price of about $50.00.
If you are struggling to find your ideal light fixture, while staying on budget, consider the option of spray painting a light fixture.
Make sure to use a good quality spray paint. I used Rustoleum Metallic Antique Brass Spray Paint (Interior/Exterior)
7 Easy Steps for How to Spray Paint a Light Fixture
Clean the light fixture surface with paper towels and a good degreaser or tsp substitute (like this one).
Tape or tarp off the areas you don't want to paint. (The lamp part of my light fixture came covered in bubble wrap, so it was ready to paint, as is.)
Place the light fixture on a cardboard surface.
Use shims to raise the fixture up slightly.
Shake the paint can well and test spray.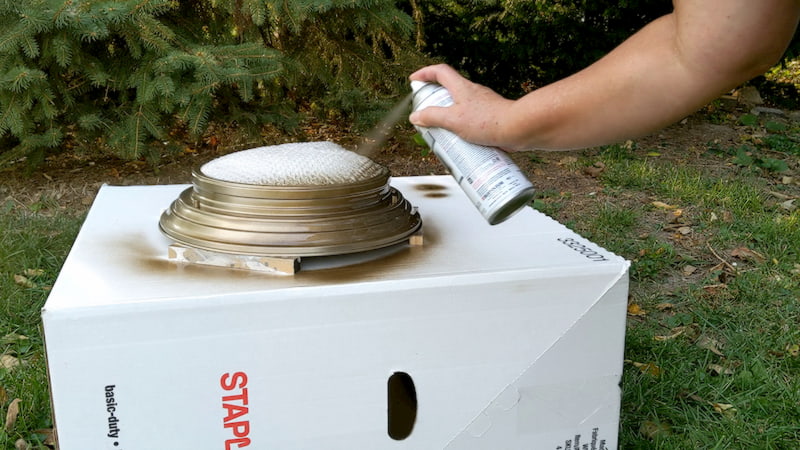 Apply several thin coats (to avoid paint drips), allowing 10-15 minutes drying time in between each coat.
Allow 24 hours dry time before mounting.
Remember cleaning and degreasing is key, so take your time and scrub-a-dub-dub.
Sometimes we really want splurge on a light fixture. Other times we want to save and splurge elsewhere.
More often than not, we just want a plate of cupcakes.
Nevertheless, isn't it good to know that spray paint can so easily help you change up the look of metal hardware, lamps, and light fixtures?
Your turn. Have you ever re-vamped your lighting without buying new? How did you do it?