In the process of a furniture project, I wanted to add a little dimension to my piece, so I went looking around for ideas. I had it in my head to try plaster and bubble wrap texture. I didn't see too much on the subject, although what I did find, such as alisonrachelreid.blogspot.com, was very impressive! Well, I figured I'd give it a try. I've done a few projects with plaster texture before, but I still wanted to test it out on some scrap wood to see what would happen. I'll admit the results were a success, woohoo!! …and it looks a little like snake skin, if you ask me.
It's pretty easy to do…here's how I did it:
Supplies
Plaster (I used joint compound)
Flat surface
Spackle knife
Bubble wrap
Painting supplies
Sand paper or sanding sponge
Base coat paint – color of your choice
Top coat paint and glaze
Clear coat
There are a few small tricks to getting this right!!
Test on a surface such as scrap wood several times, because part of the trick is in the drying time of your plaster or joint compound, which will have a lot to do with the climate you live in.
This may work on a wall, but I have not tried that, yet.
Apply the plaster to a flat surface with the spackle type knife, covering the whole surface at about ¼" thick.
***Thin the layer of the plaster down to about 1/8"thick, trying to keep the coat as even as possible through out the surface.
Let plaster set for about 20- 30 minutes, or until the plaster is just starting to skin over. You will know when you touch the surface and it doesn't goop right up on your finger like melted marshmallow.
Gently lay a sheet of bubble wrap over the plaster and press down GENTLY.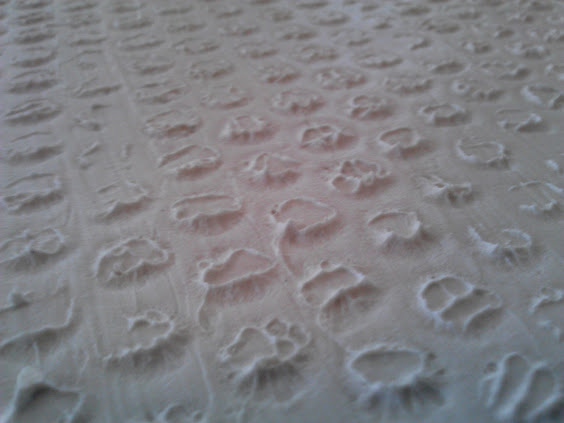 Peel the bubble wrap away, and you should have an evenly mottled look, like these pictures.
If it doesn't look somewhat like pictures, then add more plaster texture and repeat all of the above steps, only this time, let your plaster set 10 minutes or so, longer, than before.
If you have any small areas that come out too thick and look like this, but the rest looks good, don't worry, you will be able to blend it later when painting, and it will add character.
Let dry 24 hours **
** I'm updating to recommend letting this dry 48 hours or longer, refer to your product's specifications.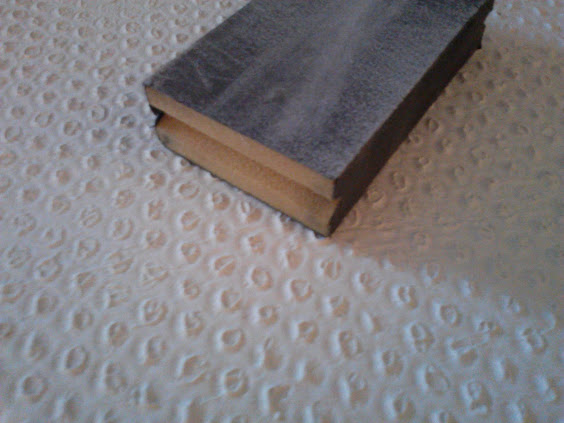 Sand surface, very lightly with a sanding sponge.
Remove plaster dust with a barely damp, soft cloth.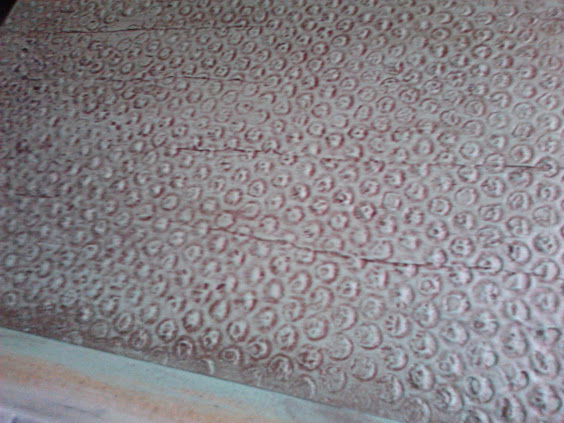 Add Paint
Paint your base coat. Let dry completely.
Mix top coat color and glaze and apply over base coat.
Rub off excess with dry cloth, and a slightly damp cloth, as well.
Repeat these steps until you like what you see.
Add a clear coat, if desired, I like to use a wipe-on poly coat, such as Minwax.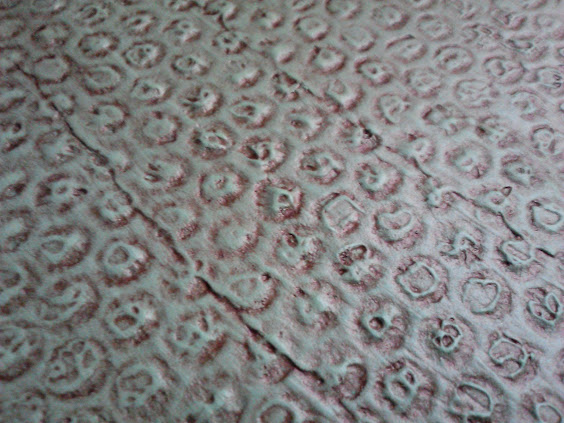 Snake skin, crocodile, call it what you will! How do you like this texture?