A simple nest of speckled eggs can bring about thoughts of fresh air and springtime; the county fair, the Circle H, the French Market…
Okay, I'm going to take a 180 here, because, I just can't help but marvel at how much speckled eggs look like splattered paint! Or maybe I should say, splattered paint in the colors of nature because we'll always have the splatter paint art of our recent past, and not that there's anything wrong with that, but I'm talking, now about colors that resemble real speckled eggs!
So I thought I'd, think spring, and try my hand at paint splatter texture in colors that would more closely mimic nature. To add a twist, I thought I'd try to paint splatter something other than eggs, just for fun.
I did something like this a few years ago while helping my sister redecorate her kitchen.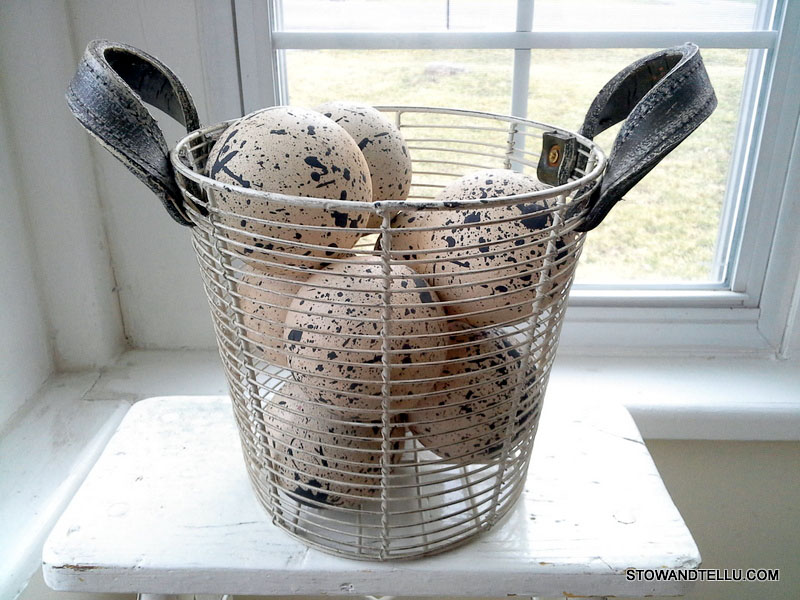 It's a basket of decorative farmhouse eggs, and she hasn't taken it down, yet! (except for this picture)
Paint splatter texture is very easy to do.
Find an object you want to splatter paint and give it a base coat, if needed.
Combine a few closely related paint colors in a tray.
Use a stiff round craft paint brush, a hard bristle toothbrush, a bottle brush, or even a fine toothed comb.
Dip the brush in the opposing paint color and then hold the brush in front of your object.
Pull the bristles back and then let go, kind of like you're strumming on a guitar string.
Repeat until you have desired look.
-Test this method on some newspaper a few times to get the hang of it.
– Thicker paint = thicker speckles and vice versa.
-Alternative method and for larger splatters, dip your fingers in the paint and flick with your fingers.
Paint colors used for these examples:
Darks: Mix of – Burnt Umber, Metallic Antique Copper, Coffee, dash of Medium Gray
Lights: Mix of – Wicker White, Linen, dash of Medium Gray
Blue: Mix of – Pool Blue, Wicker White, dash of Medium Gray
Find examples of real speckled eggs at The Feathered Nest
Speckled Egg Barn Wood
If you have left over blocks of wood from another project, paint some up to look like barn wood. Let dry.
Here is a tutorial if you don't know how: Distressing Boards to Look Like-Barn Boards, at All Things Thrifty done by Sawdust and Embryos.
Then add your paint splatter.
Speckled Farmhouse Inspired or Dinosaur Eggs
You can pick up some foam balls from the craft store, (or use the plastic jumping balls), cover them in craft or chalk paint. Let dry.
Then add your paint splatter.
Speckled Egg Clay Pot
Cover a clay pot, or some other object that has lost its luster, or any object for that matter, in craft paint. Then add your splatter.
Speckled Egg Storage Box
Paint a lidded storage box or shoe box. Let dry.
Then add your splatter.
If your box is cardboard, you can coat it with Mod Podge once the paint is dry
If you don't have a lidded storage box, click here to learn how to make your own.
And there you have speckled egg paint splatter texture in an eggshell…
I mean nutshell!!! What do you think?
You can also see how I used a different technique to get a speckled egg texture on these mason jars.