I wish I had a fireplace!! If we ever make the move into a new house, it's on our wish list, to be sure. In the meantime I'm tossing around the idea of a faux mantel for the basement using the scrap wood we have left over from taking down the basement walls.
Sure it wouldn't be a real fireplace, but hey, I can pretend ;-}
Here is a collection of 5 diy faux mantels ideas that really caught my eye. Made mostly from salvaged furniture or wood, any one of these would not only be a focal point for a room, but would add a coziness that I know I long for after the holidays when it's basics again for another year.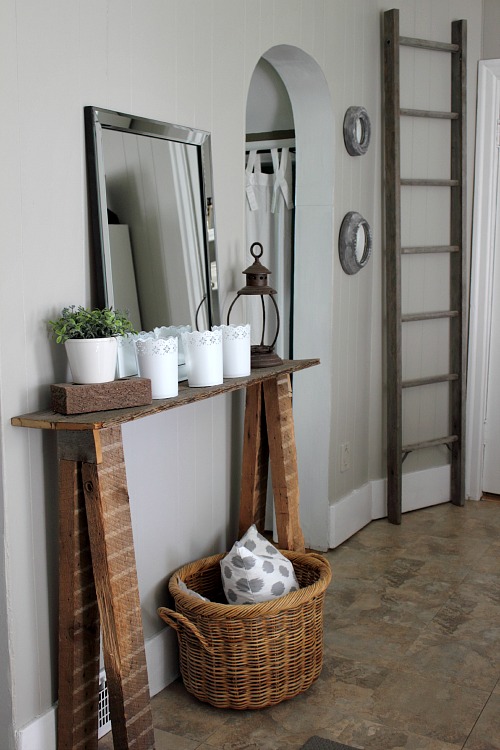 The Creekline House made this faux mantel from salvaged saw horse table legs.
Love of Family and Home made this mantel with an old headboard and scrap wood, then added a few pieces of new wood to bring it all together.
Noni's Wonderlust created a pallet faux mantel that is perfect for a Christmas setting, but remove the decorations and it still make a lovely focal point in that room.
Happy Housie took the top part of an old china cabinet and transformed it into a fabulous new mantel. She has enjoyed decorating the mantel differently for every season.
Ikea Hackers found a way to fit together several pieces of Ikea furniture into a faux mantel, and still managed to make the unit useful for storage. Pretty clever, huh?
Let's face it, there's no substitute for the real deal: a fireplace, but when the means aren't there or your house didn't come with one, creating something that can "act as if" can really center a room and make it feel more welcoming.
SPACE SAVING, BUDGET FRIENDLY ELECTRIC STOVES
&
Dark Bronze Infrared Electric Heater
Cream Infrared Electric Heater withe Remote
Rustic Red 22-inch Tall Electric Heater
White 25-inch Tall Rounded Electric Stove
Next from Faux and Tell U: 20 Makeshift Kitchen Pantry Ideas
Here's hoping your world is warm this weekend ~ Amy