Do you have kitchen pantry envy? As in your kitchen doesn't have a pantry, but if only there was a way to make one appear, you'd ask where to sign up? I can relate. We didn't have a pantry in our townhouse kitchen, so we had to use two of the cabinets to store our food, which meant less space for everything else.
Our new home does have a pantry, but it's kind of teeny-tiny, so I've pulled together 20 faux kitchen pantry ideas.
I know that I'll be using some of these in our new kitchen layout and hopefully, if you don't have a kitchen pantry or if it's lacking in space, you will find some inspiration here, too.
Faux Pantry Cabinets
From Caroline Panache, this once was a utility cabinet for paint storage,
now it's near a full fledged kitchen pantry.
I love how she's managed to pry every ounce of space out of this cabinet for her kitchen needs.
From The Shabby Creek Cottage, faux kitchen pantry from store bought lockers.
She found an ideal space and shows you just how easy this was to pull together.
Oh-la-la, can you say chicken wire? And look at the open shelving above!
You'll find this makeshift pantry and lots other farmhouse inspired decor at Linen and Lavender.
Love of Family and Home painted this cute little corner cabinet to store all of her canned goods,
proving that you don't need to put all of your pantry items together on one place.
Tool Box Diva needed a kitchen pantry, so she made this mobile one from scratch,
which includes a detailed tutorial on just how to make one yourself.
Seen on BHG. stacked storage cubes, curtain and curtain rod, done.
Open shelving faux kitchen pantries
From Ella Claire, a faux pantry of the most visually stunning kind.
Here's a no kitchen pantry idea with purpose! This was all pulled together for only $24 starting with dollar store bins, but it's so organized that I could probably find an item in this pantry sooner than I could find that same item in my own kitchen!
Many of these items would normally be hiding in the pantry of a home with a kitchen pantry. No need to hide them if you can show them off like this display from Homestead Revival.
Faux kitchen pantries in unexpected places
From The Kitchn.com, a pantry under the stairs. with a rolling cart to boot!
Seen on HGTV, using mason jars and the space under the upper kitchen cabinets as a partial pantry.
Related: 10 Ways to Gain Extra Counter Space in Your Kitchen
Tutorial from DIY Passion for a rolling kitchen pantry cart that snugs up to the fridge.
Partial pantry storage in the garage from Just a Girl.
Modular and faux pantries on the wall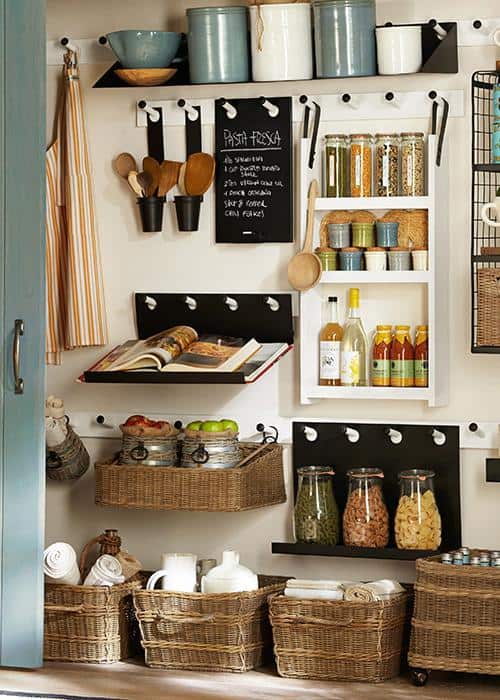 A modular wall mount system as seen at Coup de Pouce.
Can you say efficient vertical space usage and eye candy all in one?
Another build-it-yourself project for can goods storage and dispensing from The Owner Builder Network.
One or more of these could be placed in a garage, basement perhaps even a stairwell, if it's large enough.
A modular wall unit and wire basket pantry storage as seen at Remodelista.
Crates on the wall from Hanna Shantverk.
She didn't use hers as a pantry per say, but one can easily faux a kitchen pantry in the same fashion.
Clearing out the spice cabinet and hanging the spices up somewhere else is at the top of my list.
This coke crate spice rack from Nine Red is super cool and helped free up her counter top space.
Design Sponge covers almost all of the basic pantry items in with this crated faux pantry.
This one if for inspiration. It's a faux Parisian market themed wedding.
Over the top? Yes for a pantry, but boy does it make me want a salad;)
And that's what this post is all about,
looking for efficient ways to store food in our kitchen,
whether it's pretty cheap, pretty handy, or just plain pretty!
And remember, it doesn't have to all go in one place.
Have a great week ~ Amy
Additional Storage Ideas for Your Kitchen
IKEA hack Potato and Vegetable bin
5 Tips for Organizing a Kitchen Storage Rack
BBQ Sauce Bottle Cap Fridge Magnets