Learn the fastest, easiest way for how to paint basement stairs. Only 4 basic supplies needed. Bonus: You can WALK UP them while the paint is drying.
As we were painting the basement ceiling and the basement floor, we naturally wanted to paint the basement stairs, too. Painting my way up the stairs seemed awkward and painting my way down the stairs would mean that I would be trapped downstairs until the paint dries.
Uhhh, no! Didn't have time for that.
How to paint stairs and not get trapped downstairs while the paint dries.
Ken thought it a ridiculous idea, and I'm sure it's not how the professionals do it, but neither of those reasons was a deterrent for me.
Here is a before shot. The stairs were covered in the grungiest blue carpet, which was pulled up to reveal basic wooden stairs that needed a good scrubbing.
Supplies
1-1/2″ blue painters tape
Paintbrush or roller
Paint
TSP cleaner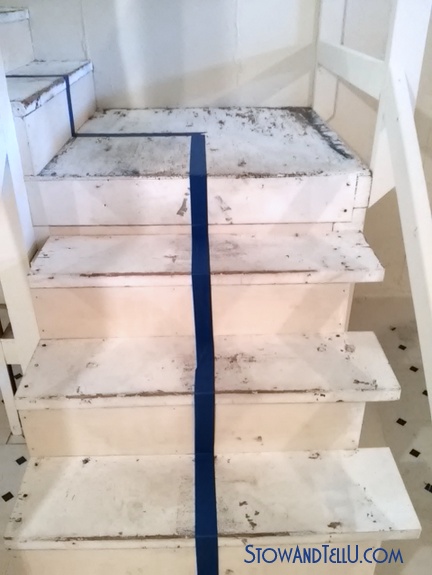 Clean the stairs thoroughly.
Run a strip of thick blue painters tape down the center.
Paint only one side of the stairs. Starting at the top and painting downwards worked well for me.
Remove tape, asap, and let paint dry, making sure to only walk up and down the stairs on the unpainted side (which goes without saying, but I'll say it anyway!!)
Paint the other side of the stairs, overlapping the brush or roller onto the already painted side.
Let that side dry, making sure to only step on the previously painted side.
See the $1200 Basement Project Completed with an Open Floor Plan
Do the professionals paint their way up the stairs or down? Do they get trapped?
I'm still curious as to how they do it, and by no means is this project a professional one, but at least I was able to get on with the rest of my tasks for the day.
Hoping this tip helps if you're considering painting your stairs!
~Amy
More flooring ideas you might like: