This 10' x 12' dark blue bedroom office combination looks soothing and spacious despite the bold paint color. See the transformation in this before and after room reveal.
While it's not my first dark-color-room painting rodeo, I still have the same conversation with myself during those first couple of paint strokes. "Am I really going to do this? Why didn't I just go with something light and neutral? What if this makes the room look too small? Am I going to feel like I'm in a shoebox?
Yikes!!
Most likely the reason most of us never get too daring with paint colors.
If you've been so inclined to paint your walls a dark color, I say, go for it!
Dark Blue Bedroom-Office Reveal
However, if you've considered going bold, but you're still not sure, take a gander at our dark blue bedroom reveal to help you decide if it's in the cards for your home at this time.
Before we decided to go for a dark blue bedroom theme in our office-guest combination, the walls were a pale yellow. Not my favorite color by far, but it came with the house when we bought it six years ago. Finally, we've come around to finish this room off with dark blue paint, re-finished end tables, new bedding, new lighting, an updated photo collage, a refreshed office area, and a dark blue budget closet make-over.
Several years ago, we forwent painting the room and gave it a $100 makeover by adding a new desk and a couple of artwork pieces. The objective then was to get the room functioning as an office-guest bedroom combination that would meet our needs on an extreme budget.
The walls were coated in a flat pale yellow that had seen better days, but it did the job for us for several years.
Now we were ready to liven this room up with paint for a fresh update. Some of the changes are subtle because the dark blue walls speak volumes.
Dark Blue Paint Color for the Bedroom-Office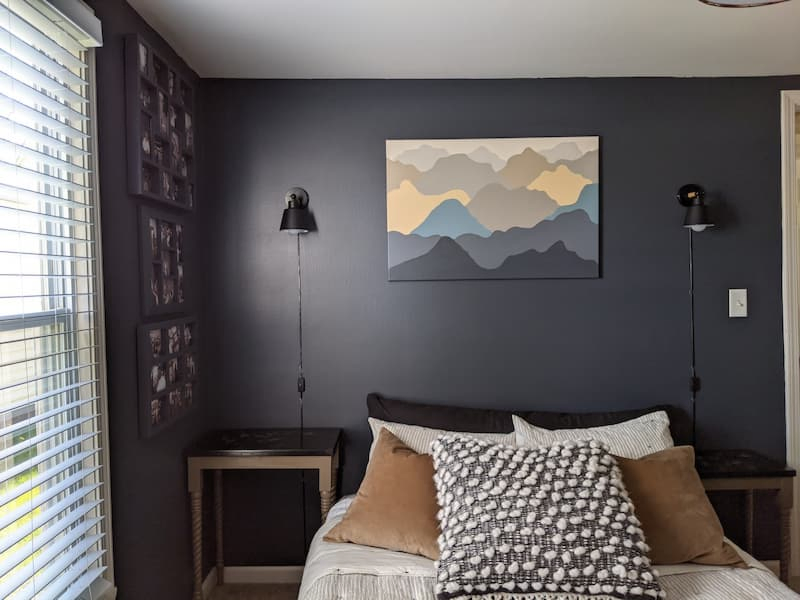 To start with two of the walls have been painted with SW Cyberspace (7076). It gives off a blue appearance, but it is actually in the gray family.
And although several family members thought the trim looked white, the rest of the room including the trim, the ceiling, and the opposing walls are painted in SW Modern Gray (7632).
Related: Navy Blue Bedroom Ideas
Lighting
Gone is the boob light on the ceiling, replaced with a low profile basketweave light fixture.
Additionally, we added wall-mounted plug-in lights over the bedside tables, the antique brass spray-painted clamp light, and I purchased a pretty new modern style lamp from Target for the desk area.
Artwork
I decided to keep the small artwork collection we already had in this room, but I added on to it with some of Ken's family mementos. Nothing spectacular, but it means something to us.
To try to keep the look from being too busy, I added the photo collage with the frames painted the same color as the wall.
Adding to that, I created a simple mountain painting using some of the coordinating colors from the room.
Window Treatments
For the windows, we added simple white 2″ faux wood blinds. They're so easy to keep clean, provide privacy, yet with the slats open you get plenty of light.
New Bedding for the Futon
I went back and forth deciding whether to replace the futon with a bed, but in the end, the option to fold the futon up into a couch won over. Not to mention it's made in Canada and you don't see that very often these days.
So I purchased new bedding from Target's Magnolia line. And I love it. It's amazing how much an official set of bedding and pillows can make a room look put together. Don't you think?
Bedroom Side tables
I had an old nesting set with the prettiest Chinese bird scene. At first, I was going to paint the tables in full, but then I couldn't bring myself to paint over the Chinese artwork. Nevertheless, nesting sets make for great bedside tables in space-challenged bedrooms.
Desk Area
While I had no plans of changing the type of desk in this room, I did want to create more interest. I bring it all together, I added the spray-painted desk supplies, the new lamp, several storage boxes, a salt lamp bookend, and cork backing for the bulletin area.
My DIY woodgrain chalkboards finish off the area, plus an old furry decorative pillow cover on the top shelf of the desk gives my cat a place to perch.
All in all this dark blue bedroom is moody and cozy, but due to the fact that only two of the walls (and the closet) are painted dark blue, the overall feel is still spacious and airy. Definitely not too scary.