Chalkboard paint on anything and everything was all the rage a few years ago. I still like how useful a chalkboard can be for everything from jotting down notes to expressing oneself in quotes. I tried a little chalkboard experiment with a faux woodgrain patterned surface for the $100 entryway makeover last month. Since it turned out pretty well, I thought I'd experiment some more by making a few white framed chalkboards to add to our $100 office makeover.

How to make a faux woodgrain chalkboard surface
I found two of these lovely framed place mats at the thrift store. I liked the frames and for $2.99 each, you can't beat the price. See more ideas on how to re-use old picture frames for new artwork, here.
Supplies
Piece of wood or flat surface (I used the smooth side of an mdf backing from these picture frames.)
Paint brush, chip brush, softening brush (or any combination should work)
150 grit sand paper (the type for wet sanding, if possible)
Chalkboard paint in black
Acrylic craft paint dark brown, light brown, rust, yellow ochre, gray, and cream
Several clean cloths
Water
Steps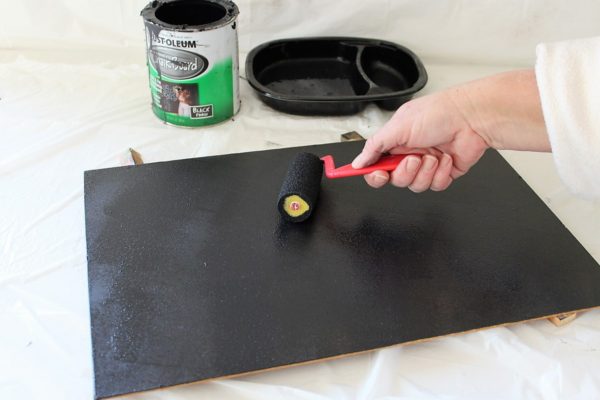 -Applied 2 coats of black chalkboard paint. Letting each coat dry according to the paint directions.
-Sanded the surface and wiped clean.
-Made a tray full of all the paint colors.
-Mixed some of the black chalkboard paint into the dark brown color, only. Used the rest of the paint colors, as is from the bottle.
-Painted a very thin layer of the yellow ochre over the entire black chalkboard surface, as a base layer.
-Applied thin layers of each of the other colors brushing back and forth to blend. Wiping off excess with damp cloth when needed.
-(At one point, I thought it might be too light, so I dry brushed more of the black chalkboard paint into the mix)
-Let dry. Wet sanded with the sand paper. Let dry some more.
**Sanding is important. Don't forget to sand!
-Since I felt that both of my boards were a little too dark after sanding and drying, I applied several more very light strokes of the yellow ochre and rust color, wiping off the excess with damp cloth.
As I mentioned, this is still in the experimental stages for me. I'm not a seasoned wood grain or barn wood painting expert, but I think the reason this works like a chalkboard is that the chalkboard paint will absorb enough of the acrylic paint that it still allows the surface to be writable with chalk.
Random happens when you are trying to take pictures before you lose the light of day. Thus, I couldn't think of anything to actually write on my new chalkboards. How ironic is that? Anyway, the word rustic came to mind and there you have it. 😉
More wood grain?
Here are a few more tutorials for getting a faux wood grain look with paint. The paint colors from these tutorials can be changed for a darker look like my chalkboard ones, but I thought the faux graining techniques were similar and may be helpful.
Pretty Handy Girl: Weathered wood grain
H20 Bungalow: Faux wood grain with paint
These two framed chalkboard will come in handy in my office/ guest room. Hopefully one of these days I can paint the whole room…