Updating your office? Don't buy all new. Learn how to spray-paint office supplies that you would otherwise toss or give away.
As we are doing the office-guest bedroom makeover, I needed to tackle the desk area without spending too much.
What I had?
A collection of office supplies and such that are mix-matched, and a little beat up.
My inspiration piece?
This pretty dark blue and antique brass globe I picked up at Target. I've always wanted an atlas in my office, and since my color scheme includes dark blue, I thought this one was perfect.
How I was going to bring this all together?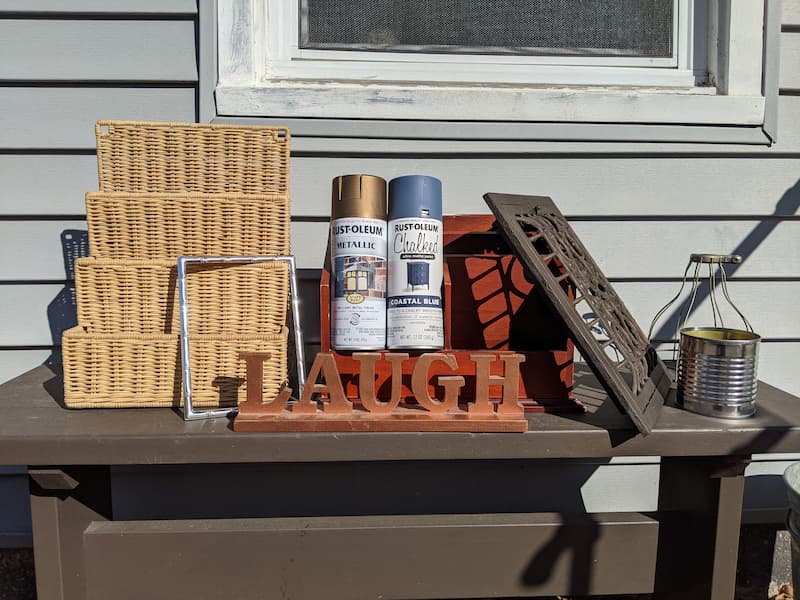 2 cans of spray paint. One in Rustoleum Antique Brass, the other in a Rustoleum Chalked Coastal Blue.
How did it turn out?
The blue and brass combination turned out to look better than I expected. I'm really excited to have what looks like a matching set of office supplies without having to buy a bunch of new stuff.
Related: How to spray paint scissors, staplers and pens
Here's a quick tutorial. This was such an easy project. Cleaning and lightly sanding the items worked really well to prep for the spray paint.
How to save money on your office makeover by spray painting your almost tossed office supplies.
Supplies required
Spray paint
Clearcoat for paint
Blue painters tape
Tsp substitute cleaner
220 grit sandpaper
Paper towels
Painting tarp
Cardboard (optional but helpful)
Plus, outdoor weather between 60 – 80 degrees f
Clean the office supply items done really well with a tsp substitute (or degreaser) and damp paper towels.
2. Gently sand down the items with fine-grit sandpaper, such as a 220 grit or higher. Wipe down with damp paper towels afterward. This step will give the paint a surface to stick to.
3. Lay a paint tarp down on a flat surface, preferably outside. Next lay down some cardboard pieces. This will help stabilize the items and make it easier to paint them.
4. Shake the spray paint, then apply several light coats giving at least 10 minutes drying time in between. Apply up to 3 coats for full coverage.
5. Allow the items to dry overnight.
6. Follow that up by applying a clear coat, such as Rustoleum Chalked Matte Clearcoat, because I didn't have my favorite clearcoat on hand. This step can be done inside.
So what a change-up between what I started with and what I have now. The office supplies and other trinkets look almost new, and perhaps what's even better is they are kind of unique.
Your turn. What have you salvaged with spray paint lately?
If you like this project, you might also like these, too!