Most recently, I've been using a clear coat varnish on my painted furniture pieces, and I am finding that this is the easiest top coat finish I've ever used. I'm not going to proclaim it's the best, or most durable, or the end-all of top coats, but if you are looking for a clear coat finish that is easy to apply, dries fast, with very little mess, then this is one you might want to hear about.
This post contains affiliate links. Find a full disclosure, here.
It's called Americana Decor Soft Touch Varnish
.
What the label says
The description on the label lists the following features:
– Indoor/ outdoor use
– Very durable
– Clear drying
– No strong odor
What I happen to like about it:
There are quite a few things I like about this clear coat finish.
Easy, fast application
For one, it's super easy to apply. You can use a paint brush, varnish brush, high density foam paint roller
or even a craft foam brush.
My favorite way to apply the finish is with a foam paint roller for the first 2 coats (to assure full coverage), followed by a paint or varnish brush for the last coat (for the slightest bit of a brush stroke effect). A small foam craft brush works well for dabbing any excess varnish that gathers near the furniture corners, ends, and so on.
I also like is that it dries really fast which makes it easy to add second and third coats. I applied the top coat on my Anvil Gray dining chairs while in my un-air-conditioned shed, on a fairly humid day, and the finish had dried to the touch within 15 minutes.
The Soft Touch Varnish label suggest waiting 1-2 hours before applying additional coats, where as many varnishes require an 8-24 hour drying time before applying another coat. I can respect the wait-time for a really expensive or vintage piece of furniture, like the Sears and Roebuck dresser we refinished with tung oil, but not every piece I refinish needs that kind of treatment. This varnish is a time saver for a lot of projects that don't need the age-old style top treatments.
Just applied
15 minutes later and it's dry to the touch.
Self-leveling properties
Have you heard of self-leveling? Self leveling is when a paint or finish levels itself out after it has been applied, for the purpose of a smoother finish as an end result. If you ever brushed on a varnish and found that you have a bunch of distinct brush marks that continue to show after the product is dry, then you know what a self leveling finish is not. With Soft-Touch Varnish, you can keep brushing back and forth, even while it is drying and those annoying streaks and such will not show up once it's dry.
Non-messy and doesn't attract lint
One of the problems I've had with so many clear top coats is that they seem to be a lint magnet during the application process. It's like all the floaties that you can't see in the air turn direction and head for your furniture piece right after you've applied the finish.
Not so with this stuff. It's not goopy, sticky or messy. The consistency looks like glue, but it's not super sticky to the touch like glue. A few of the bristles from the varnish brush I was using came off onto the finish, and while it was drying, I was able to pick them right off. Then I just ran the wet brush over the area again and the mark was gone.
What I don't like:
I mostly like everything about this varnish but if there were anything I didn't like, I'd say that:
1) Because it dries so fast, it's a little hard to tell if you've missed a spot. That is why I like to roll it on with a foam roller (at least for the first few coats.)
2) It is a matte finish. As far as I am aware, it is only available in a matte finish, so if someone is looking for a more gloss and sheen finish, I would not suggest this type of varnish.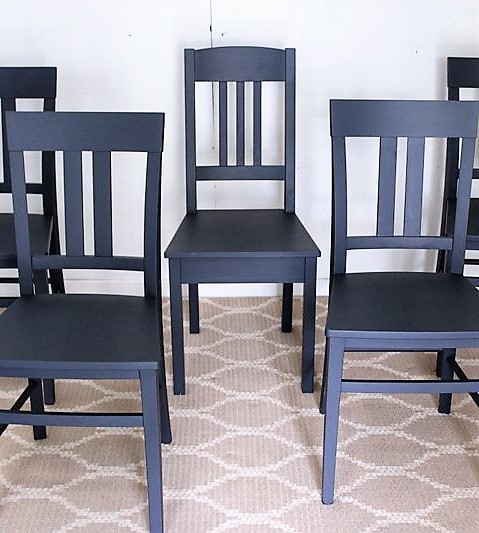 Re-cap
Indoor and outdoor
Durable
Easy to apply with a variety of application tools
Self-leveling
Dries fast and clear
Not sticky, goopy, messy
Doesn't attract lint
Low on odor
Matte finish
You can find Soft Touch Varnish
at most of the local home improvement stores or find it right here
.
Don't forget to save on Pinterest or share to Facebook for later reference:)