You're having everyone over for Christmas, but how do you fit everyone in when it's time to sit down for dinner? Especially when you live in a small home and dinner is a cramped affair on a usual basis.
Related: How to prep your kitchen for the holidays
Do you have a dinner table seating dilemma this Christmas?
I know, some of us aren't having big crowds this holiday season and that's all a personal preference, in my opinion, but if you find that there's not enough room at your holiday table, or perhaps you want to spread out a bit, try some of the following dinner party table seating ideas to keep things cozy and comfy without crowding everyone in.
#1 More Than One Table is Okay
You don't have to squeeze everyone in at one table.
Put up an extra table (or three) so that everyone has a bit more space.
Table cloths and a small bit of table decor can do wonders to hide even the most beat-up of card tables.
#2 The Tables Can Vary in Size
Just because the main table sits 10, that doesn't mean the others have to as well.
Last year, we set a small table on the front porch that was only big enough to seat three. No one complained, instead I think they found it rather quaint.
#3 Get Creative with Table Seating "Chair" Options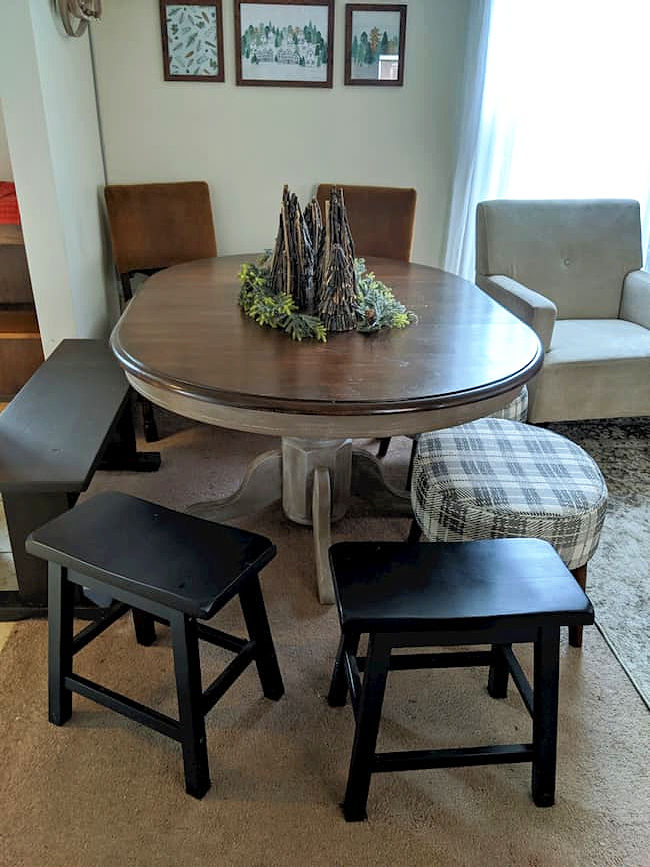 Renting chairs can be costly, so I had to get creative with what we were going to ask our guests to sit on.
For the main table, we pulled up two ottomans and a bench from our back yard (we gave it a good cleaning beforehand, of course.)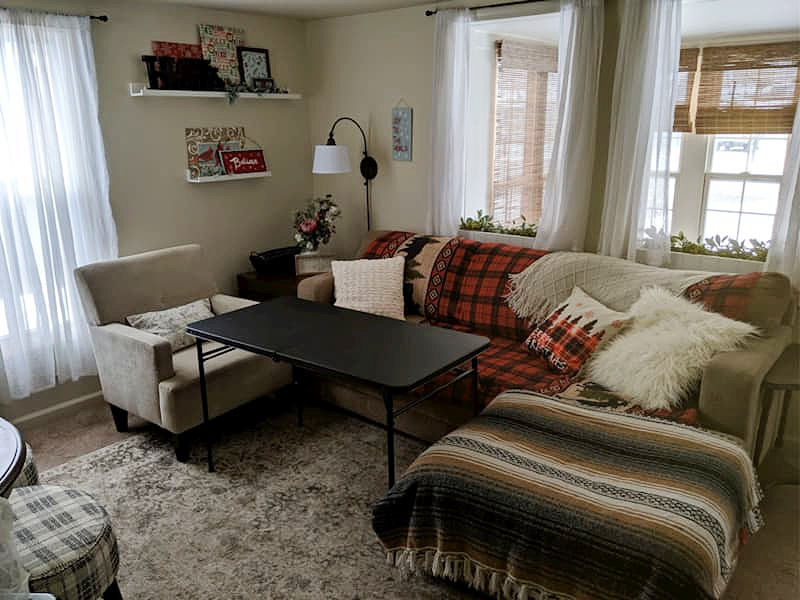 Another idea that worked for us was pushing a table up against our couch, with opposing folding chairs.
We used the chaise lounge as one of the end seats and a sofa chair on the other. While a few of the guests had to climb in over the couch. Everyone said they loved how laid back and homey they felt for the dinner setting.
#4 Make Everyone Feel Cozy
When trying to fit everyone in for a Christmas dinner or any type of party you want to make it as cozy as possible. Using layered throw blankets and pillows is one sure-fire way to give the setting a relaxed and welcoming appearance. It's subconsciously telling your guests to "Sit down and stay awhile".
#5 Pre-Plan the Table Seating Set-Up
Trying to seat 10 or 20 dinner guests can be a challenge for a home big or small. Don't wait until the last minute to decide where everyone is going to sit. Make sure to pre-plan your set-up so when you are all ready to sit down it will be smooth sailing.
#6 Consider Serving Buffet Style
Have you ever been to a dinner party where you can't concentrate on what the person next to you is saying because you're too concerned that your wine glass will tip over if Big Joe grabs for more potatoes?
Going buffet-style to keep serving platters off the dinner table will be to everyone's advantage. For one, you (and Big Joe) won't be as tempted to go for seconds, but more importantly, the dinner table will be less crammed which will subconsciously make all your guests feel more at ease.
#7 Don't Over Decorate the Table
I've seen elaborate table settings with everything from water goblets, to coffee service, to centerpieces that take up half the table.
It may be better to limit the table setting to a more simplistic set up to help your guests feel the least amount of crampedness if that's even a word, but I think you get my drift.
Keep the coffee service and similar options on a side table. Include a water pitcher and glasses near the drink station. Add small signage to each station, so they feel welcome to indulge.
#8 Horizontal Space Will Always Win!
What your guests will appreciate more than anything else is a spare place to put down their drink, balance their food plate, or dare I say, rest their tush.
So unless you expect them to defy gravity, the only way to provide this is with the most horizontal space as possible.
Think TV Trays, card tables, sides tables, and even shelving. Put these pieces to use for everything from holding dessert trays, to beverage stations, to buffet set-up, and more.
Related: How to host a dinner party in a small space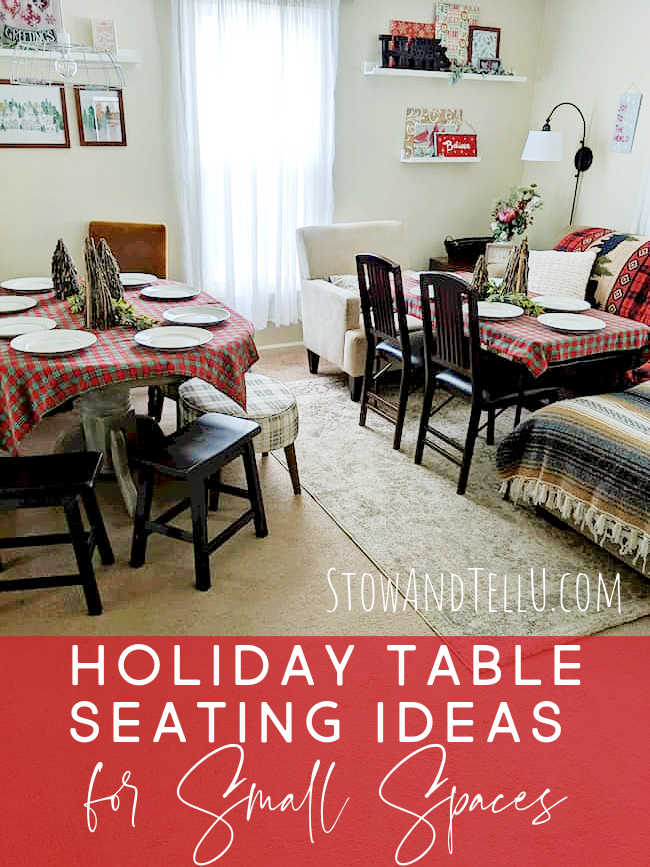 Merry Christmas and Happy Holidays!!
~ Amy