Keep paper napkins handy at the dinner table with this multipurpose DIY napkin holder and rustic faux succulent centerpiece combination.
The words "stylish" and "napkin holders" aren't often found in the same sentence.
Yeah, not a lot of fashionable options…
As a matter of fact, they're still selling the wooden version my mom used to anoint our dining table with 30 years ago.
Since that particular design has lasted this long, one would think the item must work so well there's no need to change anything. Right?
But as I recall, with the one my mom had, you'd go to grab for a singular napkin and the whole thing would come hurtling with it. Knocking down your glass of milk. Landing on top of your food. Or smacking your sibling in the face…
Chic and Functional Napkin Holder to the Rescue
With today's laid-back lifestyle, who isn't inclined to just grab a stack of napkins and plop them on the table at dinner time?
Or pull out the extra roll of paper towels?
Or forget the napkins altogether, because that's what the legs of my blue jeans are for!
While, yes. We've all become much more relaxed, and dare I say, unrefined. There is also a gaining desire toward creating a cozier, less cluttered, more functional home.
So, how would you like to turn a necessary utensil (if it's not too late for mankind) into a trendy, multi-function centerpiece? One that won't disrupt dinner when somebody purposefully grabs for a paper napkin.
How to make a DIY planter box napkin holder and faux succulent centerpiece combined.
This post contains affiliate links. See our full disclosure.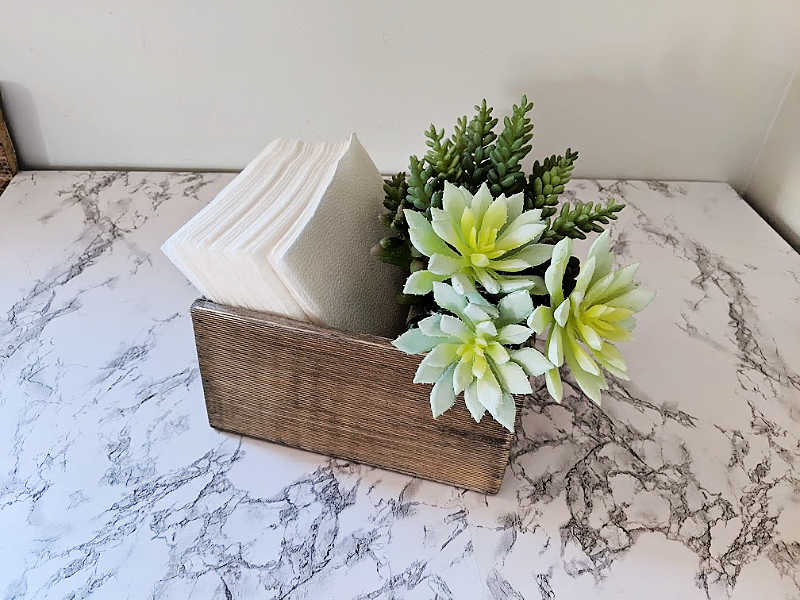 Container Size Requirement for the best fit
Note: The container for the DIY napkin holder does not have to be a square wooden box. It can be rectangular, round, or made with the latest trendy basket. I've included alternative design ideas with the printable directions, further below.
You only need the container to have the three following requirements:
An inside dimension of 8" x 2" to hold the napkins.
Inside height of about 3-½" so the napkins don't flounce over the side.
Additional space in the box to add the faux greenery… And salt and pepper shakers, if you so choose.
Bonus: As a bonus for joining our newsletter, PRINT this tutorial, plus my design ideas for using other container shapes with this project. See the sign-up form further below.
Supplies required to make this centerpiece
8" square wooden planter box that is about 3-½" to 4" tall. Find similar planters on Etsy
Dinner knife to trim foam brick to size
Standard paper napkins
Flat glass gems in the color green
Follow these steps to turn a wooden planter into a pretty napkin holder centerpiece
Use the dinner knife to slice the dry foam brick to a size that fits inside the box. Then place the foam brick inside the box.
Insert the faux succulent stems one by one into the foam brick. If the stems are too long, trim them down with a pair of wire cutters. Continue inserting the stems until you have the desired look you want.
Remove the brick from the box.
With the stems in place (or removed from the brick,) attach the flat glass gems to the top of the foam brick with clear craft glue. The idea is to fill in the gaps around the stems so the foam brick doesn't look so naked.
Let the glass gems dry in place and then flip the foam brick on its side and apply a layer of glass gems to the side of the foam brick that faces the paper napkins (when in the holder).
Once again, let the gems dry in place.
Insert the brick of faux stems into the box. Insert a stack of paper napkins opposite. And there you have it. Your own all-in-one DIY napkin holder faux succulent centerpiece.
Try these alternative styling options
If you use a few less paper napkins, you should also be able to fit in a pair of salt and pepper shakers between the succulents and the napkins.
Additionally, you could use river stone, similar to the type I used when making these stone-filled faux succulent planters. Just make sure they're flat enough to glue down.
Can't find a square box? Print this tutorial, plus my design ideas to make this project with several other planter shapes. See details below…
Not only will your dinner table look calm and cheerful every day, but you'll never have to wrestle with your napkin holder again. And those pairs of blue jeans…think how much you'll be saving in laundry detergent.