How's about another diy lamp shade project? This one is made from chicken wire and a salvaged lamp shade frame. You may have already seen my hat box lamp shade or my tin bucket lamp shade. Well, making one with chicken wire is just one more way to change it up in the lighting department! So grab your roll of chicken fence and follow along.
Supplies you will need:
6 ft or so of chicken fence (chicken wire)
Lamp base of your choice
Lamp shade frame – the type with individual rings
(Make sure the lamp shade frame's components fit onto your lamp of choice)
Craft wire
Wire cutter
Craft or spray paint (optional)
I almost threw out this lamp shade base when the original Tiffany style shade broke. I did think twice however, and stashed it in a corner for safe keeping. The lamp shade shown is this picture was from another lamp, but it had the correct proportions and also had an "individual ring style frame." Thus, it was perfect for this project.
I started by cutting the lamp shade frame out from the fabric/ paper shade.
I peeled back all of the paper and fabric until I had only the top ring part left of the lamp shade frame.
I rolled out the chicken wire on a table and placed the lamp shade frame-top perpendicular to the outstretched roll of chicken wire, to determine where I wanted the frame top to be placed . I went with a long, thin style frame for this project, but other frame styles can be achieved depending on the placement of the frame to the chicken wire.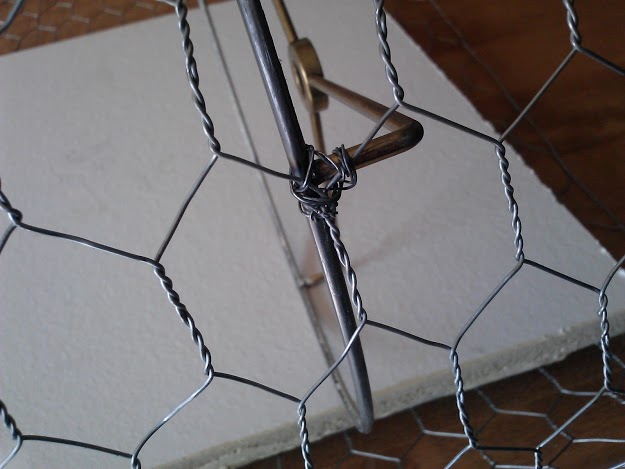 Once I knew where I wanted the frame to line up with the chicken wire, I attached the three frame arms to the chicken wire, using thin gauge craft wire.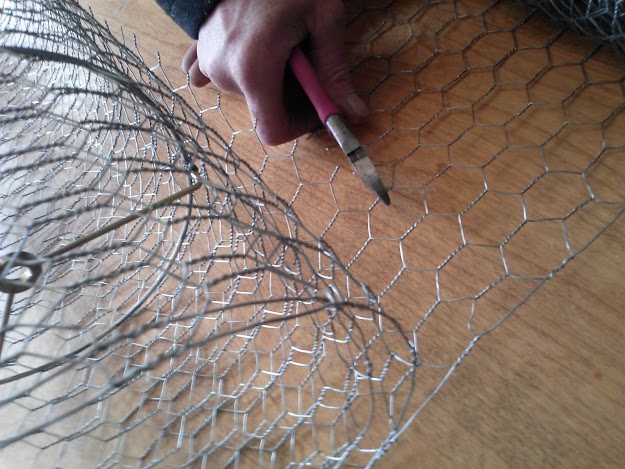 Next I wrapped the chicken wire around the frame twice and as exact as possible, and then I cut the chicken wire down it's length.
NOTE: For balance purposes, wrap the chicken wire around an even amount of times because the weight of the wire will cause the shade to hang on the lamp unevenly if the chicken wire is wrapped less than an even amount of times . For example wrap around twice, or three time, but not 1-1/2 or 2-1/2 times. I hope that makes sense.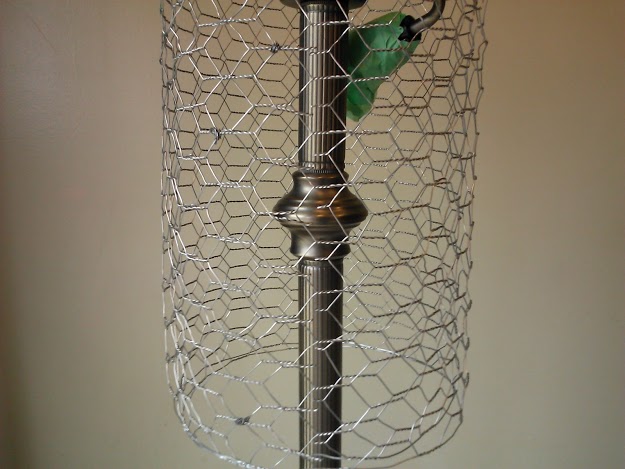 Moving right along, I quick-tied the ends of the chicken wire with the craft wire and then tested the balance of the shade by placing it on the lamp.
Once I was sure the chicken wire was evenly distributed, and therefore the shade was balanced when hanging on the lamp, I then tightly attached the strands of thin gauge wire along the length of the shade to hold everything in place.
Believe it or not, that is it!! The chicken wire lamp shade is ready to hang on the lamp, as is or to be painted any color.
I painted the chicken wire lamp shade a few coats of a rusty brown chalky paint.
I painted my lamp base with taupe and then white. I then added black accents, gave it a sanding to show some wear, and then a coat of dark wax.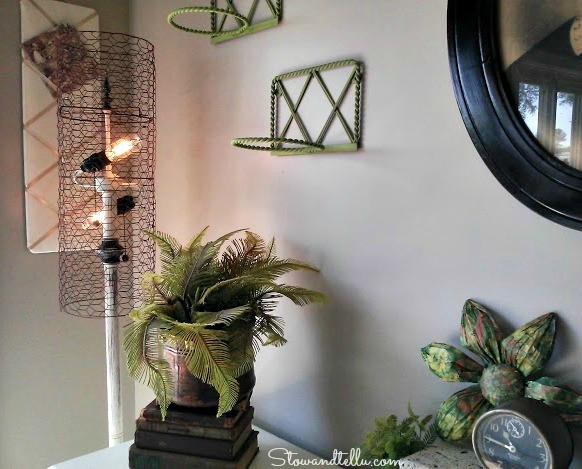 As I stated I choose a long, thin style for this lamp, but using a bigger frame ring would obviously make your chicken wire lamp shade wider. You can also consider cutting or folding the chicken wire in half to obtain a shorter length.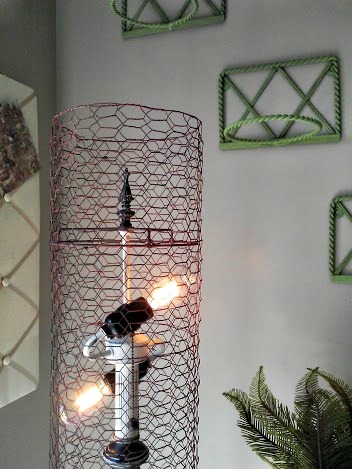 There is more than one way to change up an otherwise boring lamp. It has been all about fun with chicken wire for this lamp shade project, but don't rule out using a hat box, a tin bucket, or something else altogether!
… And because I'm having so much fun with lamp shades these days, I'm thinking I'll share a new lamp shade project once a month! What do you think? If you have a lamp shade project, share it below. I would love to see it!
Linking up to:
Funky Junk Interiors/ Party Junk 206
Throwback Thursday
Risky Rustic Projects/ Funky Junk
Don't miss the next lamp shade project, sign up to receive posts by EMail: