Have you heard of a Christmas tree collar? I didn't really know what one was until recently when I saw this custom painted galvanized tree collar from Carol at The Red Painted Cottage. It's so adorable and vintage. I'd love to have one just like it! But, it's not in our budget this year. So I came up with a faux version, not nearly as fancy, and not custom painted, but for all intents and purposes, it gives the appearance of a galvanized bucket style tree base. Until I can get one like Carol's.
There's probably quite a few ways you can make a your own tree collar, I've linked several diy tree collar ideas at the bottom of this post.
The one I made is with a hat box and it's for a tabletop tree. But I was actually looking for a lamp shade and couldn't find one the right size. Depending on the size of the tree base, I would think even a cookie tin might work for smaller Christmas trees.
Faux galvanized bucket diy Christmas tree collar
This post contains affiliate links. See full disclosure, here.
This project is made for a 4-1/2' tabletop Christmas tree with a tree stand base size of 17" in diameter.
Supplies used:
Large hat box – the bottom portion
Drill
Pencil
A cylindrical object.
Like a jar or a small can of paint to make the circle opening.
Just make sure trunk or pole of the Christmas tree (without the tree stand feet attached) will fit through the opening.
Measuring
I measured the diameter of my tree base with the tree stand feet attached in order to find the size I would need for an object that would cover the tree base. Most fake Christmas trees have a 3-footed stand. If you imagine a circle around the three feet of the stand, and measure the diameter of that circle, that would give you the measurement you need. In my case I found a hat box, that was right about the same size with a diameter of 17 inches.
Next, I removed the tree stand feet and measured the tree pole diameter. The part that would have to fit through the hole I was planning to cut. It measured about 2 inches.
Our faux tree collar's diameter was still a tad smaller than the feet of the tree stand. The collar rests slightly on the tree base, but you can only see that up close.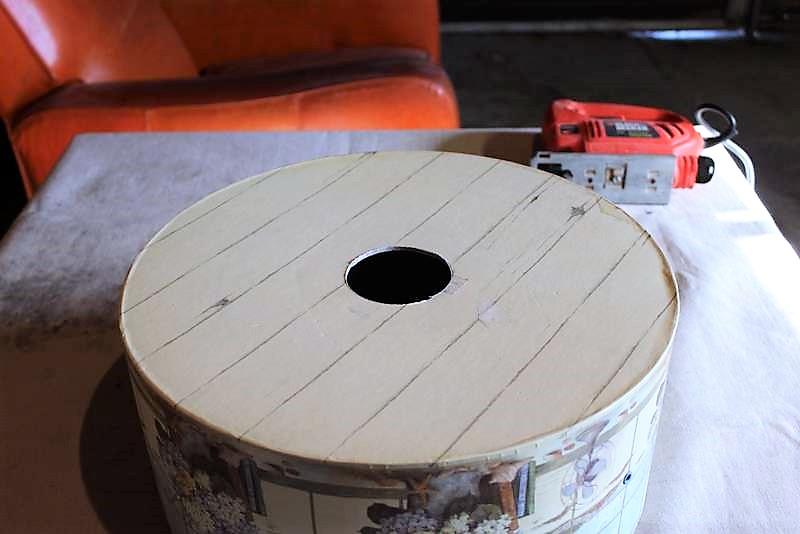 Cutting the hole
I flipped the hat box over, so the bottom was facing up.
Centered a jar of paint that was large enough, at 2-1/2 inches, for the tree pole opening.
Drew a circle around it with a pencil.
Ken started by drilling a hole through the cardboard, then he used a jigsaw cutter to cut the opening, and we were halfway there on completing this project.
Making it look like a galvanized tin bucket
Next, I gave the hat box a few coats of the Sterling Silver spray paint to give it a patinated metallic look that resembles the finish on a galvanized bucket.
We took the tree stand feet off to fit the tree pole through the hole in our new diy tree collar, and then re-attached three tree stand feet.
Seeing as how the hat box is made of cardboard, I don't see this tree collar lasting for years and years, but at least for this year, I've got it covered with hopes of a nicer tree collar one day.
One last thing I'll say is, that for these pictures, I tried to give the clearest and brightest view of how it turned out. You are probably saying, "looks like an upside down round box with a hole in it that is painted silver to me." And in some of these pictures, it does. But in person, it not so obvious unless you get up close on it, and even less so, once all the Christmas lights are on.
Thanks for the inspiration, Miss Carol at The Red Painted Cottage
I mentioned a lamp shade and cookie tin as possible candidates for a diy tree collar. Can you think of anything else that might work?
Other ideas for a diy tree collar:
How to make a diy Christmas tree collar from a basket from In My Own Style.
10 Minute galvanized tree collar from So Festive.
Crate and Barrel style galvanized tub tree skirt from Vintage New Junkie.
Hope you are having a great day!
Don't forget to pin or share on Facebook for Christmas decorating inspiration!