Make a teepee Christmas tree with twigs or small branches and a few other supplies. Add rustic charm to your dining table, entryway or mantel.
Hey all, are you getting into the holiday spirit? I have to say, this year, I'm more in the spirit than I have been in a few years. As I've slowed things down in my life a bit, I've had more time to spend with family. We're planning a Christmas ornament craft night this coming weekend, and I'm really excited.
My true hope is that with all of the tragic events people have gone through this past year, that each and everyone gets to experience togetherness with loved ones this season.
A few years back, I made some twig Christmas tree luminaries.
Here is another version of a twig luminary, also in the form of a Christmas tree, but with a slightly different look.
Both versions use plastic cups for the base, glue and twigs.
If you're looking for other plastic cup crafts, check out these tissue paper luminaries using plastic cups. They're really cute and so easy to make.
How to Make a Teepee Christmas Tree Luminary with Twigs
These are easier to make than the other version. They end up looking a lot like teepees, which is randomly kind of fun. And I think teens, tweens and adults alike would enjoy making them.
This post contains affiliate links, read full disclosure, here.
Supplies
Clear plastic cups
Twigs – collect from the yard, or consider using faux birch straws, like these.
A quick drying glue, like this one – or hot glue)
Pruning sheers (or heavy duty scissors or wire cutters in a pinch)
Flameless votive candles or fairy lights
Follow these steps to make the teepee trees
Size the twigs by laying them against the plastic cup as if they would be glued.
Trim twigs down to a size that will make them meet at the top (this doesn't need to be a perfect science).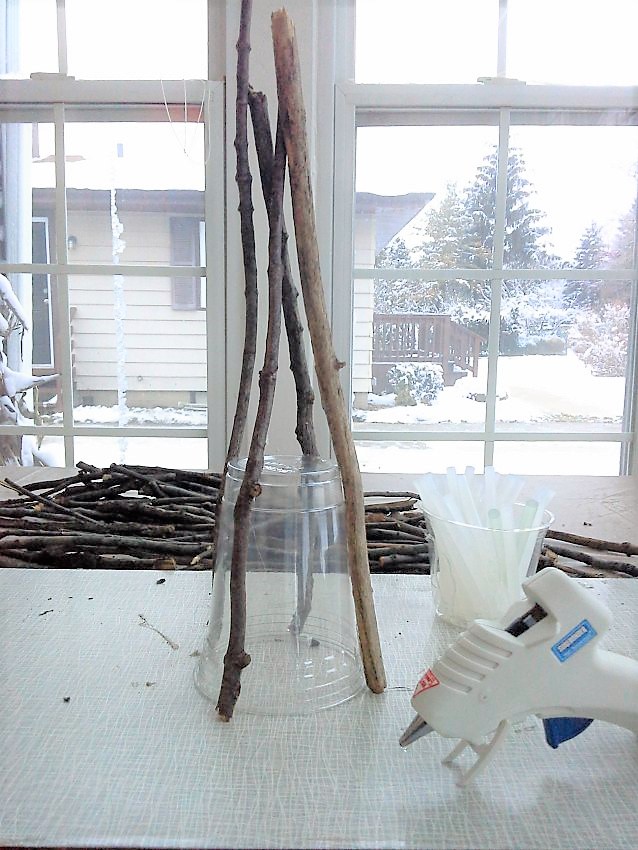 Start with gluing 4 twigs opposite each other onto the cup. Think of the twig placement kind of like a clock at the 3,6,9 and 12 areas on the cup. They should kind-of meet at the top and come to a kind-of-a point, like a teepee.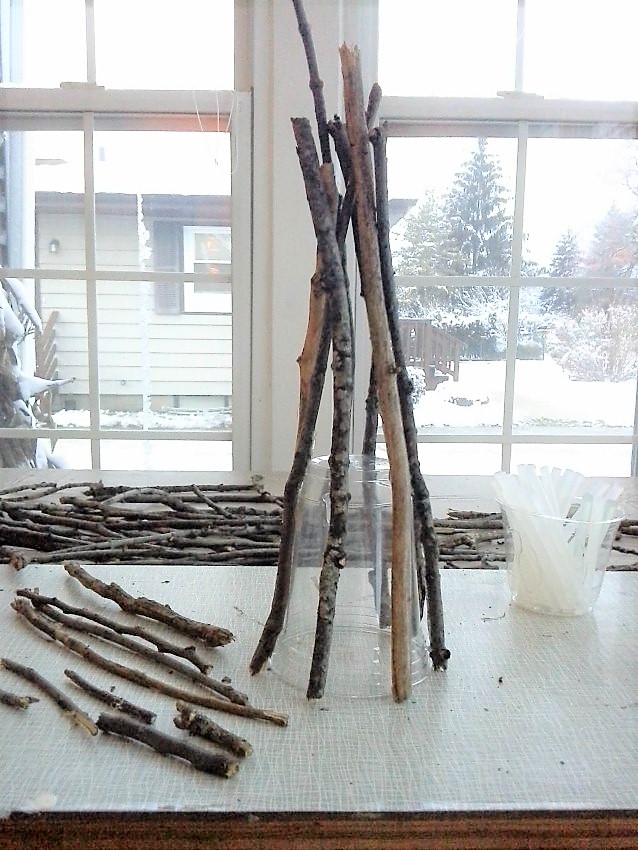 Next, glue 4 more twigs half-way between each of the original 4 branches.
Continue to add twigs by centering them between the twigs that are already glued on.
As you keep adding twigs, you will have to start using shorter ones to fill in the gaps.
Let the glue dry. And there you have it, teepee Christmas trees.
Add flameless tea lights
You can place battery operated candles or a string of fairy lights under the cups to make them glow.
Hope you are staying warm and have a great weekend ~ Amy
Rustic Craft and Decor Ideas
6 Nature Inspired Christmas Projects
Cabin Fever Craft: Pine Tree Art Jar Candles
Christmas Tree Twig Luminaries
Pin or share on Facebook for later –>