Hey everyone, how's it going? Today I've got a super simple idea for printing Christmas reindeer wall art onto scrapbook paper. I went with muted polka dot patterned paper to create a snowy background kind of feel. Mine turned out pretty simple and rustic looking, but this could also be done with other, and perhaps more cheery types of Christmas scrapbook paper, to get a different look altogether.
If you read along, you may have wondered where I've been. I've had to slow things down a bit, because of several minor health issues. None too serious, but I guess when you're over 50, they need a bit more attention and respect, aka: lot's of rest, healthier eating, getting more exercise. You know, all that fun stuff, yay! Of course I actually do mean, yay, about the more rest part.
Fortunately, Ken and I have gotten quite a few projects done around the home, including installing heater units in both the garage and hobby shed, (well, Ken did the installs and I cheered him on.) I've also been shopping for some items for the living room. That part has been really fun, after all, who doesn't like shopping for new stuff for your home? Especially when most everything you currently have is second hand 😉
Speaking of second hand, let's move on to the reindeer wall art made from old picture frames I had in my stash.
Scrapbook paper Christmas reindeer wall art
This post contains affiliate links. See full disclosure, here.
Supplies used for this project:
New or used picture frames. (8″ x 10″ frame size or smaller is ideal for this project.)
Polka dot or Christmas scrapbook paper (Size: 8-1.2″ x 11″ or 12″ x 12″)
Reindeer printable from The Graphics Fairy. (See all her reindeer printables, here.)
Scissors
8-1/2" x 11" white printer paper. (This will be used to test print and as a template to cut scrapbook paper to a printable size.)
Flat head screw driver (Optional, but a great tool for removing the back side of picture frames for re-mounting.)
Follow these easy steps:
Remove the old art from your picture frame, backing included.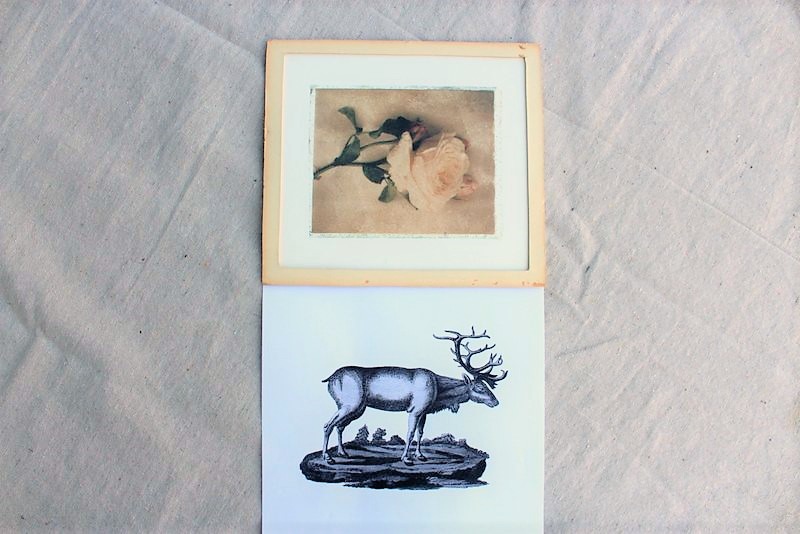 Choose your reindeer image. Test print the image out on plain 8-1/2 x 11 paper for sizing to the picture frame backing.
Lay out the image against the frame backing to see if you need to adjust your print size.
If the scrapbook paper is 12″ x 12″ , cut the scrapbook paper down to an 8-1/2" x 11"paper size so you can run it through a printer. Use the 8-1/2″ x 11″ printer paper as a guide to cut down the scrapbook paper.
Run your 8-1/2″ x 11″ scrapbook paper pieced through your printer to print the image. (Use a mirror image tool if you want to reverse the deer image.)
Cut the image to match the size of the frame backing.
Tip: To center the image for framing, lay the glass part of the frame over the image and center it. Trace the edges of the glass with a pencil, then cut scrapbook paper down to the frame size.
Replace the image and backing into your frame.
I did one with a blue backing and white polka dots.
And two with muted off white tones and colored polka dots.
Super easy, right? What do you think?
Mine are really understated, and I'm still working on our Christmas decorations, but using brighter colored scrapbook paper and maybe mounting them all in the same type of frame would certainly create a different look from mine.
Coming up soon:
An idea for making a faux galvanized bucket tree collar for under $10.
And some more Christmas tree twig luminaries, inspired by these twig luminaries.
PS: The living room is still in the works, but we're getting there.
Hope you have a great weekend ~ Amy