Learn how to paint fake cow spots and make your own diy faux cowhide lamp shade.
While hauling stuff out of the basement for the remodel, I came across a torchiere lamp. I've made four piles while de-cluttering: salvage, sell, donate and toss. This particular lamp is in good working condition, but it has water stains on the lamp shade, which qualifies it as not worth trying to sell, a little too damaged to donate and yet, still too good to toss. Thus, it has landed it the salvage pile.
In my quest to travel Route 66, with full the intention of making it to the wilds of the west one day, I was thinking that a little cowhide project was in order and might be just the ticket for covering up those unsightly stains.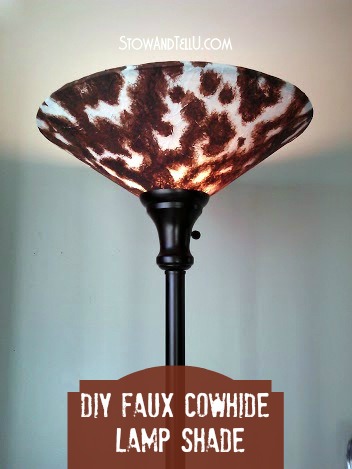 I did some research and found a tutorial for a DIY faux cowhide rug from MakeMoore.com to lead the way.
The cowhide rug tutorial was very helpful in figuring out how to create a cowhide look, but I had to change it up a little to make it work on a lamp shade.
I used Mod Podge and tissue paper to create some texture and then painted on the cow spots, which takes a little practice, but once you get the hang of it, it's pretty fun to do.
DIY Faux Cowhide Lamp Shade
Supplies
Lamp shade that is the white or off-white*
White tissue paper ripped into pieces (optional)
Mod Podge or any decoupage medium
Craft paint – several shades of medium to dark brown
Craft paint – white or off white
Craft paint – black
Round pouncing sponge or a piece of a foam sponge
Medium/Small craft paint brush with firm bristles
Craft foam brush
* You can use any color lamp shade if you want, but if it is any color other than white or off-white, make sure to paint the shade completely white so that it is opaque, rather than translucent. (See step 2)
Creating a fake hide or leather texture
Step 1: This step is optional, but I did it because I like added texture whenever possible. I also used this texture for these diy faux leather covered storage boxes and it worked out really well. Skip to step 2 if preferred.
Rip strips of white tissue paper and apply them to the lamp shade. Coat the outside of the shade first allowing for over hang on the edges of the shade.
Allow to dry for half hour or so, and then decoupage the over hanging pieces to the inside of the lamp shade. Allow to dry.
Apply another layer of tissue paper to the outside of the lamp shade, this time without over hang and let dry for about an hour or so.
Step 2: Mix a couple dollops of white craft paint into some of the Mod Podge and apply two coats to the outside of the lamp shade and allow it to dry for several hours. This mixture will keep your lamp shade translucent.
* If your lamp shade is not white or off-white, or up would prefer to make the lamp shade non-translucent, than give the shade at least 2 coats of white paint to make it opaque and not see-thru.
Draw cow spot markings with pencil
Step 3: Draw a cowhide pattern onto the shade with a pencil. This just gave me a starting point for creating the spots. I filled in the rest by eye.
It will help at this point to pull up a picture of real cowhide, here are some examples from Houzz.com and Pinterest, and there are plenty more all over the web.
Mixing paint colors for the cow markings
Step 4: Pour several of the brown colors into a tray, letting the colors touch. When you start painting try to dab your pouncing sponge into the center where the brown colors all bleed together.
Note: I cut a small square of foam sponge and then snipped pieces off to make an irregular round pattern.
(It is actually a piece of foam padding from an upholstery project. They make great sponge paint daubers, by the way).
Start layering the paint colors to make it look like cowhide
Step 5: Dab the pouncing sponge into the paint and begin by filling in a spot on the lamp shade. Let the paint dry for 15 – 20 seconds.
Step 6: Using the stiff bristled craft paint brush, fan the edges of the spot. This creates the appearance of cow fur.
Step 7: Continue to fill in all of the marked spots and then continue to fan the edges as you go.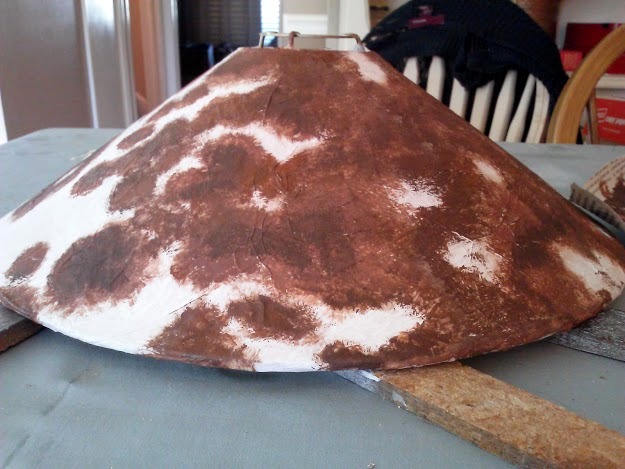 Step 8: Fill in more areas with brown, while continuing to look at real cowhide examples. It helps to move from the top of the shade down to the bottom, moving in a random direction with the brown, but leaving small areas of white here and there. Let paint dry once complete.
Step 9: Mix a few drops of black paint into the darker shades of brown.
Step 10: Using the stiff bristled craft paint brush, dab the black-brown paint into the brown to create shading and depth. Continue this step until it looks like cowhide. Let dry completely.
Give the surface a top coat of decoupage
Step 11: Apply a coat of Mod Podge to the whole outside of the lamp shade, let dry.
Unlike a cowhide rug or chair, a lamp shade usually allows light to flow through the shade. If you choose to keep the lamp shade translucent, the lamp shade will have a varying appearance at different times of the day or night.
Real cowhide can range in color from black to light brown or grey. The pattern of spotting varies from bunches of small spots to large blotches of solid color. If you look around the web at examples of cowhide, there are so many variations. I choose a few examples that appealed to me and tried to mimic them.
We were able to place this lamp in our game room inspired basement, which includes a painted open beam wood ceiling, and it fit in quite well with the slightly road-house type style.
<< See the completed basement with a newly painted ceiling, here >>
Later pardner ;D ~ Amy