See this open floor plan basement completed on a budget of $1200. Includes a loft-style exposed beam painted ceiling, floors, and walls
I wanted to take you back one very last time to what I can now officially call our open floor plan basement makeover which ended up costing just about $1200.00 to complete.
$1200.00 Open Floor Plan Basement Makeover with Newly Painted Exposed Ceiling
I finally had a chance to pull out those receipts from the townhouse basement update and add them all up once and for all and was surprised to find that the final total for the bones of the project came to about $964.00. Then I added up the cost for all the repurposed decor and furniture projects that were largely pulled from the basement pre-makeover and that total came to about $232.00.
The entire basement update totaled to about $1,196.00, give or take because I might be forgetting something.
The Open Basement Plan Sketched Out
Drawing out a plan, even if it changes, and even if it's as unskilled as this mark-up helps to visualize a plan.
When I originally came up with a plan for updating the basement, our intention was to put a new wall back up, but as the renovation continued, we decided against it as the open floor plan seemed to make more sense and amount to less cost. So an open floor plan it became.
The Basement Before the Makeover
If you are wondering what the deal is with the blue jeans, it is an older version of the blue jean hanging organizer.
Before
During
After
The Open Plan Layout for a Small Basement
For an entire lower level renovation, I think we pulled it off on a pretty low budget. I'm going to show you some of the before photos so that you can see just how cold, drafty, grungy, and uninviting this area was before we began the work.
And I want to say on the record that covering the exposed beam ceiling, foundation walls, and old vinyl flooring with gallons and gallons of paint, not only made a difference in how it all looked, but it made a HUGE difference in how much more insulated the basement became, especially in the winter!!
The whole area was MUCH less drafty and cold, and I can only guess that it is due to the fact that we filled every crevice with paint of one kind or another that it made such a difference.
Breakdown of the cost for updating the basement
Here is how I broke it down: (Basement size: 1200 sq feet – or – 112 sq meters)
The Framework
Texture paint and supplies

for the cement walls (10 gallons) ———————– $ 137.00
Glidden Duo Wall Paint and Primer – color: Belvedere Cream (12 gallons) ———$ 127.00*

Homeright Airless Paint Sprayer

———————————————————–$ 299.00
Floor primer – tinted to a color similar to Belvedere Cream (5 gallons) ————-$ 80.00

Glidden Porch and Floor Paint

– color: One Cent (4 gallons) ————————-$ 98.00
Behr No-Skid Floor Finish Additive (4 packets) —————————————-$ 24.00
Painting supplies —————————————————————————$ 25.00
Piece of board and brackets for the "over the couch shelf" ————————$ 25.00
3 Track lighting units ——————————————————————-$ 114.00
Area rug ————————————————————————————-$ 35.00
SUBTOTAL —————————————————————————————$ 964.00
* We purchased the Glidden Duo paint (a paint/ primer combined) while there was a huge paint sale going on.
The Additionals
25 Upcycled furniture and decor items ———————————-$ 232.00
Most everything else that was added as decor or furniture to the basement afterward was upcycled furniture and decor that I already had or salvaged materials from when the walls were taken down.
The walls were old pieces of wood and other materials nailed together to the wood framing. Apparently, the previous owners were doing their own kind of repurposing. But hey, if it saved them money at the time, then I can't say I blame them.
GRAND TOTAL ————————————————————————————-$ 1196.00
Before and After Photos of the Basement
Laundry Area
As embarrassing as this is to show you, who could deny the miracle of paint?
This is just how bad things had become down in this basement. To the left, you can see the washing machine, and to the right, you can see the walls that we ended up taking down.
This photo is a reverse view after the walls were taken down. As open floor plans go, I still wanted a buffer to break up the larger space. I painted this old storage rack white and placed it between the furnace and laundry area as a makeshift wall/ laundry storage rack.
Under the stairs and Craft nook
During
After
By taking the walls down, it allowed us more space, and I was able to fit in a craft nook.
Tool and Workshop nook
We were also able to squeeze in a designated tool and workshop area. Albeit small, it still helped keep Ken's tools in order.
View from the other side of the newly painted laminate storage cabinets
The tool area hides behind these cabinets which worked out great for both storage and a buffer from the furnace when viewed from the TV area.
TV Area
We moved the futon upstairs during the time we were working on this project, but the table lamp was refreshed with paint and re-used.
View looking down from stairs over the banister.
Some of these photos are dreadful and although you may not like the style, I think you would agree, the improvement is a welcome friend.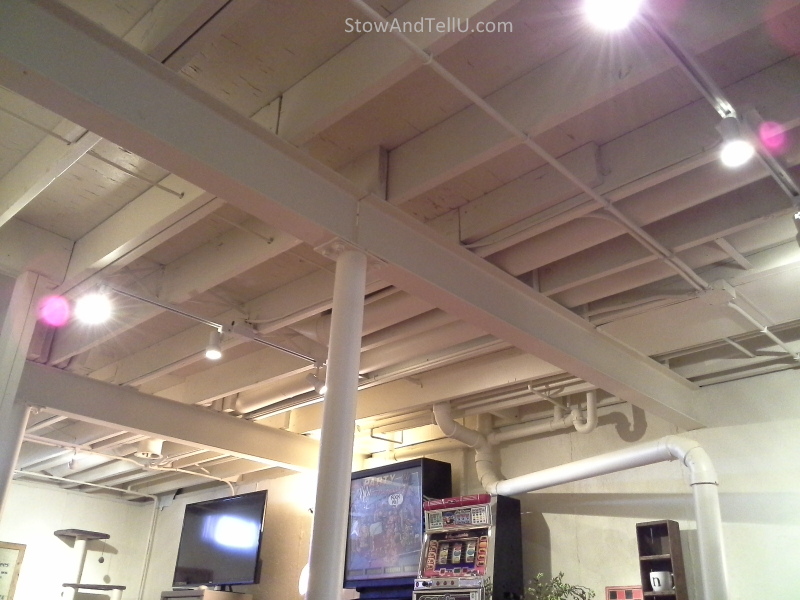 Adding the track lighting was the finishing touch that brought the whole basement together and gave it that loft-style look and feel that we were going for.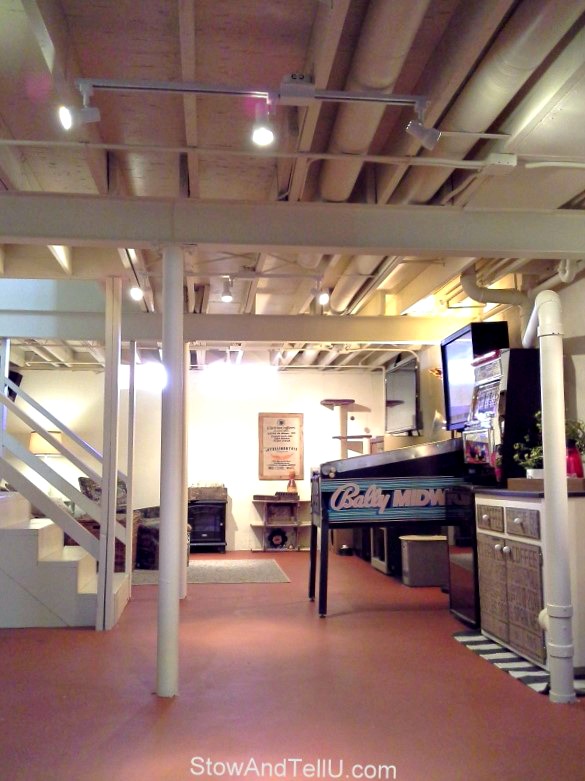 By tearing down the walls, and then finding creative ways to divide up the areas, we saved additional time and money that putting up new walls would have cost us.
We also realized that an open floor plan doesn't have to be stark or lack the coziness that a smaller space might relay. And did I mention that my realtor-sister-in-law suggested not putting the walls back up, to begin with?
That was a great tip on her part, thanks, Beth! xo
DIY Projects completed for our roadhouse inspired, game room style basement
Note: These photos were taken throughout the renovation. so if you notice inconsistencies in furniture and decor placement or something like that, it is because the photo may have been from a different phase.
Thanks for following along with this gruelingly long series. If you do have a basement that has gotten so out of hand, it frightens you, start taming the beast one box at a time and before you know it you might be running out to buy paint.
Do you have a basement crawl space?
This $100 room update for an entryway and basement stairwell includes DIY faux shutters on the crawl space entry, an angled stairwell hanging coat closet, and a tutorial for a painted stair runner with a paint trimmed edge.
~Amy
Related project ideas and inspiration
Pulling together thrifted items to create a new small living room look
How to paint fake cowhide spots on almost any surface.