I felt like I was taking a step back in time when we added indoor planter boxes to the window sills between our sun porch and living room area. Gosh, I never really liked that look back when I was a kid. At least that's what I tell myself, now. Anyway, after putting the indoor planter boxes in place, the challenge then became, what to put in them?
Real plants weren't an option. They wouldn't live to see September. So fake plants it was going to have to be, and that's when I decided to try potting faux succulents with diy gravel glue. Using gravel glue to hold down the pea gravel was a must because at any point and time one of my cats might dart through the window opening. No doubt, the gravel would go flying and I'd have a mess on my hands. See the sun porch from the other side of the windows, here.
Potting faux succulents with DIY gravel glue
This project probably looks hard to make, but it was actually quite easy and with very little clean up. The only issue to keep in mind is that the gravel glue will drip out the bottom of any containers that have drain holes. I have some solutions for that mentioned below. You can also print out this tutorial from my free resource library. Find access to the library at the bottom of this post.
Affiliate Disclosure: Some of the links in this post contain affiliates. (Which means, if you click on one of the links, and purchase something, I may receive a small commission, but you won't pay a penny more.) Read my full disclosure, here.
Supplies used (To make about 6 – 1 pint planters)
Fake succulents unpotted– The kind that come as single stems like these
Floral foam brick – I used this type.
Dinnerware knife (to trim down the floral foam)
Planting containers or clay pots
Pea stone gravel – Most hardware stores have this product. You would probably need about 2 – 5 lbs. (Other types of stone or gravel can be used, as well.)
Colander
2 – 4oz bottles of white glue or clear craft glue (Water soluble)
Water, small bucket and a scoop or spoon
Paper towels
Potting Faux Succulents – Steps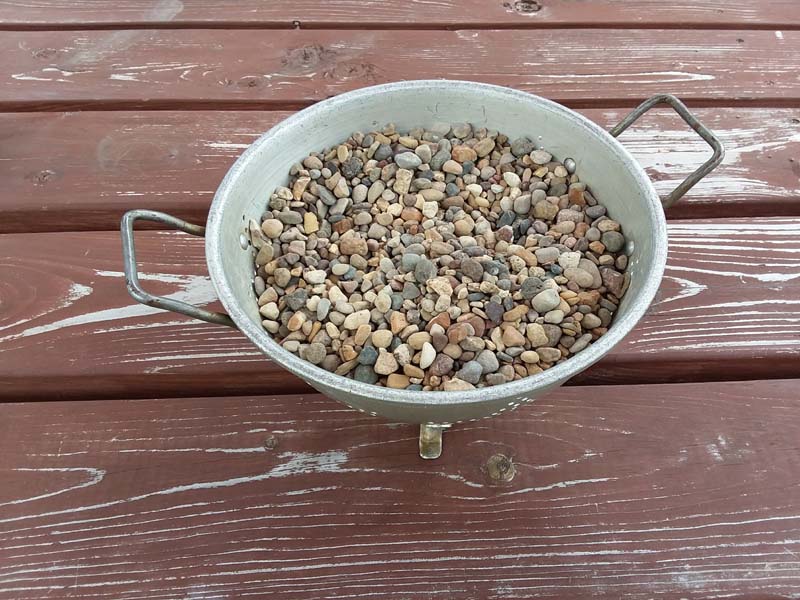 Important!! Clean the gravel: Before you begin, figure out how much gravel you will need and transfer it into a colander. Next, rinse it really, really well to get off all the debris. Follow that up by letting all the water drain out and letting the gravel dry.
I rinsed mine out with a garden hose and placed the colander of stones sit out in the sun. Next, I worked my hands through the stones to move them around every 10 minutes or so, to help them dry.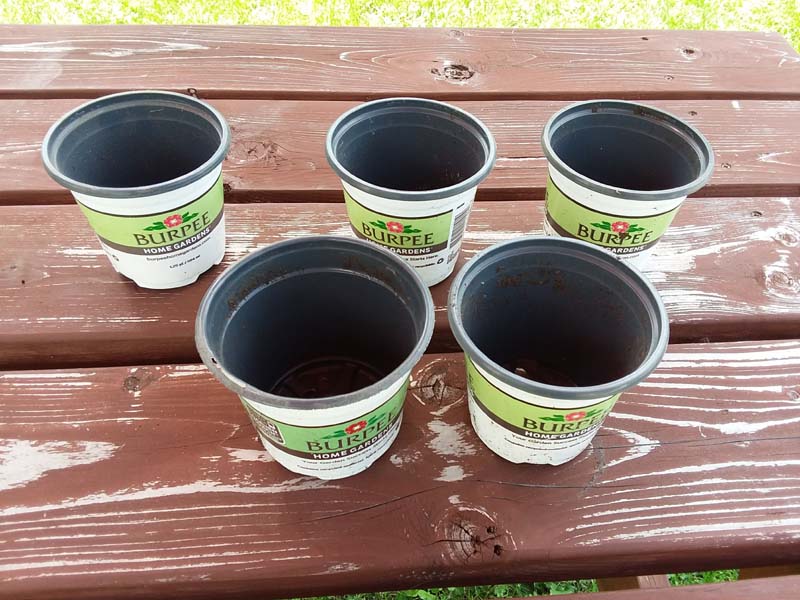 1) Gather containers for planting
In my case, I needed to paint the outsides of the potting containers. This is optional and will depend on what type of container or containers you are using. I re-used 1 pint plastic containers that came with our herbs from my herb and flower combo container plants.
2) Line container with paper towel
Fold a piece of paper towel into 4's and place one in the bottom of each planter. This will help catch the glue drips. ( I did not do this, but realized later that I should have because it would have helped catch the glue drips.)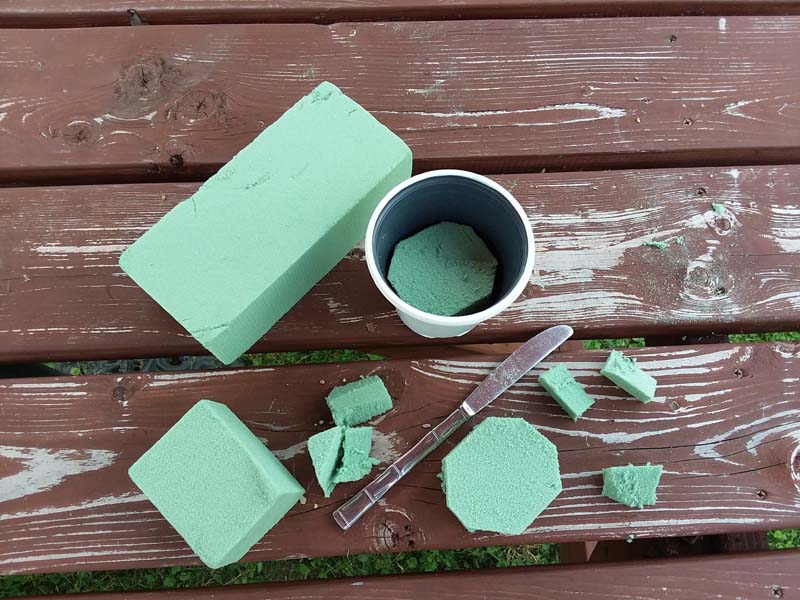 3) Add floral foam
Cut the floral foam brick into 1" slices and then trim the edges down with a knife to round off the foam slice so it will fit into the bottom of the planting container.
4) Cut stems to size
Trim down the stem of each of the fake succulents with the wire cutting pliers, if needed. Yours may be short enough already. If you hold the plant upright next to the planter, you will get an idea of how much to trim off. Don't trim off too much. You can always trim a little more if you need when actually planting it into the gravel.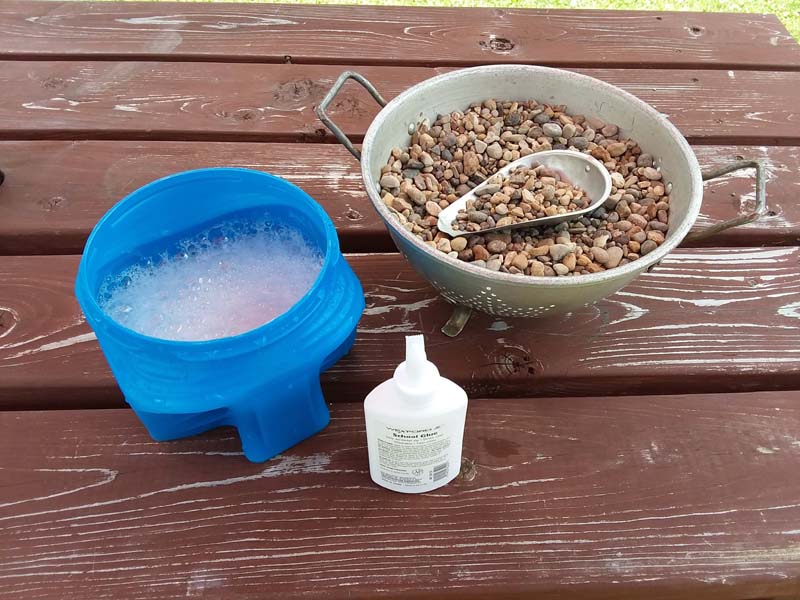 Making DIY gravel glue
I've only recently learned about gravel glue and that it can be used not only for craft projects but outdoors on top of your stone pathways, rock beds and gravel driveways to keep your stones in place. There's various pebble binders you can buy pre-made, for large areas outdoor. They even have similar products to hold mulch in place, which I'm dying to try. These are fairly expensive, though, so I'm working to get into the budget for next year.
I made a diy gravel glue for this project, which is in a small quantity and very affordable to make. You just need water and standard glue. You can use plain white glue or clear craft type glue.
The common mixing ratios are, either:
1 part glue : 1 part water
1 part glue : 3 parts water
1 part glue: 4 parts water
Apply one thick coat, or several thinner coats. It's your choice. I did one thinner coat, and then drizzled over the top of the stone with glue straight from the bottle and that worked quite well.
5) Make the gravel glue
As I mentioned, a download of this tutorial is available in my resource library. You can get the password at the bottom of this post.
Pour about 6 to 8 cups of pea gravel into a colander. Rinse the gravel well. Put it aside and allow it to drain and dry, as mentioned above.
Mix 1 – 4 oz bottle of glue and about 16 oz. of water into a clean bucket or container. Stir well.
Add the gravel and stir until all the gravel is covered with the glue mixture.
6) Add gravel to container
Scoop or spoon the gravel mixture into the plant container over the floral foam. Fill almost to the top with a little room to spare.
7) Place stems into gravel
Insert the stem part of one or more of the fake succulents into the gravel. Pressing it down into the floral foam until it is inserted all the way in. Note: if the stem isn't trimmed enough, pull the plant out and trim off some more of the stem. Then re-insert into the gravel.
8) Top off with gravel
Hold the plant leaves out of the way with your hand and spoon on more of the gravel mixture until it looks filled to your liking. Let the glue dry almost completely, which in most cases with craft glue would be about an hour.
Note about glue drips: If the planting container has drain holes, some of the glue mixture may drain out from the bottom during the drying time, even if you use the paper towel. I used a cookie sheet and aluminum foil to catch some of the drainage while I was assembling these. Then, I placed the planters on the cement ground to drain and dry the rest of the way. Additionally, I moved the containers about every 15 minutes, so that the containers wouldn't glue themselves to the ground. (When I made these, my glue mixture was thinned out with more water than what I mention here. I also did not line my planters with the paper towel.)
9) Add more glue
Top off the gravel with more glue by squeezing it directly from the bottle onto the top of the stone in the planter. This would be what the second bottle of glue is for. Doing this step will add extra hold to the gravel. Allow the glue to drain and dry, as mentioned above.
Since the glue is water soluble, the gravel glue will not hold the gravel permanently. But it will keep it in place for a long time. If you would ever want to take the planter apart and re-use the gravel, soaking down the stone with hot water will remove the glue. It would take some time, and the stones would probably need to be rinsed a bunch, but I think it should work,
Also, most white glue will dry clear, check the label to make sure it does. But if you are concerned about that try using clear craft glue, which starts off clear, and should dry clear, as well. Just make sure it states that on the label.
This would also work with:: Gravel filled flower vase jars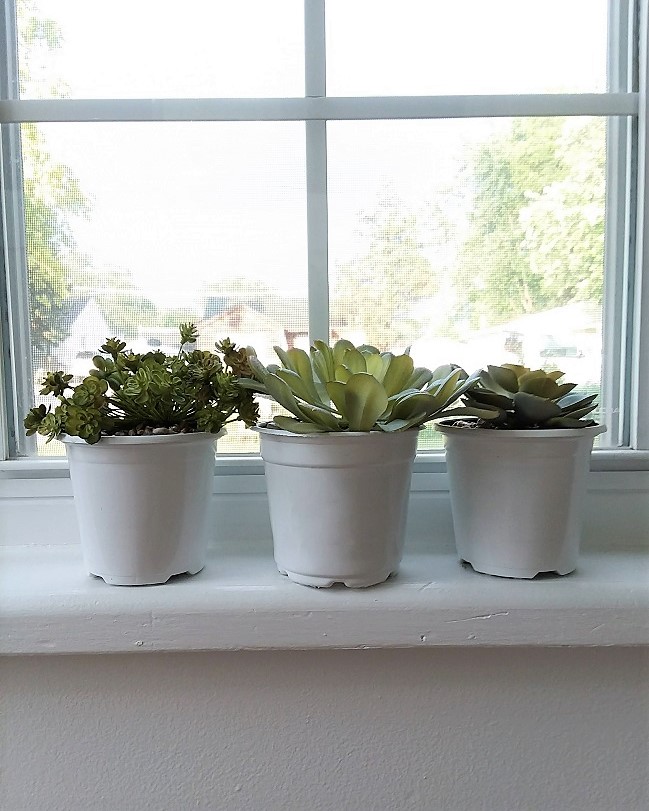 Making potted faux succulents was actually a lot of fun. It would make a pretty nice group craft project.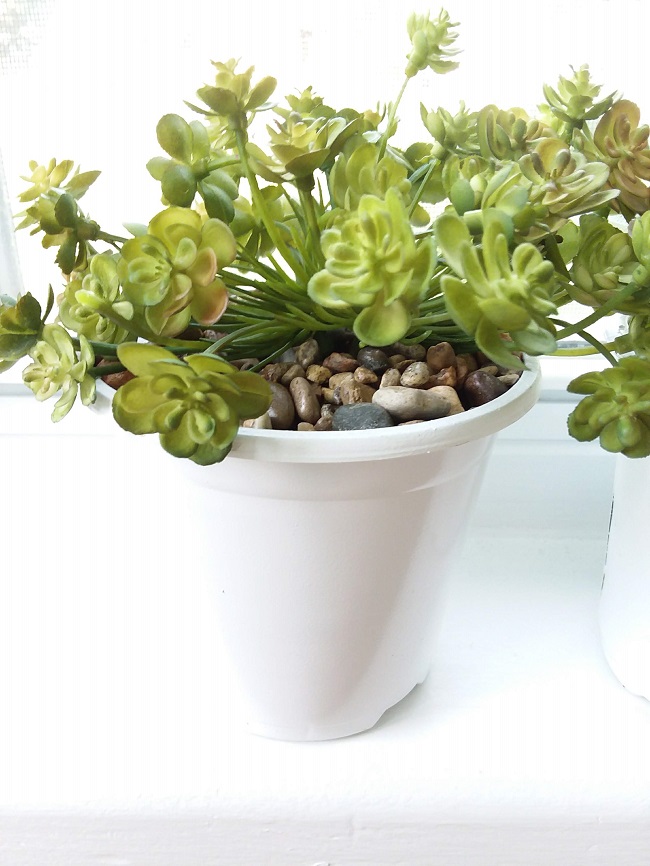 In my opinion fake succulents look more real than a lot of other fake plants, so when this project was completed, I was like, hmmm, not bad for plastic! Ken even gave me the thumbs up on this one. And that's never a given.


Placing these faux succulent planters into our "indoor window box", will continually give me flashbacks of the 60's, 70's and 80's decor from my childhood. I guess I'm just going to have to get out my disco ball and live with that. But at least the "faux succulents" part give these a bit of a twist because I'm pretty sure the trend back then was vinca vine and ivy
You might also like: 8 Decorating Tips for Using Faux Plants in Your Home
Thanks so much for stopping by! Amy
WANT TO REMEMBER THIS? Save "HOW TO POT FAUX SUCCULENTS WITH DIY GRAVEL GLUE" to your favorite PINTEREST BOARD!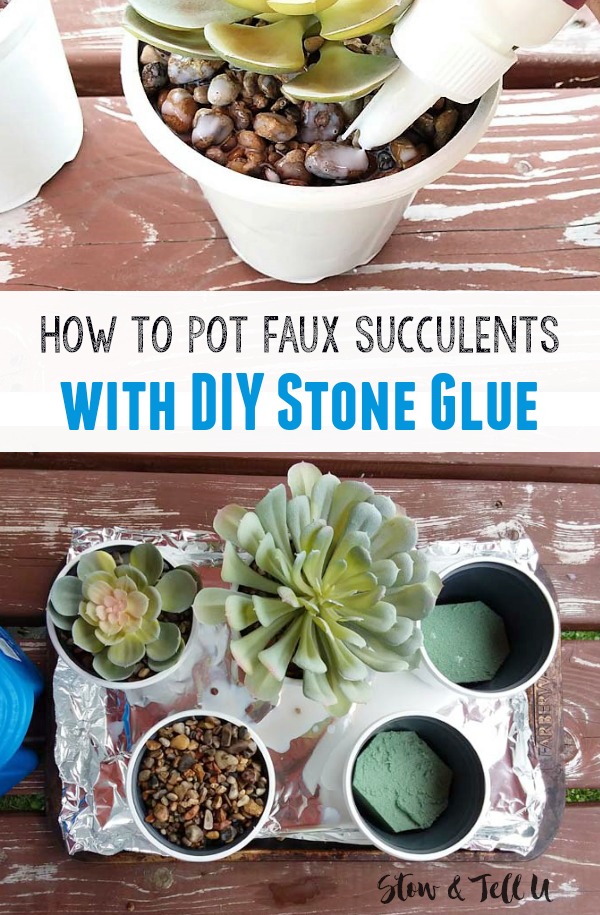 WOULD YOU LIKE TO PRINT OUT THIS TUTORIAL? Get the password for the library which includes this printable tutorial by filling out this form.