Sometimes I plan a craft and it's a flop. Other times I don't plan at all. I just start mixing or measuring, gluing or tacking, dipping or dying, and I come up with something kinda cute.
Such was the case when some sisal twine ended up in a glass of watery paint.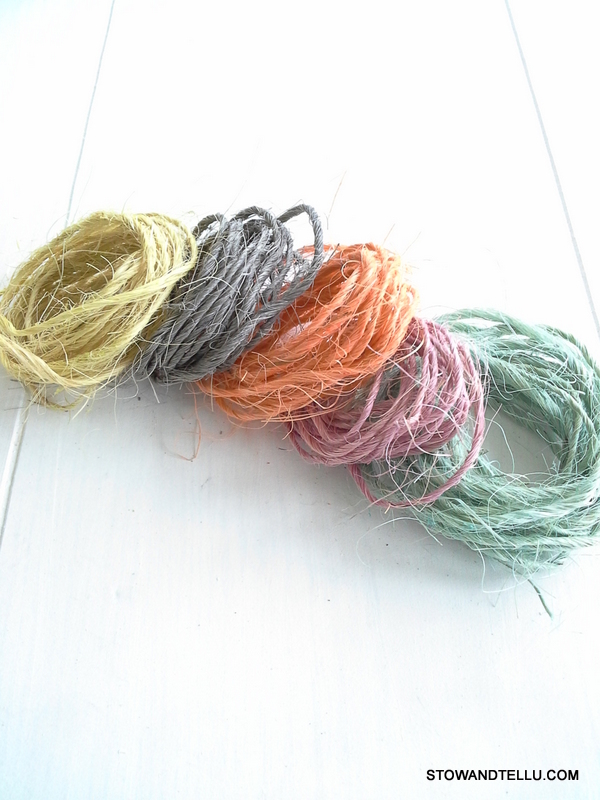 How to dye sisal twine with paint:
Supplies
Sisal cord or twine
Acrylic or latex paint, darker colors work best
Glass or jar
Water
Paper towel
Fork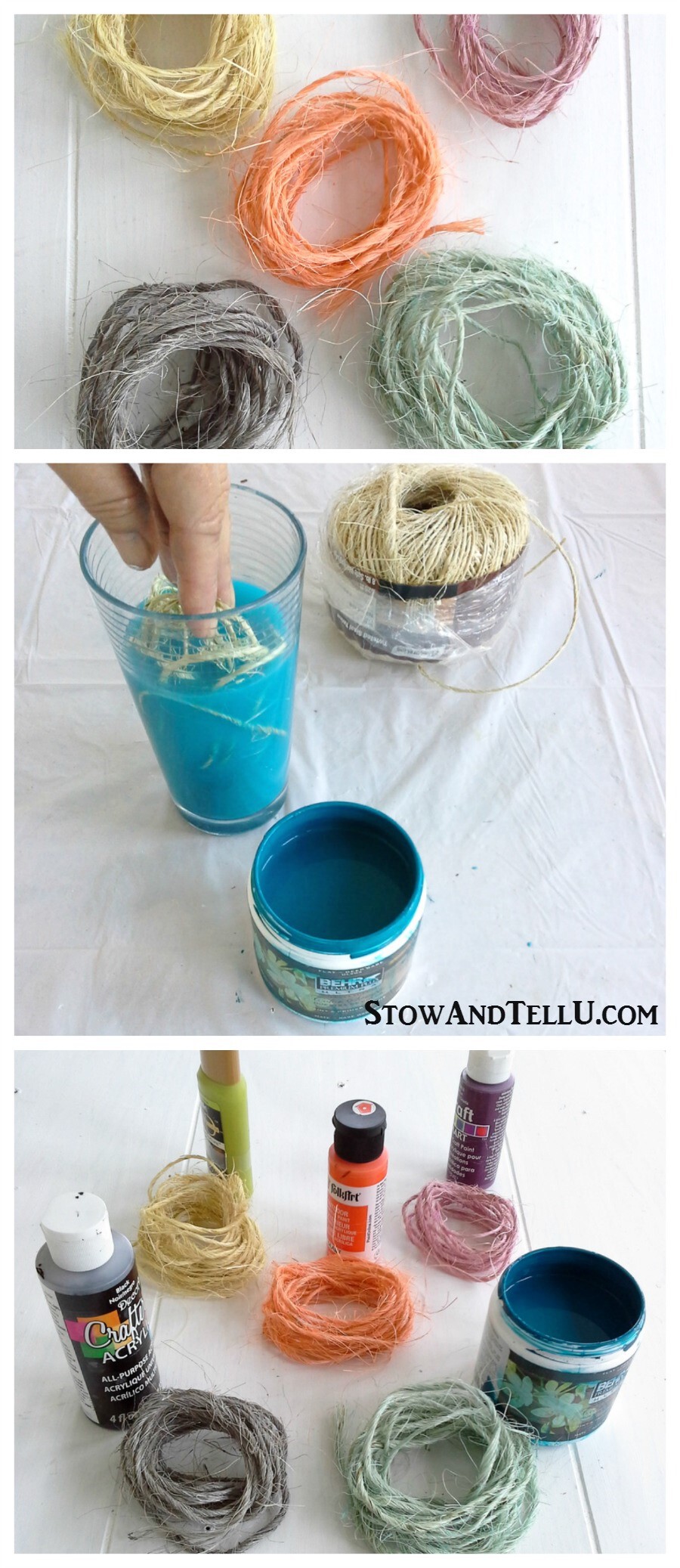 Directions:
Cut 3-5 ft strands of twine.
Wrap twine gently around hand to form a nest of sorts.
Fill glass or jar with about 8oz of water.
Add about 1 table spoon of paint. I just eyeballed the measurement.
Stir until well mixed.
Drop the twine in the paint/ water mixture and let it sit for about 15 minutes to half an hour. Stirring occasionally. Don't go over an hour because the water will break down the natural fibers of the twine.
Remove twine with the fork and place on paper towel to drain for about 5 minutes.
Untangle the twine (it should be easy to do) and wrap or wind around your hand to reform a nest.
Let dry completely. It will have some small paint flecks that you can shake out before using.
Tip: To dye the twine a darker color, try adding another table spoon of paint, but since sisal is a natural fiber and this in only a paint dye, the color will probably only darken so much.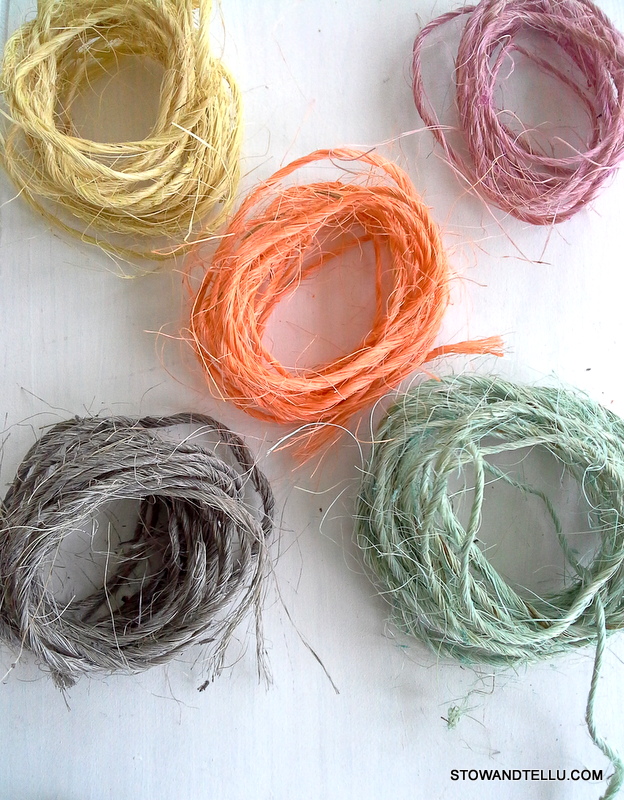 After the twine was dry I had this collection of colorful, fluffy nests of cord that makes a pretty picture in it's own right.
I used random colors to make the dye, but if you were wrapping gifts, planning a party, wedding or holiday craft; you could easily dye the rope to almost any color scheme.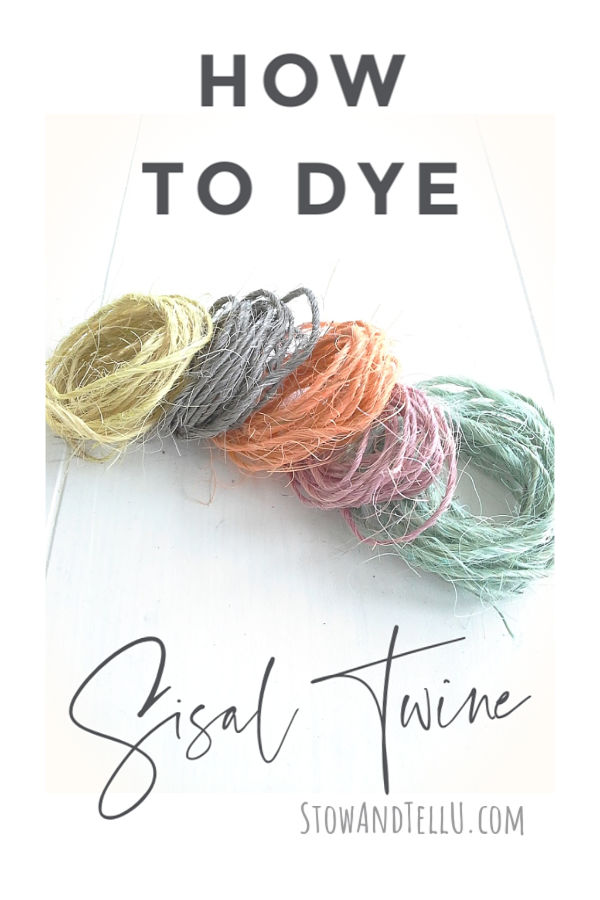 I've always loved the rustic look of the natural fibers, and kind of like dying burlap, dying twine just makes things a little more exciting…for the moment anyway;)
Sharing at:
Sundays at Home / Thoughts from Alice
That DIY Party / DIY Show Off