I spent some time with my three-year-old nephew last week with the objective of getting him out of the house and away from my sister-in-law.
She is trying to rest and recover after breaking her leg in eight places.
Ouch!!
Fortunately, she is on the road to recovery, but every little chance for rest is welcomed.
So out the door and into the yard went we for some fresh air and play time.
First we played a game of tag, then we hopscotched over the cracks in the sidewalk, then we started collecting different kinds of leaves and putting them in piles.
Next we started collecting twigs, and before you know it, we had someone's name spelled out on the sidewalk with twigs.
That certain someone got a big smile on his face, followed by lots of giggling.
I thought his name in twig art looked so adorable that I took a picture of it and began to send it in a text to my sister-in-law, when he shouted, "How come we're not playing anymore?"
"We are playing, I was just texting this picture to your…" I replied.
"But, we're not playing if your texting!"
Well, didn't that just stop me in my tracks?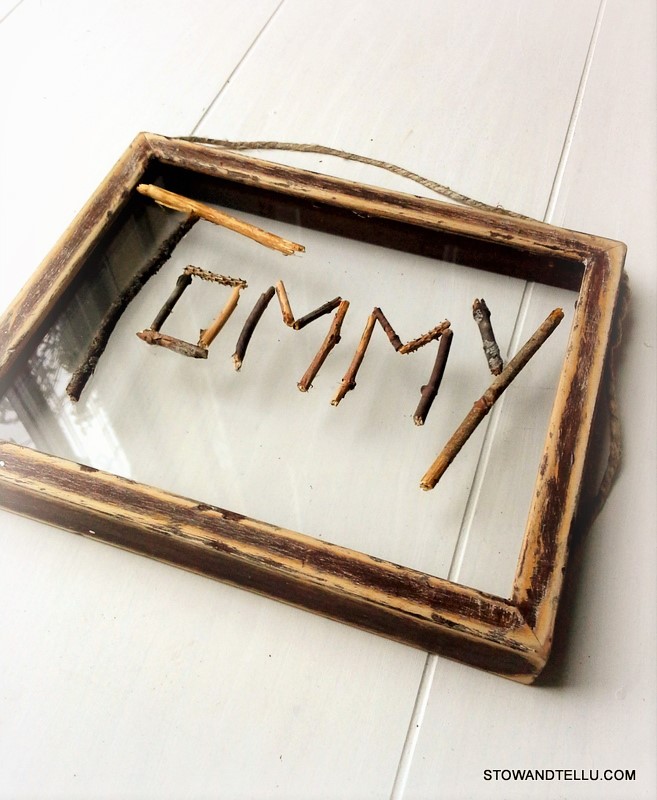 Rustic twig name art for kids room decor
My three-year-old nephew did not make this particular project.
Yes, I got fancy and made this one myself.
But an older child could potentially make their own. And it doesn't have to be on glass. Other canvas ideas include a piece of painted card board, foam board or wood, a burlap canvas, a matted frame or any other creative and kid-friendly material.
Another kid's name plate idea you might like: Easy Coloring Page Kid's Name Plate
I used a floating glass frame with the back removed, similar to the framed mossy shamrock because I really like that look, and I thought it would be a nice keepsake for my nephew.
He told me later that night that he had lots of fun and wants me to watch him again. I guess my auntie status has been raised a notch;)
<<Get directions for how to clean and dry out twigs and branches, here>>
Supplies used for this project
Floating Glass Picture Frame or make one from an old frame following instructions below
Twigs collected from the yard or use these craft twigs
Piece of sandpaper
To make the frame:
The back of the picture frame was removed. Then, the frame was given a few coats of paint and an aging technique for a faux rustic look.
Next I glued the glass to the back of the frame with E6000. I used a toothpick to help spread the glue along the edges, then set the glass into place and gave it 24 hours to dry.
Additionally, I glued (with E6000) some knotted hemp twine to the outside as a hanging mechanism, allowing for 24 hours of dry time, as well.
<<Get other ideas for how to re-use picture frames, here>>
Make the twig name:
I broke the twigs down to smaller pieces and then took time to spell out my nephew's name. This was the hardest part because I had to fit it to size within the confines of the frame. Mind you, I took my time with this part of the project, shortening pieces bit by bit until it looked just about right.
As I broke down the twig pieces, I rubbed the tip of the twig on a piece of sandpaper to smooth out the scraggly ends.
To make the name look centered, I started with the middle letter, and worked my way out.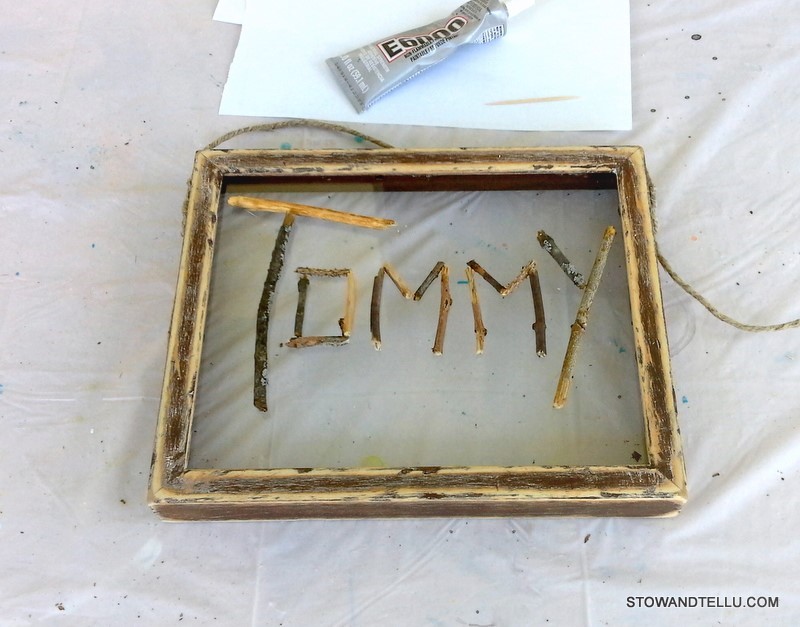 Glue the twig name
Once that was done, I started gluing the twig pieces on. I put a dollop of glue onto a piece of paper and then spread the glue onto the back side of each twig piece with a tooth pick. This part didn't take long and the glue has an open time, so the twig piece can be wiggled around and into place.
There were some blotches of glue (over spill) on the glass. I was able to remove these after letting the glue dry for about an hour or so. They can be pulled off the glass with either a tweezers or your fingernail, it's just important to do it before the glue cures.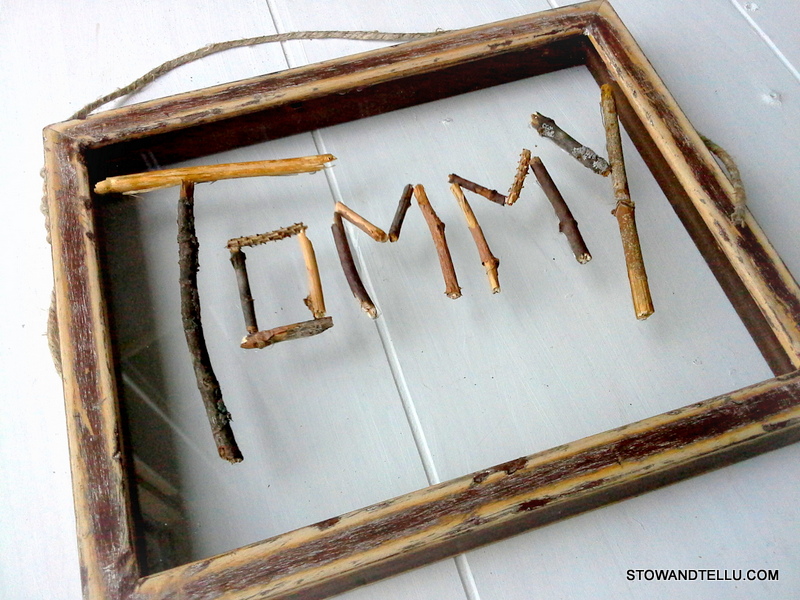 I think what my nephew loved the most was seeing his name unexpectedly appear when all he thought we were doing was collecting twigs.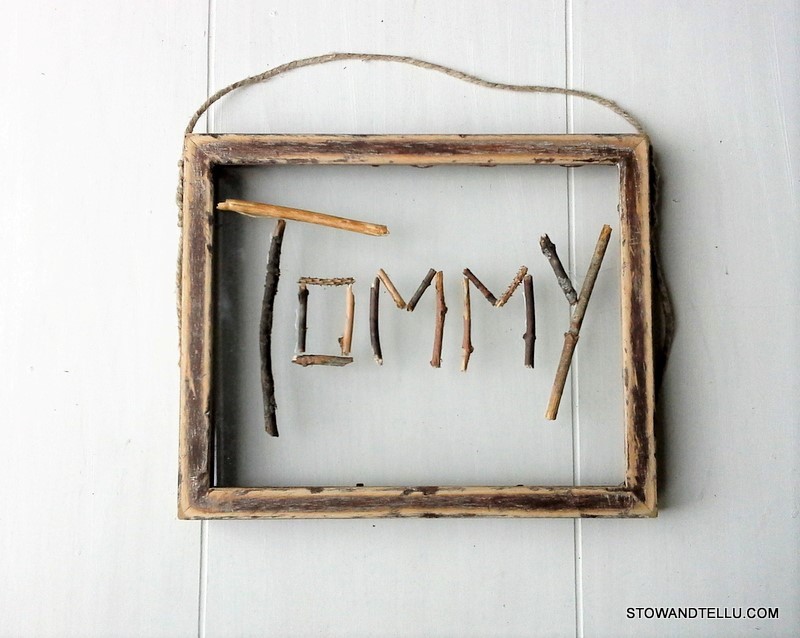 This twig craft was obviously made as a decor piece, but with some ordinary craft glue, a bundle of twigs and some creativity, I think most kids would enjoy making their own.
Twig Projects and Crafts
Happy weekend ~ Amy