Turkey Day is quickly approaching here in the US. I've seen so many cute turkey crafts for kids, but I was thinking some big-girl turkey decor might be nice. Here are several variations of a FREE turkey silhouette printable that can be used for place mats, place settings, Thanksgiving leftovers, artwork, craft projects, and more.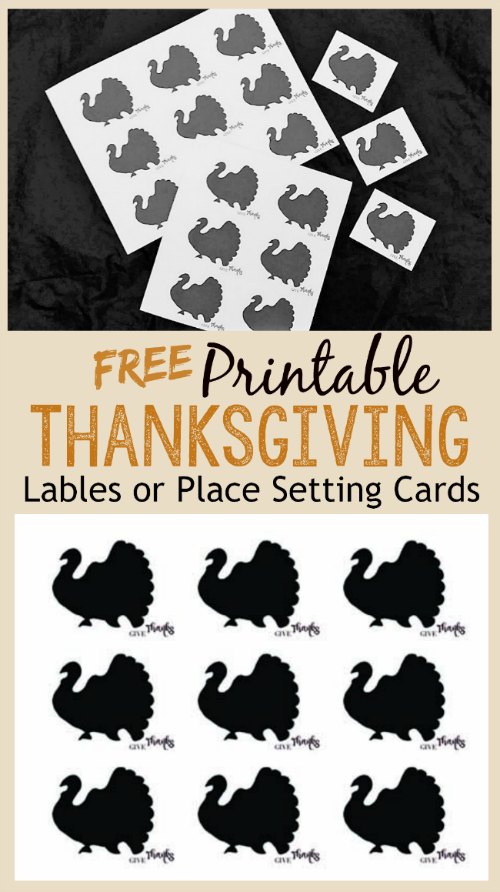 Free Printable Turkey Silhouette Leftover Labels and Place Setting Cards
Thanksgiving place mat
I thought this one would make a nice place mat on a Thanksgiving table.
Turkey silhouette printable place mat: Click HERE to download
Typical place mat sizes are:
12″ x 18″ standard
14″ x 20″ for entire place setting
This printable could be enlarged to either one of those sizes, or printed as and 8″ x 10″ and decoupaged (back side only) onto a paper place mat.
Give Thanks turkey silhouette printable artwork or labels
Note for the labels: The label page should be printed on a full sheet of label paper like these. The labels are formatted as 9 wallet sized photos. To use these as labels, I recommend printing them on a full sheet label and then cutting off the excess.
They can be used as name tags, for place settings, on leftover containers, and more.
The Black and white turkey silhouette makes for simple framed art or an easy stencil.
Give Thanks turkey art in black and white: Click HERE to download
Turkey silhouette labels (9 per page) in black and white: Click HERE to download
This neutral toned dark brown and beige turkey template adds color to any Thanksgiving table.
Give Thanks turkey art in color (for placements or artwork) : Click HERE to download
Turkey silhouette labels (9 labels to a page) in color: Click HERE to download
Thanksgiving ideas to add to your holiday prep