My mom always made turkey soup the day after Thanksgiving with the turkey carcass and all the Thanksgiving leftovers. And I mean right down to adding cranberries and sweet potatoes to the soup, too. What I always liked about her recipe was that it wasn't based on exact ingredients, but rather what was left over and what she dared to put in it.
Here is an easy recipe for using up all of your Thanksgiving turkey leftovers.
Thanksgiving Leftover Turkey Soup Recipe
Like my leftover grilled steak soup recipe, everything can be measured to more or less of what is listed and the result will still be delicious, guaranteed!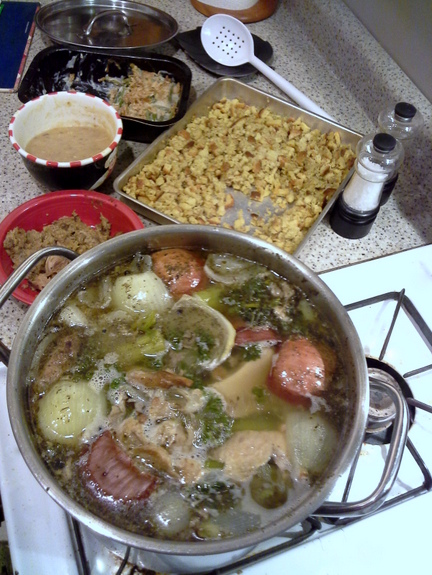 How to make the broth with the leftover turkey carcass:
Fill large soup pot 2/3rd full with water
Turkey carcass
3 stalks celery with leaves, cut down just enough to fit
3 carrots unpeeled, cut down just enough to fit
1 large onion quartered, but not peeled
2 cloves garlic, halved, but not peeled
4 sprigs fresh parsley, or two teaspoons dry
1 teaspoon dried thyme, sage, or basil (crushed)
2 bay leaves
1 teaspoon salt
1/4 teaspoon black pepper
Bring all of the above to a boil, and then simmer for 2-1/2 hours.
Strain broth into another large pot, or several smaller pots (we use a pasta strainer)
Pull out any turkey meat pieces that look good enough to go back into the soup
Discard all of the remaining bones, veggies, etc…
Add the Thanksgiving leftovers into the broth
Pour all broth back into the large soup pot
Cut up any leftover turkey into bite-size pieces and add to the broth
Add 2 more stalks celery and carrots, bite-size, peeled, no leaves
Add any or all of your Thanksgiving leftovers using your own discretion
Suggested dishes to add to the Leftover Turkey Soup:
Mashed potatoes
Turkey gravy
Turkey dressing or stuffing
Cranberries
Green bean casserole
Greens or spinach
Lastly, add any additional frozen or fresh veggies to your liking.
Bring all to a boil, and then simmer for another 2-1/2 hours.
My mom used to add sweet potatoes and leftover cranberries, and believe it or not, you really don't taste them specifically. All the flavors blend with each other delightfully. So don't be afraid to mix these dishes together into the soup.
Thanks for stopping by and enjoy ~ Amy
Other Thanksgiving Ideas to Make the Holiday Even Better
10 Crafty Ideas to Help Kids Express Their Gratitude
Turkey Silhouette Printable Labels (great for packaging up leftovers)