With Cinco de Mayo and summer coming up around here, I'm hoping to put together a salsa party bar at one of our next gatherings. I've been inspired by this chips and salsa bar party from Bakin Bit and the apple bar party I had last fall.
A themed party bar is not that hard to pull together. A few matching bowls or plates. Add some labels. Boom. For the most basic bar, anyway. The more detailed and themey it gets, the more fun (like planning a wedding…) Of course, the food better be good, too! So I have rounded up 10 homemade salsa recipes, from authentic to gourmet.
10 Homemade salsa party bar recipes
Here are 10 homemade salsa recipes. All of them use ingredients you can find at the farm stand, grocery store, or your cupboard.
Even better, salsa by nature is basically chopped veggies (and fruit, as you will see.) Can you get any healthier than that?
And… while all of these salsas go great with corn chips, many of these recipes can be served as a side dish with a main course or used as a marinade for meat and fish.
Summer picnic comes to mind with this corn salsa recipe from
Authentic salsa Verde using Tomatillos from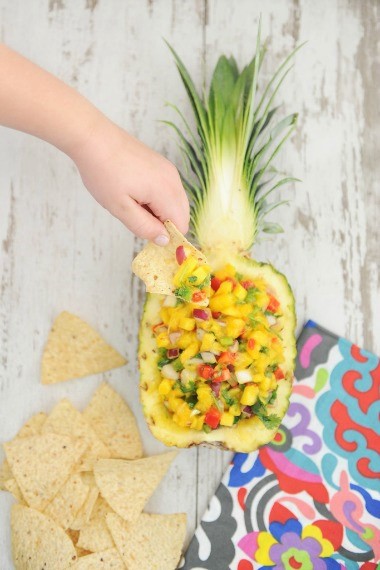 Tangy mango salsa from
Before gourmet salsa was a thing:
Simply good authentic salsa roja (shown above before it all gets mixed up in the blender), from
I heart quinoa!
Avocado, corn and quinoa salsa from
Spicy melon salsa (can be done up mild, too) from
Most Chimichurri sauces use vinegar. This one uses lime ~ for less bite.
Lime and Cilantro Chimichurri Salsa
Strawberry salsa (warning: addicting) from
Smokey Chipotle salsa from
And if this presentation doesn't say summer time paradise, I don't know what does.
Watermelon mango salsa from
Sweet, tangy, spicy, authentic. Got it all covered, I think:)
If you stepped up to a table full of all of these salsas, which ones would you try?
Have a great week ~ Amy