The heartbreak of losing a pet, whether it's because they have passed on or gotten lost can be unbearable. Somehow you have to find a way to say goodbye. I found that writing a letter to my little guy helped me gain a tiny bit of closure and preserved his memory at the same time.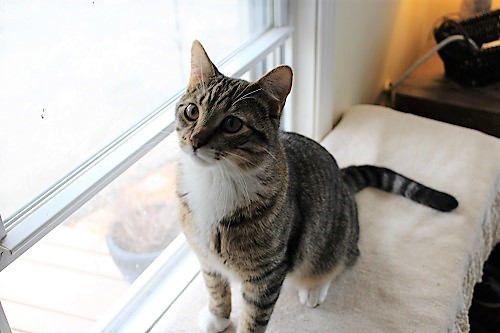 One year ago, our cat, Scouty, went missing from our home. He has yet to come back. Naturally we've had to face the fact that he may never be found. He may never be returned to us.
We've had Scouty and his brother since they were six-week-old little kittens. So I honestly feel like their mother, as I'm sure you can relate. When he went missing, each day that he didn't come back was more and more painful. I followed all the lost-pet dos and don'ts. Searching lost and found websites, posting on Facebook, going to the animal shelters.
I did everything to try to find him.
It just wasn't to be that he would come back to us.
Part of me feels that he may be with a neighbor, nearby. Honestly, that is what I truly wish to be the case. And thinking that way does give me some solace. I picture him sitting pretty in his new home, thinking, "yep, I live here, now, purr-purr, pet me please…"
Thus, that's my hope as I've come to terms with the loss.
But I didn't get to this sense of acceptance without lots of tears and reflection in regard to his little life with us.
I spent time thinking about all his little quirks. How he LOVED to chase the laser pointer around until he could hardly breathe. How he would position himself on the floor so intent with curiosity whenever I'd tell him we were going to have play time. How I'd practically trip over him in the kitchen as he did figure eights around my ankles, come snack time.
Looking back on all these sweet and special moments with him.
About what made him his own unique little kitty.
These memories got me thinking about writing him a letter to tell him how much he was loved. How much he'll be missed. How special and one-of-a-kind he truly was.
So that is what I did.
Goodbye letter to pet free printable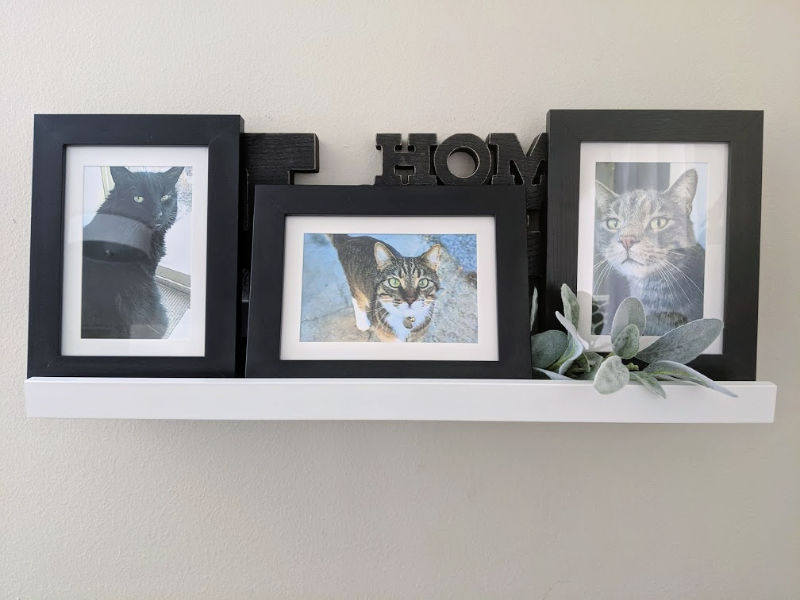 After I wrote the letter, I folded it and tucked it behind his photo in a picture frame. Snug and safe so I can pull it out when I'm thinking about him.
Finding the right words to say goodbye to your pet
There are so many moments and memories you may want to capture in a goodbye letter to your pet. Here are some ideas of where to start or what you might say:
How he reacted to his favorite toy or treat and how it made you feel.
Where was his favorite place to snuggle and how you could tell he love that spot.
The first thing you would do if you had a chance to see him again.
A time when you wished you could have been there for him.
Something you wished you could have done with him more.
Thank him for something special he did for you.
Make a list of all his special quirks and qualities.
List the dates of life span or life spent with you.
Write about the things that seemed to make him the happiest. And how thankful you are that you could provide him those things.
Tell him how grateful you are to have been able to have him in your life.
Tell him it's okay to leave now. It's okay to go forward on his next adventure.
Writing this goodbye letter really helped me gain just that small bit of comfort and closure to be able to move forward. I will NEVER forget him. On the contrary, this letter has helped me put some of my favorite memories of him into one place for safe keeping.
Since taking this step has really helped me, I decided to make a printable template letter which includes the list suggestions, as well.
If you would like to write a message to your pet, but you are struggling with how to begin or what to say. Feel free to download the pet letter template and ideas list below (it's a zip file).
And please know, I am truly sorry for your loss.
Whether you have a pet who has gone missing or on to the next life, and you are struggling to move forward, use this love letter to pet template to write your pet a message from the heart that will help you say goodbye.
Want to see another goodbye letter example? Read this letter to Gizmo at Dogster